Description:
a) after van Boeckel, J. & Everaert, S. (2022):
Median and anterior teeth
Both upper and lower median tooth files show a high degree of symmetry. Rather thin, narrowly spaced vertical ridges are present on both the lingual and labial crown face. On the labial side they are more pronounced but remain largely restricted to the base of the crown. Lingually they are thinner but extend halfway up the crown face. Pronounced reticulate pitting is present on most teeth, especially visible on the lingual crown face where it can extend high upon the crown. A slightly convex transverse crest is present, forming a reduced symmetrical cusp. Lingually, a distinct median uvula is present. The crown overhangs the root, forming a labial and lingual visor. The labial side of the crown has a scalloped appearance in apical view. The holaulacorhizid root presents a distinct nutrient groove. Multiple foramina are present on the lingual, labial, and basal faces of both root lobes.
Anterolateral, lateral and posterior teeth
These teeth are generally more asymmetrical in overall appearance. This is visible both on the crown and the root, where the mesial side is usually more prolonged than the distal side. Anterolateral teeth in the upper jaw show a main cusp, which is distally inclined. A clear distal heel is not present. In the lower jaw, anterolateral teeth seem to lack a main cusp. Here, the transverse crest is smoothly convex in appearance. The crown overhangs the root, and apically, a scalloped appearance can be observed.
A distinct median uvula is present. In more lateral and posterior tooth files, the median uvula on the lingual tooth face seems to disappear completely. Both types of crown ornamentation are present, in accordance with median and anterior teeth. The roots of these tooth positions share the same characteristics with median and anterior teeth, though less symmetrical in appearance.
Material: refigured after Herman et al. (1988), teeth of adult female (TL 890 mm), Atlantic Ocean, Senegal, scale bar 1 mm, Upper jaw: lateral tooth (5A-5B), anterior tooth (6A-6B9, Lower jaw: lateral tooth (7A-7B), median tooth (8A-8B), CC 3.0 © van Boeckel, J. & Everaert, S. (2022)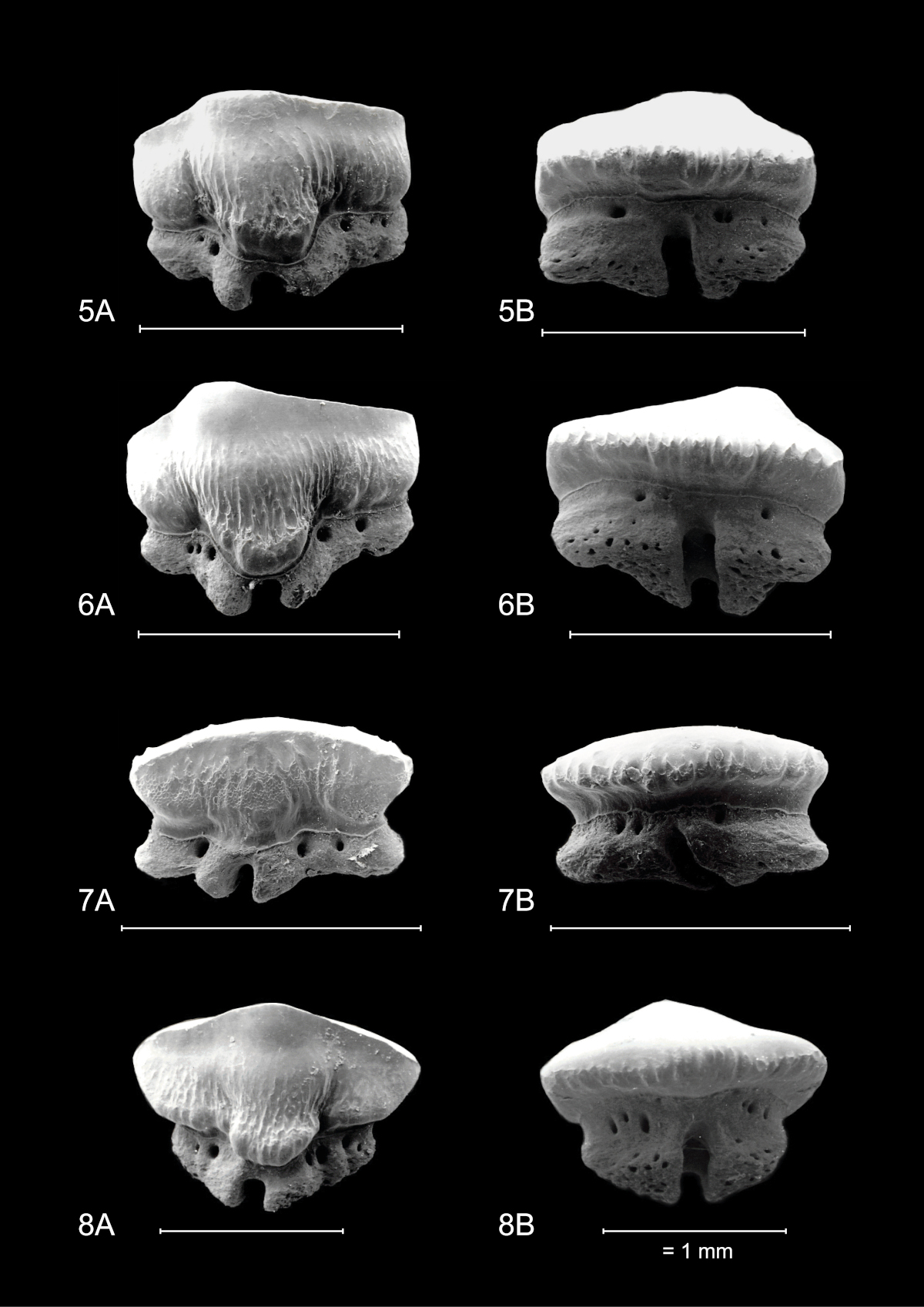 Material: ? sex, ? TL, Marmara Sea in 2019, collection and images: Chris Taklis