NCBI GenBank
Acroteriobatus blochii
(Müller & Henle, 1841)
Bluntnose guitarfish
Classification:
Elasmobranchii Rhinopristiformes Rhinobatidae
Reference of the original description
Systematische Beschreibung der Plagiostomen.
Berlin, Veit, pp. 1–200
Image of the original description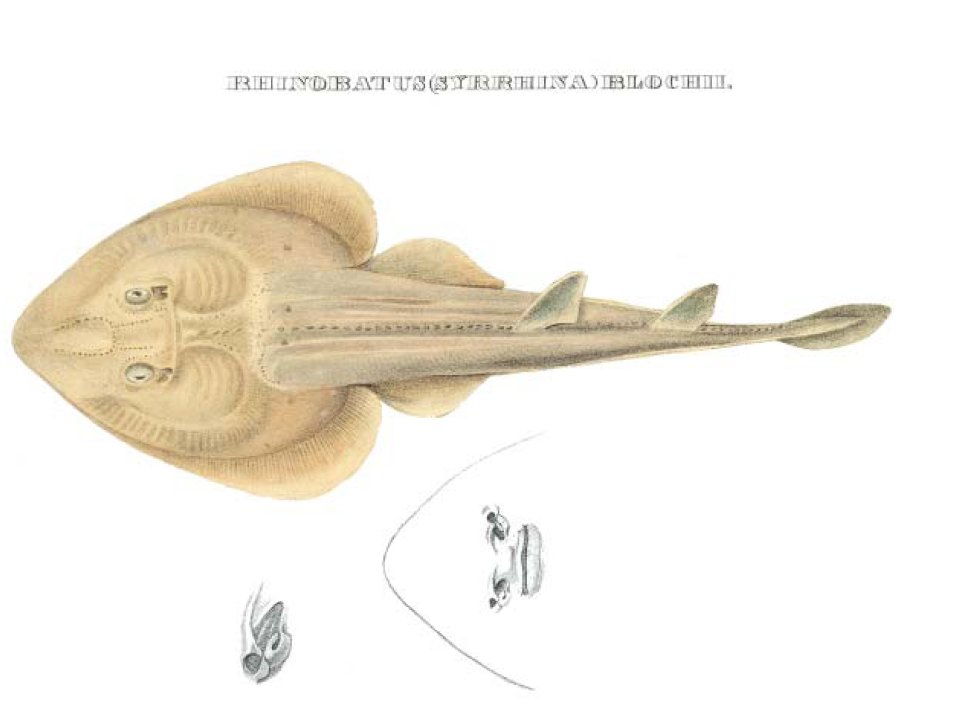 Acroteriobatus blochii (Müller & Henle, 1841)
Synonyms / new combinations and misspellings
Rhinobatos blochi, Rhinobatos blochii, Rhinobatos (Acroteriobatus) blochii, Rhinobatus blochi, Rhinobatus blochii, Rhinobatus (Syrrhina) blochii
Description :



Citation:

Acroteriobatus blochii

(Müller & Henle, 1841): In: Database of modern sharks, rays and chimaeras, www.shark-references.com, World Wide Web electronic publication, Version 11/2022

Please send your images of
"Acroteriobatus blochii"
to
info@shark-references.com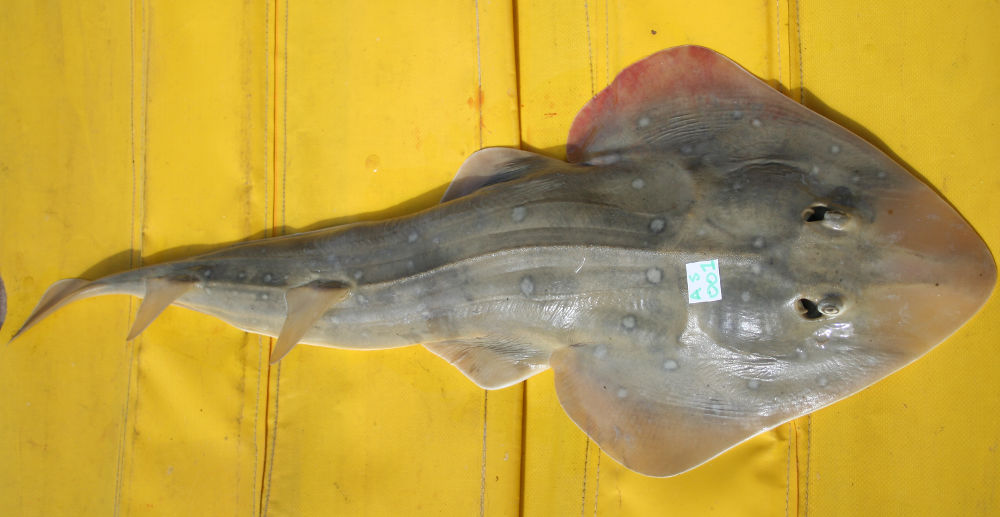 Acroteriobatus blochii
(Müller & Henle, 1841); © Charlene da Silva, Department of Agriculture, Forestry and Fisheries, South Africa
Common names

Guitarra embotada,

Poisson guitare épointé,

Requin blanc,

Bluntnose fiddlefish,

Bluntnose guitarfish,

Guitarfish,

Sandshark
Short Description
A guitarfish with a broadly pointed snout and a broad pectoral disc
[536]
. Plain brown above, young with white spots
[536]
.
Original diagnosis of MÜLLER & HENLE, 1841
[2706]
: Schnautze kurz und stumpf. Die Distanz von der Schnautzenspitze zur Mitte der äusseren Winkel der Naslöcher ist gleich der Distanz zwischen den äussern Winkeln der Naslöcher. Der Kiel verschmälert sich nach vorn allmählig; die Rinne ist breit, und reicht, den Rändern des Kiels parallel, bis zur Spitze Der äussere Lappen der Nasenklappe ist breit, aber schmaler als bei Rhinobatus brevirostris, er geht kontinuirlich in den kurzen innern Lappen über, welcher sich weit über den Rand des Naslochs erhebt und über den innern Nasenwinkel hinaus bis fast zur Mittellinie geht. Die Distanz der Nasenklappen von einander beträgt 1/3 der Distanz beider Nasenwinkel. Diese ist kaum grösser als die Grösse eines Naslochs. Die Distanz des Naslochs vom Scheibenrand verhält sich zur Länge des Naslochs wie 8 : 5. Schleimhautfalten der Nase 40. Ein Wulst am hintern Rand des Spritzlochs. Zähne gegen 50. Die Scheibe ist länger als breit. Die Brustflossen abgerundet. Der Schwanz ohngefähr. 1 1/2mal so lang als die Scheibe. Glatt; junge Exemplare haben kleine Dornen auf den Seitenrändern des Schnautzenkiels und dem Hinterkopf; stärkere auf der Augenfirste, der Rückenfirste und zwischen beiden Rückenflossen bis zur Schwanzflosse. Der ganze Schultergürtel ist mit kleinern Dornen besetzt, worunter einige starke und von dem äussern Theil des Schultergürtels verläuft jederseits eine nach aussen konkave Reihe kleiner Dornen zum Hinterkopf. Die Dornen der Rückenfirste sind nach hinten gerichtet und ihre Basis ist von der Haut überzogen. Bei Exemplaren von 3 Fuss Länge sind die Dornen nur wenig ausgezeichnet; am stärksten ist eine unregelmässige Reihe bis zur Rückenflosse. Zwischen beiden Rückenflossen stehn nur 3 — 4 stumpfe Höker und keine mehr hinter der zweiten Rückenflosse. Vor den Augen und auf dem Schultergürtel befinden sich nur etwas grössere Schuppen. Grundfarbe röthlichbraun ; einzelne, zerstreute, weisse, runde Flecken über den Rücken und auf den Brustflossen, welche im Alter undeutlich werden. Mitunter dunkle Punkte und Fleckchen auf Schnautze und Rücken. Die längsten Exemplare maassen 3 Fuss. Von der Schnautze zwischen den äussern Winkeln der Naslöcher — 10'' Von da zum Maul — 4'' Vom Maul zum Alfer 2" 1" Vom After zur Schwanzspitze 4" 6" Grösste Breite der Scheibe 3" Von der Schnautze zum Ende der Insertion der Brustflosse 3" Distanz der Naslöcher 4" Länge des Naslochs 3 1/2" Vom Nasloch zum Scheibenrand 6" Von der Schnautze zu den Augen 1" Distanz der Augen 5" Breite des Mauls 7" Breite des Kiels in der Mitte 2" Fundort. Vom Kap. Ein Exemplar in Weingeist (jung) aus der Bloch'schen Sammlung im zoolog. Museum zu Berlin. 2 Exempl. trocken, 11 Exempl. in Weing. in Paris durch De la Lande, Catoire, Verreaux.
Distribution
Eastern Atlantic: Mauritania and Senegal to Table Bay, South Africa. Source:
www.gbif.org
Biology
Exhibit ovoviparity (aplacental viviparity), with embryos feeding initially on yolk, then receiving additional nourishment from the mother by indirect absorption of uterine fluid enriched with mucus, fat or protein through specialised structures
[733]
.
Size / Weight / Age
100.0 cm TL (male/unsexed; (Ref.
6497
))
Habitat
reef-associated; marine
Remarks
shark-references Species-ID=14410;