Aetobatus irregularis
(Agassiz, 1843)
Classification:
Elasmobranchii Myliobatiformes Aetobatidae
Reference of the original description
Recherches sur les poissons fossiles, 15th and 16th livraisons (March 1843).
Jent and Gassmann, Soleure(text) and H. Nicolet, Neuchâtel(planches). – vol. 3: [i]-[iv], 157-390, 382*-382**, 1–32, [33]-[34], pl. 1, 18, 22, 22a, 22b, 26a, 38, 40b, 40c, 40d, 45, 47
Synonyms / new combinations and misspellings
Aetobates irregularis, Aetobates rectus, Aetobates subarcuatus, Aetobatis aff. irregularis, Aetobatis giganteus, Aetobatis irregularis, Aetobatis perspicuus, Aetobatis rectus, Aetobatis subarcuatus, Aetobatus aff. irregularis, Aetobatus cf. irregularis, Aetobatus giganteus, Aetobatus perspicuus, Aetobatus subarcuatus, Myliobates giganteus, Myliobates subarcuatus, Myliobatis subarcuatus
Types
Aetobatus irregularis
Description:



Citation:

Aetobatus irregularis (Agassiz, 1843): In: Database of fossil elasmobranch teeth www.shark-references.com, World Wide Web electronic publication, Version 12/2022

Please send your images of
"Aetobatus irregularis"
to
info@shark-references.com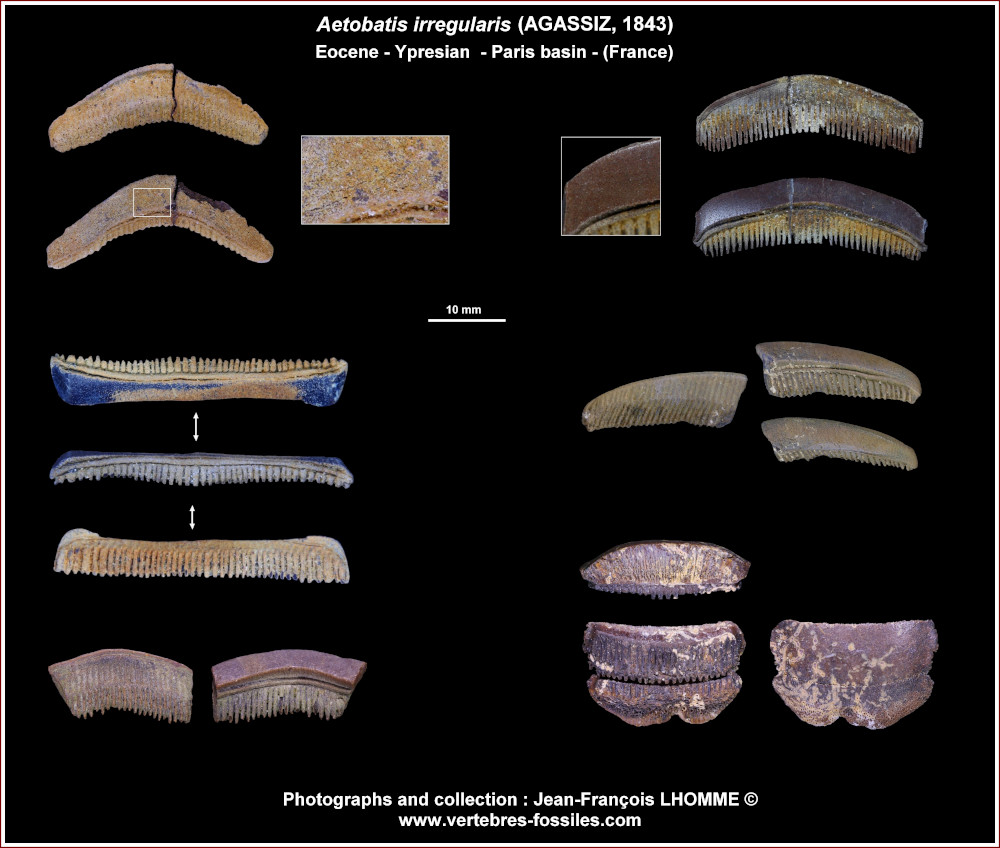 Aetobatus irregularis
(Agassiz, 1843), Eocene of the Paris Basin © Jean-Francois LHOMME,
www.vertebres-fossiles.com