NCBI GenBank
Aetomylaeus nichofii
(Bloch & Schneider, 1801)
Banded eagle ray
Classification:
Elasmobranchii Myliobatiformes Myliobatidae
Reference of the original description
M.E. Blochii Systema Ichthyologiae iconibus ex illustratum. Post obitum auctoris opus inchoatum absolvit, correxit, interpolavit.
J.G. Schneider, Saxo: 584 p., 110 pl.
Image of the original description
No image in first description.
Synonyms / new combinations and misspellings
Aetomylaeus cf. nichofii, Aetomylaeus huletti, Aetomylaeus nichoffi, Aetomylaeus nichofi, Aetomylaeus nichofii cornifera, Aetomylaeus niehofii, Aetomylus nichofii, Myliobates nieuhofii, Myliobates vultur, Myliobatis nienhofii, Myliobatis nieuhofi, Myliobatis nieuhofii, Myliobatis nieuhofii cornifera, Myliobatis vultur, Myliobatis vulture, Raja fasciata, Raja nichofii, Raja niehofii
Description :



Citation:

Aetomylaeus nichofii

(Bloch & Schneider, 1801): In: Database of modern sharks, rays and chimaeras, www.shark-references.com, World Wide Web electronic publication, Version 12/2023

Please send your images of
"Aetomylaeus nichofii"
to
info@shark-references.com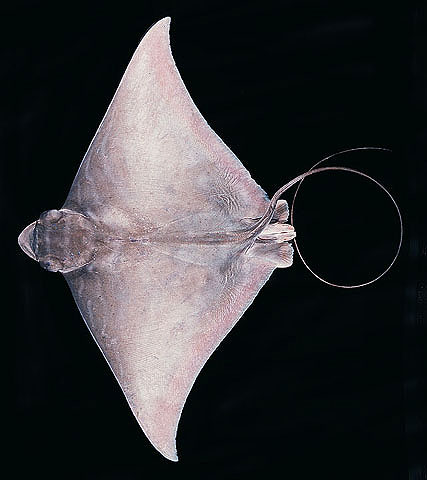 Aetomylaeus nichofii
(Bloch & Schneider, 1801), © Randall, J.E, www.fish-base.org
Common names

Banded eagle ray,

Barbless eagle ray,

Nieuhof"s eagle ray,

Nieuhof"s eagle-ray
Distribution
Indo-West Pacific: Persian Gulf to the Philippines, north to Korea and southern Japan, south to northern Australia. Possibly in the Red Sea and eastern and southern Africa. Source:
www.gbif.org
Human uses
fisheries: minor commercial; price category: medium; price reliability: very questionable: based on ex-vessel price for species in this family
Biology
Exhibit ovoviparity (aplacental viviparity), with embryos feeding initially on yolk, then receiving additional nourishment from the mother by indirect absorption of uterine fluid enriched with mucus, fat or protein through specialised structures
[733]
. Gives birth to ~4 pups; born at ~17 cm WD
[2539]
. Occurs inshore and offshore, from the intertidal to at least 70 m depth. May enter brackish water
[20220]
. Found on the continental shelf (Ref.
75154
). Feeds on worms, crustaceans, snails, and bony fishes.
Size / Weight / Age
65.0 cm WD (male/unsexed; (Ref.
47613
))
Remarks
shark-references Species-ID=140;
Parasites (arranged by Jürgen Pollerspöck)
Monogenea
Empruthotrema dasyatidis Whittington & Kearn, 1992 [7581]
Myliocotyle multicrista Chisholm & Whittington, 2004 [9444]
Cestoda
Trematoda
Aetohemecus kirstenjensenae Warren & Bullard, 2021 [29951]
Homestios janinecairae Warren & Bullard, 2021 [29951]