NCBI GenBank
Akheilos suwartanai
White, Fahmi & Weigmann, 2019
Classification:
Elasmobranchii Carcharhiniformes Scyliorhinidae
Reference of the original description
A new genus and species of catshark (Carcharhiniformes: Scyliorhinidae) from eastern Indonesia.
Zootaxa, 4691(5), 444–460
Description :



Citation:

Akheilos suwartanai

White, Fahmi & Weigmann, 2019: In: Database of modern sharks, rays and chimaeras, www.shark-references.com, World Wide Web electronic publication, Version 11/2022

Please send your images of
"Akheilos suwartanai"
to
info@shark-references.com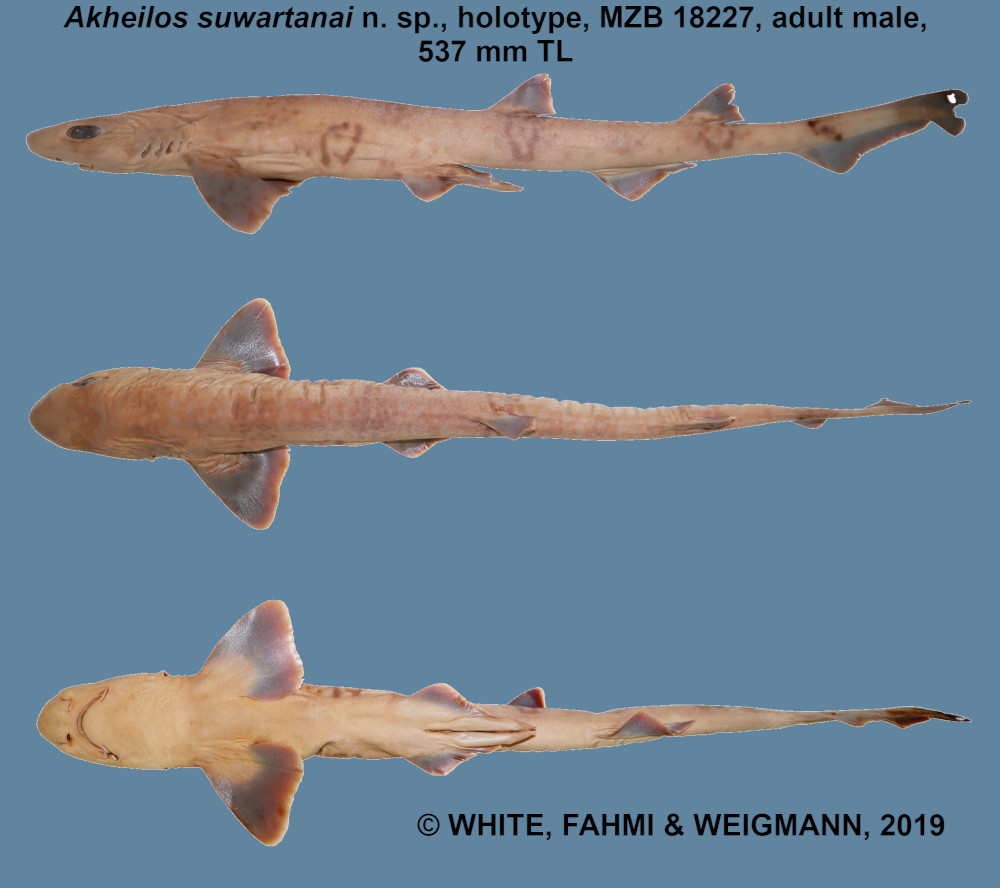 Akheilos suwartanai
White, Fahmi & Weigmann, 2019, adult male holotype, MZB 18227, 537 mm TL © White, Fahmi & Weigmann, 2019
Common names

Ambon Catshark
Short Description
Diagnose after WHITE, FAHMI & WEIGMANN, 2019
[27713]
: A moderately small scyliorhinid catshark with the following combination of characters: moderately long precaudal tail region (tail much longer than trunk); dorsal fins of similar size and shape; snout short and narrowly parabolic; eyes large and narrowly oval (length 5.0 times in head length), broad suborbital grooves; nostrils oblique with triangular anterior nasal flaps not reaching to mouth and distinct but low posterior nasal flaps; mouth broadly rounded, its width 1.2 times preoral length; upper and lower labial furrows well developed, uppers not reaching midpoint between mouth corner and posterior margin of nostril; jaws with ~60 upper and ~53 lower tooth rows, teeth mostly multicuspid, posterolaterals not strongly differentiated from anterolaterals; caudal fin ventral lobe low but distinct; claspers long and slender, glans elongate, long and low envelope present, cover rhipidion small without an anterior fold or tab, pseudosiphon small and slit-like; supraorbital crests present on cranium; colour pale brown with numerous rusty brown spots, small brown spots forming two indistinct saddles on dorsal surface of predorsal body, broken ocellus-like marking on side behind pectoral fins and under each dorsal fin; precaudal vertebral centra 96, total centra ~137.
Distribution
Island of Ambon, Indonesia (type)
[27713]
Size / Weight / Age
TL (max, type): 537 mm TL
[27713]
Habitat
marine; depth range: ? m,
[27713]
Dentition
Upper jaw with approximately 60 and lower jaw with about 53 diagonal rows of small teeth. Teeth similar in both jaws, mostly pentacuspidate with median cusp much longer than lateral cusps; posterolateral teeth barely differentiated from anterolateral teeth. Cutting edges of cusps without serrations.
[27713]
Remarks
shark-references Species-ID=15511