Asteracanthus ornatissimus
AGASSIZ, 1836
Classification:
Elasmobranchii Hybodontiformes Acrodontidae
Reference of the original description
Recherches sur les poissons fossiles, 7th livraison (June–July 1836).
Petitpierre et Prince (text) and H. Nicolet (plates), Neuchâtel, vol. 3: pl. 2, 3, 4, 5, 6, 7, 8, 10, 11, 12, 41, 42, 43, 44.
Synonyms / new combinations and misspellings
Asteracanthus aff. ornatissimus, Asteracanthus beddingtonensis, Asteracanthus cf. reticulatus, Asteracanthus ornatissimus flettonensis, Asteracanthus papillosus, Asteracanthus preussi, Asteracanthus reticulatus, Asteracanthus subreticulatus, Psammodus reticulatus, Psammodus subreticulatus, Strophodus normanianus, Strophodus radiatus, Strophodus ratisbonensis, Strophodus reticulatus, Strophodus subreticulatus
Description:



Citation:

Asteracanthus ornatissimus AGASSIZ, 1836: In: Database of fossil elasmobranch teeth www.shark-references.com, World Wide Web electronic publication, Version 01/2021

Please send your images of
"Asteracanthus ornatissimus"
to
info@shark-references.com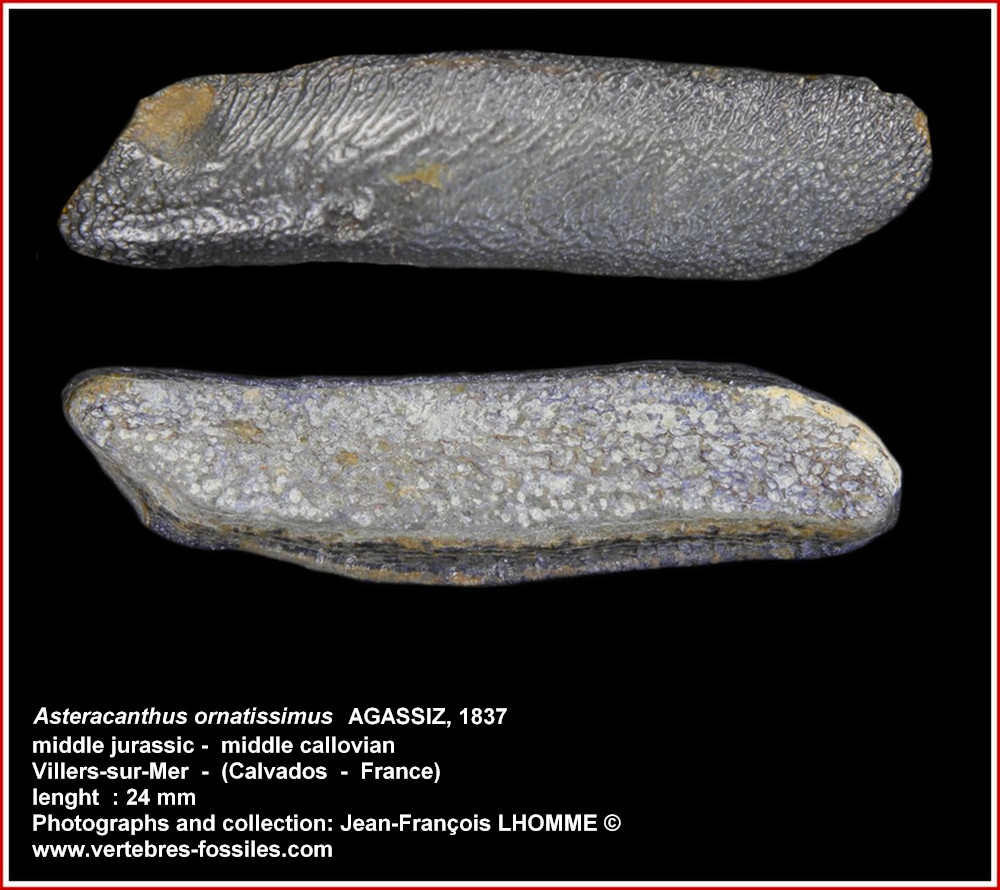 Asteracanthus ornatissimus
AGASSIZ, 1836, Middle Jurassic, Middle Callovian, Villers-sur-Mer, Calvados, France © Jean-Francois LHOMME,
www.vertebres-fossiles.com