IUCN Red List

NCBI GenBank
Bathyraja pacifica
LAST, STEWART & SÉRET, 2016
Pacific Blonde Skate
Classification:
Elasmobranchii Rajiformes Arhynchobatidae
Reference of the original description
A new temperate deepwater skate of the genus Bathyraja (Rajoidei: Arhynchobatidae) from the South-West Pacific.
Zootaxa, 4132 (1): 107–117
Description :



Citation:

Bathyraja pacifica

LAST, STEWART & SÉRET, 2016: In: Database of modern sharks, rays and chimaeras, www.shark-references.com, World Wide Web electronic publication, Version 03/2021

Please send your images of
"Bathyraja pacifica"
to
info@shark-references.com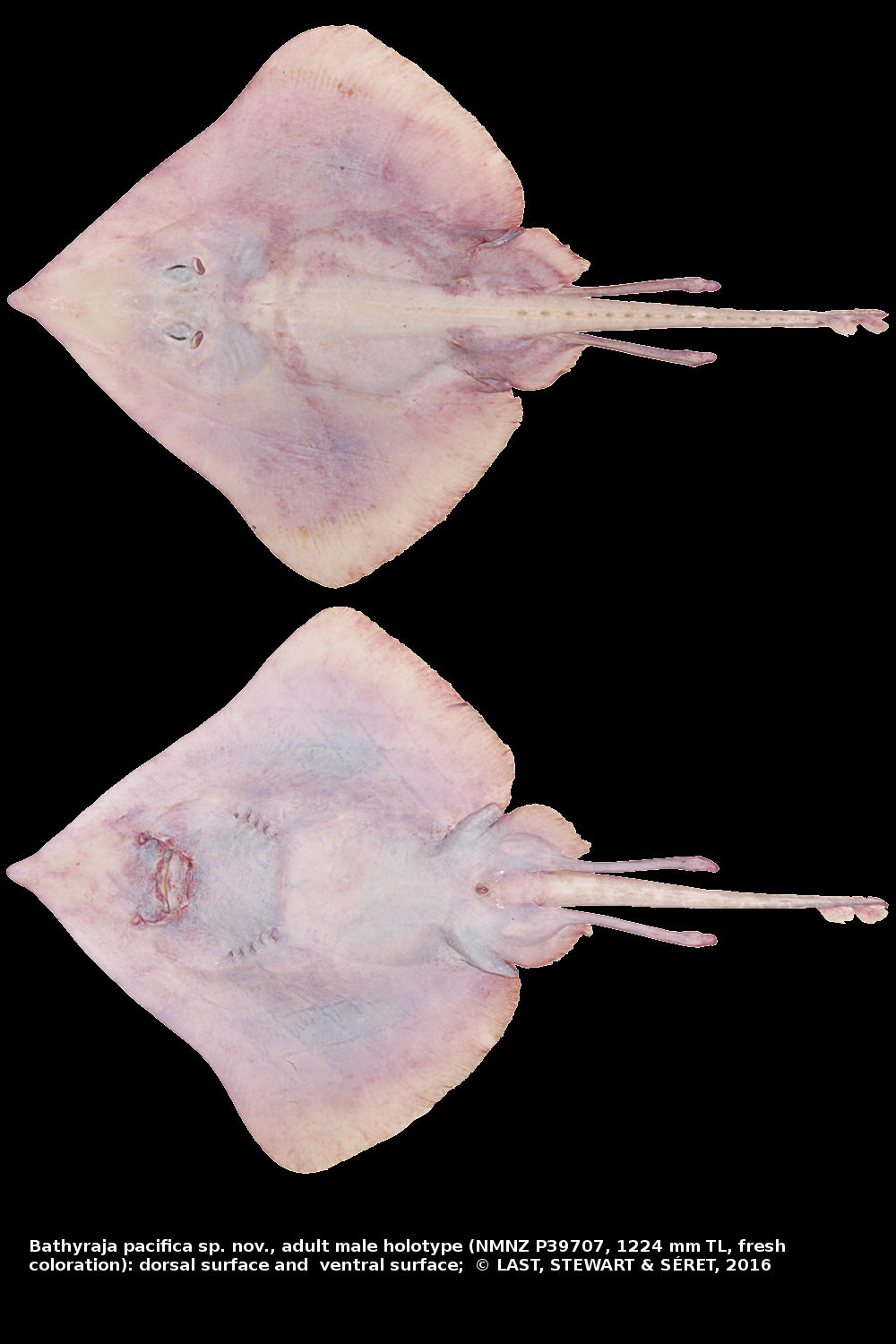 Bathyraja pacifica sp. nov, adult male holotype (NMNZ P39707, 1224 mm TL, fresh coloration): dorsal surface and ventral surface; © LAST, STEWART & SÉRET, 2016
Common names

Pacific Blonde Skate
Short Description
Original diagnosis after LAST, STEWART & SÉRET, 2016
[24270]
: A large species of Bathyraja (to 122 cm TL) with the following combination of characters based on the holotype (unique specimen): disc strongly depressed and quadrangular with narrowly rounded apices, width 64% TL, 1.1 times its length; tail rather short, length 0.8 in distance from snout tip to rear of cloaca, its width 1.8 times height at its midlength, 1.5 times at first dorsal-fin origin; pre-upper jaw length 18% TL, 2.3 times internasal width; ventral head length 32% TL; snout long, broad, length 4.0 times interorbital width, supported by slender flexible median cartilage; snout angle 83°; mouth narrow 7% TL; orbit diameter 57% interorbital width; first dorsal-fin height 1.7 in its base length; procaudal length 2.3 times first dorsal-fin base length, 4.8 times caudal-fin length; dorsal disc almost entirely devoid of fine denticles; no thorns on disc, other than narrow alar thorn patches; tail with 16 (one lost) thorns in single median row; total pectoral radials 84–85; trunk centra 34; predorsal centra 105; total centra ~136; tooth rows in upper jaw 29; skin thin and almost entirely translucent white, no dark areas on body, sensory pores indistinct (not dark edged).
Distribution
Deep insular slope of the western Norfolk Ridge, New Zealand (holotype)
[24270]
Size / Weight / Age
Adult male holotype 1224 mm TL
[24270]
Habitat
demersal; marine; depth range 1760–1789 (holotype)
[24270]
Dentition
lateral teeth of upper jaw exposed, not concealed by lip or lobe of nasal curtain. Teeth unicuspid, 29 rows in upper jaw, 29 rows in lower jaw; with slightly elevated subcircular bases; arranged in obvious longitudinal rows rather than in quincunx; cusps near middle of both jaws short, slender, pungent, strongly directed lingually in middle of upper jaw; slightly oblique (posterolaterally) at corner of jaws;
[24270]
Remarks
shark-references Species-ID=14604;