NCBI GenBank
Bathyraja parmifera
(Bean, 1881)
Alaska skate
Classification:
Elasmobranchii Rajiformes Arhynchobatidae
Reference of the original description
Descriptions of new fishes from Alaska and Siberia.
Proceedings of the United States National Museum, 4, 144–159
Image of the original description
No image in first description.
Synonyms / new combinations and misspellings
Arctoraja parmifera, Bathyraja rosispinis, Bathyraja (Arctoraja) parmifera, Breviraja parmifera, Breviraja (Arctoraja) parmifera, Raia obtusa, Raia parmifera, Raia rosispinis, Raja obtusa, Raja parmifera, Raja rosispinis, Rhinoraja obtusa, Rhinoraja rosispinis
Types
Bathyraja parmifera
Holotype:
USNM
:
27651
;
Raja rosispinis
Holotype:
USNM
: 48762
Rhinoraja obtusa
Holotype:
USNM
: 48763
Description :



Citation:

Bathyraja parmifera

(Bean, 1881): In: Database of modern sharks, rays and chimaeras, www.shark-references.com, World Wide Web electronic publication, Version 12/2021

Please send your images of
"Bathyraja parmifera"
to
info@shark-references.com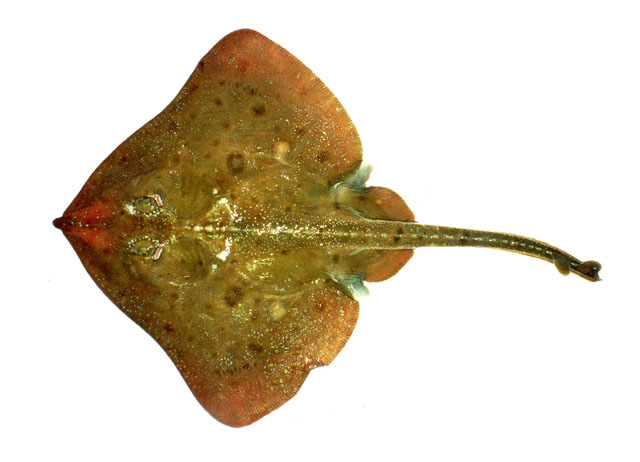 Bathyraja parmifera (BEAN, 1881), © Alexei Orlov
Common names

Alaska skate,

Flathead skate
Distribution
North Pacific: Bering Sea to southeastern Alaska.
Biology
Oviparous, paired eggs are laid. Embryos feed solely on yolk
[733]
. Distinct pairing with embrace. Young may tend to follow large objects, such as their mother
[17086]
. Eggs have horn-like projections on the shell
[17086]
. Feeds on fish, squids and benthic invertebrates
[5868]
.
Size / Weight / Age
129 cm TL (male/unsexed; (Ref.
56527
)); max. published weight: 18.2 kg (Ref.
56527
)
Remarks
shark-references Species-ID=538;
Parasites (arranged by Jürgen Pollerspöck)
Cestoda