Brachycarcharias lerichei
(Casier, 1946)
Classification:
Elasmobranchii Lamniformes Odontaspididae
Reference of the original description
La faune ichthyologique de l'Yprésien de la Belgique.
Mémoires du Musée Royal d'Histoire Naturelle de Belgique, 104: 1–267, 19 fig., 6 pl.
Synonyms / new combinations and misspellings
Carcharias lerichei, Isurolamna lerichei, Lamna aff. lerichei, Lamna lerichei, Serratolamna lerichei
Types
Brachycarcharias lerichei
Description:



Citation:

Brachycarcharias lerichei (Casier, 1946): In: Database of fossil elasmobranch teeth www.shark-references.com, World Wide Web electronic publication, Version 11/2021

Please send your images of
"Brachycarcharias lerichei"
to
info@shark-references.com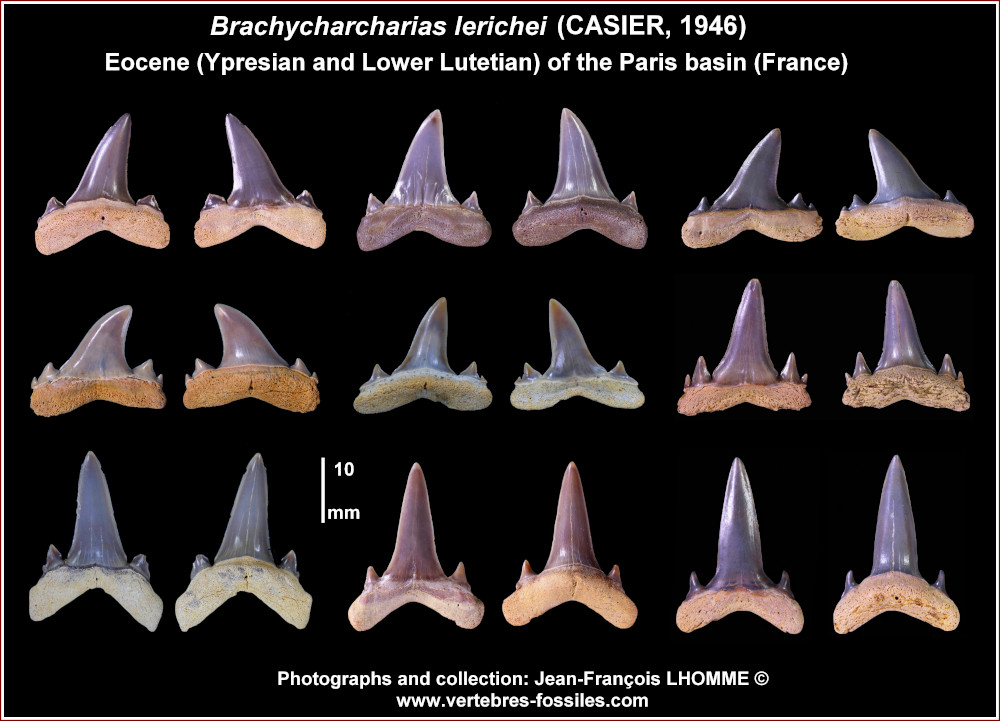 Brachycarcharias lerichei
(CASIER, 1946), Paleocene, Picardy, France © Jean-Francois LHOMME,
www.vertebres-fossiles.com
Remarks
valid after Cappetta & Nolf (2005) p. 241
[366]
; Cappetta & Case (2016) p. 49
[24889]
; Marramà et al. (2018) p. 287
[25955]
; Ebersole et al. (2019) p. 39
[27789]
;