NCBI GenBank
Carcharhinus brevipinna
(Müller & Henle, 1839)
Spinner shark
Classification:
Elasmobranchii Carcharhiniformes Carcharhinidae
Reference of the original description
Systematische Beschreibung der Plagiostomen.
Berlin, Veit, pp. 1–200
Image of the original description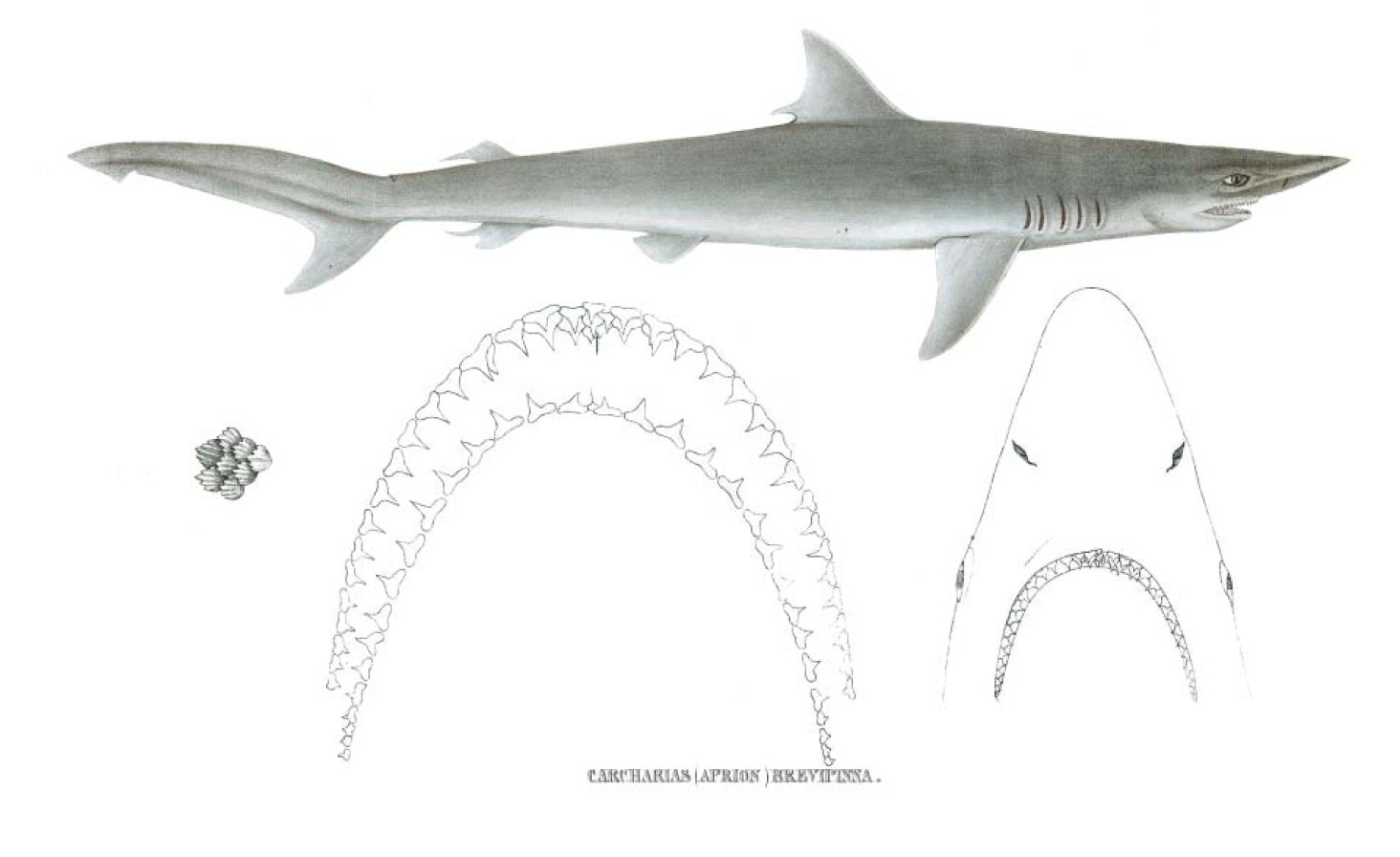 Carcharhinus brevipinna (Müller & Henle, 1838)
Synonyms / new combinations and misspellings
Aprionodon brevipinna, Aprionodon caparti, Carcharhinus aff. maculipinnis, Carcharhinus brevipina, Carcharhinus brevipinna, Carcharhinus brevipinna brevipinna, Carcharhinus cf. brevipinna, Carcharhinus johnsoni, Carcharhinus maculipinnis, Carcharias brevipinna, Carcharias maculipinnis, Carcharias (Aprion) brevipinna, Carcharias (Aprionodon) brevipinna, Carcharias (Prionodon) brevipinna, Carcharinus brevipinna, Carcharinus johnsoni, Isogomphodon maculipinnis, Longmania brevipinna, Longmania calamaria, Platypodon maculipinnis, Squalus brevipinna, Squalus (Aprion) brevipinna, Uranga nasuta
Description :



Citation:

Carcharhinus brevipinna

(Müller & Henle, 1839): In: Database of modern sharks, rays and chimaeras, www.shark-references.com, World Wide Web electronic publication, Version 12/2023

Please send your images of
"Carcharhinus brevipinna"
to
info@shark-references.com

Carcharhinus brevipinna
(Müller & Henle, 1839), STL 110 cm, northern Gulf of Mexico © Bryan Huerta
Common names

Jaqueton,

Tiburon aleta negra,

Tiburón de aleta negra,

Tiburón de arrecife,

Requin nene pointe,

Requin tisserand,

Blacktipped shark,

Great blacktip shark,

Inkytail shark,

Large blacktip shark,

Long-nose grey shark,

Longnose grey shark,

Longnose grey whaler,

Shark,

Smoothfang shark,

Spinner Shark,

Squalo pinnacorta,

Squalo spinner,

Squalo tessitore,

Cação,

Cação galha preta,

Cação-agulha-preta,

Galha-preta,

Machote,

Marracho barbatana negra,

Serra-garoupa,

Sucuri-de-ponta-petra,

Tubarão-tecelão
Short Description
A slender shark with a long, narrow, pointed snout, long gill slits and small, narrow-cusped teeth; first dorsal fin small; no interdorsal ridge; labial furrows longer than in any other grey shark
[536]
. Grey above, white below, with a conspicuous white band on sides; second dorsal, anal, undersides of pectorals and lower caudal-fin lobe black or dark grey-tipped in subadults and adults, but unmarked or nearly so in small individuals
[544]
.
Distribution
Western Atlantic: North Carolina, USA to northern Gulf of Mexico and the Bahamas, then from southern Brazil to northern Argentina. Reported from Cuba
[20078]
. Eastern Atlantic: Spain to Namibia, including the southern Mediterranean Sea. Indo-West Pacific: Red Sea south to South Africa and eastward to Indonesia, north to Japan, south to Australia. Often referred to as Carcharhinus limbatus in the past. Source:
www.gbif.org
Human uses
fisheries: commercial; gamefish: yes
Biology
Viviparous, with a yolk-sac placenta; bears up to 20 young
[536]
; 3-15 pups
[2539]
. Size at birth 60 to 80 cm
[1388]
. Distinct pairing with embrace
[17086]
. Occurs on the continental shelf (Ref.
75154
). A carnivore
[17641]
.
Habitat
reef-associated; oceanodromous
[17660]
; marine; depth range 0 - 100 m
[17657]
, usually 0 - ? m (Ref.
55179
)
Remarks
shark-references Species-ID=729;
Parasites (arranged by Jürgen Pollerspöck)
Cestoda
Nematoda
Anisakis typica (Diesing, 1860) Baylis, 1920 [25785]
Copepoda