NCBI GenBank
Carcharhinus galapagensis
(Snodgrass & Heller, 1905)
Galapagos shark
Classification:
Elasmobranchii Carcharhiniformes Carcharhinidae
Reference of the original description
Papers from the Hopkins-Stanford Galapagos Expedition, 1898-1899. XVII. Shore fishes of the Revillagigedo, Clipperton, Cocos and Galapagos islands.
Proceedings of the Washington Academy of Sciences, 6, 333–427
Image of the original description
No image in first description.
Synonyms / new combinations and misspellings
Carcharhinus cf. galapagensis, Carcharias galapagensis, Carcharinus galapagensis, Eulamia galapagensis
Types
Carcharhinus galapagensis
Holotype:
SU
: 12324 (apparently lost) Paratype:
SU
: 12325
SU
: 12326 (apparently lost)
Description :



Citation:

Carcharhinus galapagensis

(Snodgrass & Heller, 1905): In: Database of modern sharks, rays and chimaeras, www.shark-references.com, World Wide Web electronic publication, Version 05/2023

Please send your images of
"Carcharhinus galapagensis"
to
info@shark-references.com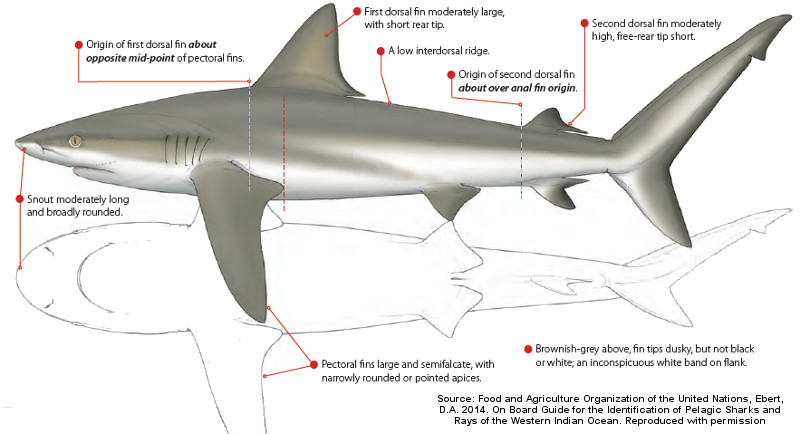 Carcharhinus galapagensis
(Snodgrass & Heller, 1905), © FAO, Food and Agriculture Organization of the United Nations, Ebert, D.A. 2014. On Board Guide for the Identification of Pelagic Sharks and Rays of the Western Indian Ocean. Reproduced with permission, illustration by
Marc Dando
, Wildlife Illustrator
Common names

Cazón,

Jaqueta,

Jaquetón,

Tiburón,

Tiburón de Galapagos,

Tollo,

Tollo-cazón,

Requin de Galapagos,

Requin des Galapagos,

Galapagos shark,

Mackerel shark,

Cação,

Tubarão-dos-Galápagos
Short Description
Low inter-dorsal ridge present
[544]
. Dark grey above, light below, fins plain or with slightly dusky tips
[544]
.
Distribution
Circumtropical with a preference for waters around oceanic islands. Eastern Atlantic: including St. Paul"quot;s Rocks (Refs. 13121, 52289). Western Indian Ocean: including Walter"quot;s Shoal, south of Madagascar. Western Pacific: including Middleton and Elizabeth Reefs. Eastern Pacific: Galápagos (Ref.
58896
). Source:
www.gbif.org
Human uses
fisheries: minor commercial; price category: medium; price reliability: very questionable: based on ex-vessel price for species in this family
Biology
Viviparous, with a yolk sac placenta
[517]
. 6 to 16 young born at 60-80 cm
[578]
. Distinct pairing with embrace
[17086]
. Occurs on the continental shelf (Ref.
75154
). An ontogenetic change in diet occurs as size increases. They consume a smaller proportion of teleosts and more elasmobranchs with increasing size
[5603]
.
Size / Weight / Age
370 cm TL (male/unsexed;
[17643]
); max. published weight: 85.5 kg (Ref.
40637
); max. reported age: 24 years
[2246]
Remarks
shark-references Species-ID=755;
Parasites (arranged by Jürgen Pollerspöck)
Monogenea
Dermophthirius carcharhini Maccallum, 1926 [17076]
Cestoda
Copepoda