IUCN Red List

NCBI GenBank
Centroscyllium granulatum
Günther, 1887
Granular dogfish
Classification:
Elasmobranchii Squaliformes Etmopteridae
Reference of the original description
Report on the deep-sea fishes collected by H.M.S. CHALLENGER during the years 1873-1876.
Zoology, 5(22), 1–335
Image of the original description
No image in first description.
Types
Centroscyllium granulatum
Holotype:
BMNH
: 1887.12.7.2
Description :



Citation:

Centroscyllium granulatum

Günther, 1887: In: Database of modern sharks, rays and chimaeras, www.shark-references.com, World Wide Web electronic publication, Version 10/2022

Please send your images of
"Centroscyllium granulatum"
to
info@shark-references.com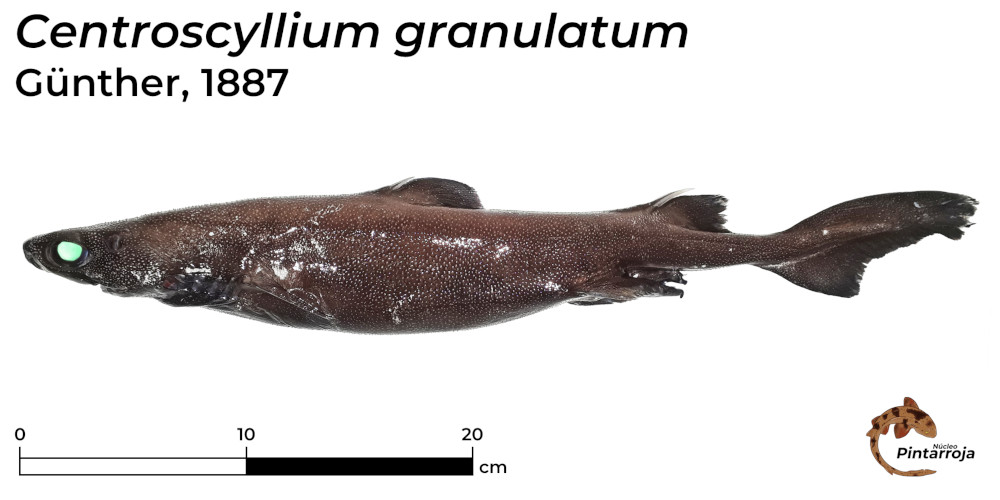 Centroscyllium granulatum
Günther, 1887, Chile © L. Ignacio Contreras, Laboratorio de Zoología de Vertebrados, Facultad de Ciencias, U. de Chile
Common names

Tollo negro luminoso,

Tollo negro raspa,

Aiguillat râpe,

Granular dogfish
Short Description
Original description after GÜNTHER, 1887
[1023]
: Centroscyllium granulatum. n. sp. The discovery of a specimen of this Arctic genus in the opposite hemisphere is highly interesting ; unfortunately the specimen is in such a deteriorated condition, that we can ascertain from it scarcely anything beyond its generic characters. Specifically, it must be very closely allied to Centroscyllium fabricii, having the same disposition of the fins, size of teeth and dorsal spines, but the epidermoid productions of the head and body are much coarser, and in the form of granulations, whilst in Centroscyllium fabricii they are minute. Habitat. Port Stanley, Falkland Islands, Station 311; depth, 245 fathoms. One specimen, 11 inches long.
Distribution
Southwest Atlantic: Argentina
[5839]
and Falkland Islands.
Human uses
fisheries: of no interest
Biology
Distinct pairing with embrace
[17086]
.
Size / Weight / Age
28.0 cm TL (male/unsexed;
[518]
)
Habitat
bathypelagic; marine
Dentition
C. granulatum has a tricuspid homodont dentition, with smaller teeth on the lower jaw, a narrow sharpened principal cusp with smaller lateral cusp and smooth striated labial enamel
[2452]
Remarks
shark-references Species-ID=1271;
Parasites (arranged by Jürgen Pollerspöck)
Cestoda
Gilquinia squali (Fabricius, 1794) [16112]