NCBI GenBank
Centroscyllium kamoharai
ABE, 1966
Bareskin dogfish
Classification:
Elasmobranchii Squaliformes Etmopteridae
Reference of the original description
Description of a new squaloid shark, Centroscyllium kamoharai, from Japan.
Japanese Journal of Ichthyology, 13 (4/6): 190–198
Image of the original description
Image in copyright.
Synonyms / new combinations and misspellings
Centroscyllium cf. kamoharai
Description :



Citation:

Centroscyllium kamoharai

ABE, 1966: In: Database of modern sharks, rays and chimaeras, www.shark-references.com, World Wide Web electronic publication, Version 05/2021

Please send your images of
"Centroscyllium kamoharai"
to
info@shark-references.com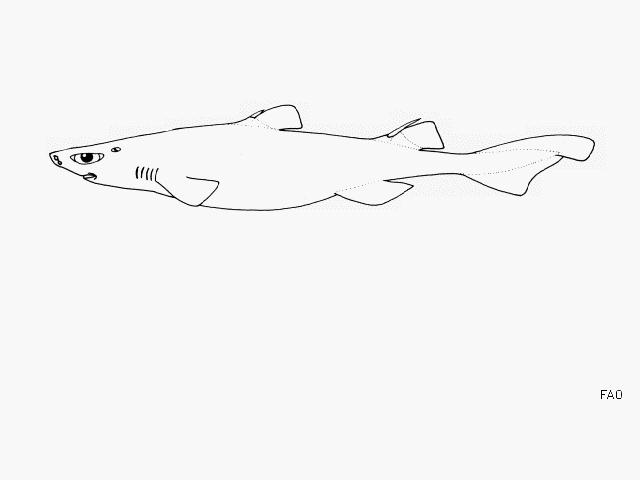 Centroscyllium kamoharai ABE, 1966, © FAO, www.fish-base.org
Common names

Tollo negro liso,

Aiguillat lisse,

Bareskin dogfish
Short Description
Original Diagnosis after ABE, 1966
[3739]
: Body nearly naked; skin soft and slippery. Head depressed, wide, nearly rounded anteriorly and large-eyed. Trunk fairly robust; belly more of less swollen. Caudal pedencle little compressed, slightly concave medially behind second dorsal fin, and without lateral keels and precaudal pits. Origin of first dorsal fin behind, or nearly over tips of, pectorals when latter are laid back. Interspace between second dorsal and dorsal lobe of caudal about as long as from orbit to a point between dorsal corners of 1st and 2nd gill-openings (holotype) or to dorsal corner of 1st gillopening (paratype). Spine of first dorsal fin (damaged in holotype; perfect in paratype) very much lower than horny part of the fin. Spine of second dorsal fin slightly curved, with a groove near anterior margin and another near posterior margin on either side as in the spine of first dorsal fin, much higher than spine of first dorsal fin, and considerably lower than horny part of second dorsal fin; base of former spine in advance of rear ends of pelvic fins. Caudal fin gently rounded dorsally, concave posteriorly on ventral lobe, and notched at rear end of ventral lobe, thereafter being nearly straight. Pectoral fins placed low down, outer (or ventral) side being nearly flush with ventral side of body. Dorsal, pectoral and pelvic fins rather small in size.
Distribution
Western Pacific: Japan and Australia (including Western Australia). Source:
www.gbif.org
Human uses
fisheries: of no interest
Biology
Distinct pairing with embrace
[17086]
.
Size / Weight / Age
60.0 cm TL (male/unsexed;
[1388]
)
Dentition
Teeth of both jaws similar in shape, erect, symmetrical, or nearly so, with 3-5 cusps, the median cusp being the largest. Outermost row of jaw teeth and subsequent row very close to one another, forming nearly a single row and rendering the counting difficult.
[3739]
Remarks
shark-references Species-ID=1272;