NCBI GenBank
Centroscyllium ritteri
JORDAN & FOWLER, 1903
Whitefin dogfish
Classification:
Elasmobranchii Squaliformes Etmopteridae
Reference of the original description
A review of the Elasmobranchiate fishes of Japan.
Proceedings of the United States National Museum, 26 (1324): 593–674
Image of the original description

Centroscyllium ritteri JORDAN & SNYDER,1903
Description :



Citation:

Centroscyllium ritteri

JORDAN & FOWLER, 1903: In: Database of modern sharks, rays and chimaeras, www.shark-references.com, World Wide Web electronic publication, Version 03/2021

Please send your images of
"Centroscyllium ritteri"
to
info@shark-references.com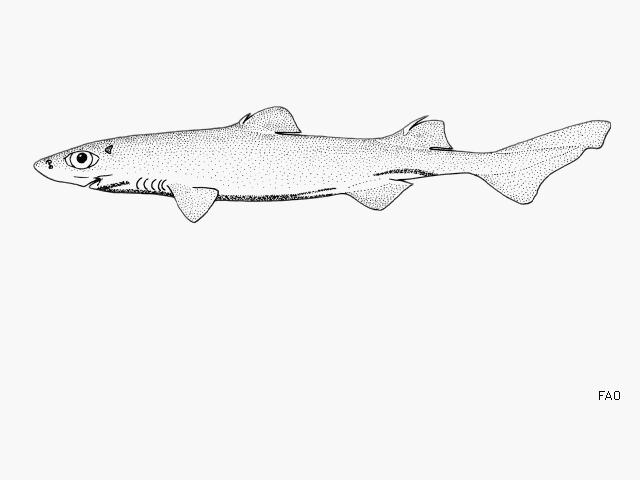 Centroscyllium ritteri JORDAN & FOWLER, 1903, © FAO, www.fish-base.org
Common names

Tollo negro aliblanco,

Aiguillat à nageoires blanches,

Whitefin dogfish
Short Description
Original Diagnosis after JORDAN & & FOWLER, 1903
[3006]
: Head 5 1/2 in length; snout about 3/4 in head; interorbital space 2; width of mouth 2; eye about 5; space between spiracles 2 1/3; pectoral about 2 Body elongate; head very broad and depressed, flattened above; snout short, very broad, flattened above, rounded; eye large, near snout; nostrils large, inferior, midway between tip of snout and eye; mouth distant from tip of snout a space equal to a trifle more than interorbital width; teeth very sharp, tricuspid, alike both jaws; lips rather thin, a labial fold at corners of mouth; interorbital space broad, greater than space between spiracles. Spiracles large, superior, behind eyes. Body covered with small, single prickles, scattered, though not present on lower surface of snout, small on lower abdominal surface. Head with many pores, especially on lower surface of snout. I First dorsal spine smaller than second, slightly more than half I height of fin; second dorsal spine long, curved, but not quite to tip of ,tin; origin of first dorsal nearer that of second than the tip of snout, inserted well behind pectoral; second dorsal nearer first dorsal than tip of caudal, tip of fin anteriorly not extending for more than half the space between its base and origin of upper caudal lobe; pectoral fins broad, short, about equal to width of snout in front of eyes; ventrals small and entirely in front of second dorsal; caudal moderate, less than space between two dorsal spines. Caudal peduncle long, rather slender, thick, flattened above and below. Lateral line with : pores, rather far apart, running superiorly in front and along sides. Color, uniform dark gray-brown, blackish below, in front, tins all more or less broadly cdo-ed with whitish. Length 16i inches. Type No. 7185, Ichthyological Collections, Leland Stanford Junior University Museum. Locality, Misaki. This species is known to us from 2 examples obtained at Misaki.il It differs from Centroscyllium fabricii, the only other species of the genus, in having the caudal peduncle much longer and more slender, and in the shorter pectorals, which do not reach to below the first': dorsal. j (It is named for Dr. William Emerson Ritter, of the University of.! California, in recognition of his excellent work on the Tunicates andi Enteropneustaiis of the Pacific Ocean.)
Distribution
Northwest Pacific: endemic to Japan. Source:
www.gbif.org
Human uses
fisheries: of no interest
Biology
Distinct pairing with embrace
[17086]
.
Size / Weight / Age
43.0 cm TL (male/unsexed;
[518]
)
Habitat
demersal; marine; depth range 110 - 1100 m (Ref.
50610
)
Remarks
shark-references Species-ID=1275;