NCBI GenBank
Chiloscyllium griseum
MÜLLER & HENLE, 1838
Grey bambooshark
Classification:
Elasmobranchii Orectolobiformes Hemiscylliidae
Reference of the original description
Systematische Beschreibung der Plagiostomen.
Berlin, Veit, pp. 1–200
Image of the original description

Chiloscyllium griseum MÜLLER & HENLE, 1838
Synonyms / new combinations and misspellings
Chiloscyllium griseus, Chiloscyllium grisium, Chiloscyllium obscurum, Hemiscyllium griseum, Hemiscyllium griseurm, Hemiscyllium griseus
Description :



Citation:

Chiloscyllium griseum

MÜLLER & HENLE, 1838: In: Database of modern sharks, rays and chimaeras, www.shark-references.com, World Wide Web electronic publication, Version 06/2019

Please send your images of
"Chiloscyllium griseum"
to
info@shark-references.com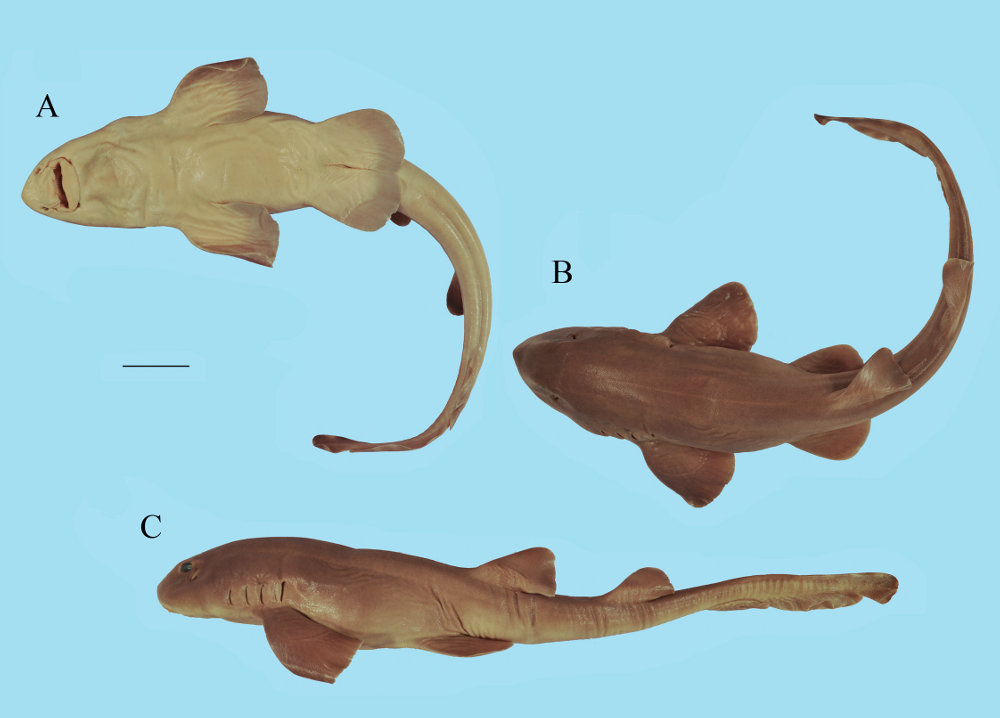 Chiloscyllium griseum
MÜLLER & HENLE, 1838; ZMH 25675; Gulf of Thailand near Cha-Am, 30 m depth; 05.12.1993; 560 mm TL © Dr. Simon Weigmann, Elasmobranch Research Laboratory, Lüneburg
 source: WEIGMANN, S. (2012): Contribution to the Taxonomy and Distribution of Six Shark Species (Chondrichthyes, Elasmobranchii) from the Gulf of Thailand. ISRN Zoology, vol. 2012, Article ID 860768, 24 pages, doi:10.5402/2012/860768
Common names

Bamboa gris,

Requin-chabot gris,

Banded dogfish,

Black banded cat shark,

Blackbanded shark,

Carpet shark,

Gray bamboo shark,

Grey bambooshark,

Grey catshark
Short Description
Genus: Nostrils subterminal on snout; pre-oral snout long, mouth closer to eyes than snout tip; eyes and supraorbital ridges hardly elevated; no black hood on head or large spot or spots on sides of body above pectoral fins
[531]
. Caudal fin with a pronounced subterminal notch but without a ventral lobe
[16823]
. Species: Light brown, yellow-brown or grey-brown above, cream below, with 12-13 prominent saddle marks in young, fading with growth and absent in adults
[16823]
. Dark bands in juveniles not outline in black
[16823]
. Dorsal fins smaller than pelvic fins, without projecting free rear tips
[16823]
. Body without lateral dermal ridge (Ref.
4832
)
[531]
[16823]
.
Distribution
Indo-West Pacific: Arabian Sea to Pakistan, India, Malaysia, Thailand, Indonesia, China, Japan, the Philippines, Papua New Guinea. Probably occurring in Sri Lanka
[16823]
. Many records need confirmation
[16823]
. Source:
www.gbif.org
Human uses
fisheries: commercial
Biology
Oviparous, deposits eggs in small, oval eggs cases on the bottom
[518]
. Paired eggs are laid. Embryos feed solely on yolk
[733]
. Distinct pairing with embrace
[17086]
. During copulation observed in captivity, the male bites the female"quot;s pectoral fin in a side-to-side position (Ref.
49562
, 51121).
Size / Weight / Age
74.0 cm TL (male/unsexed;
[518]
)
Remarks
shark-references Species-ID=1388;
Parasites (arranged by Jürgen Pollerspöck)
Cestoda