NCBI GenBank
Chimaera didierae
CLERKIN, EBERT & KEMPER, 2017
Classification:
Holocephali Chimaeriformes Chimaeridae
Reference of the original description
New species of Chimaera (Chondrichthyes: Holocephali: Chimaeriformes: Chimaeridae) from the Southwestern Indian Ocean.
Zootaxa, 4312 (1): 1–37
Description :



Citation:

Chimaera didierae

CLERKIN, EBERT & KEMPER, 2017: In: Database of modern sharks, rays and chimaeras, www.shark-references.com, World Wide Web electronic publication, Version 02/2021

Please send your images of
"Chimaera didierae"
to
info@shark-references.com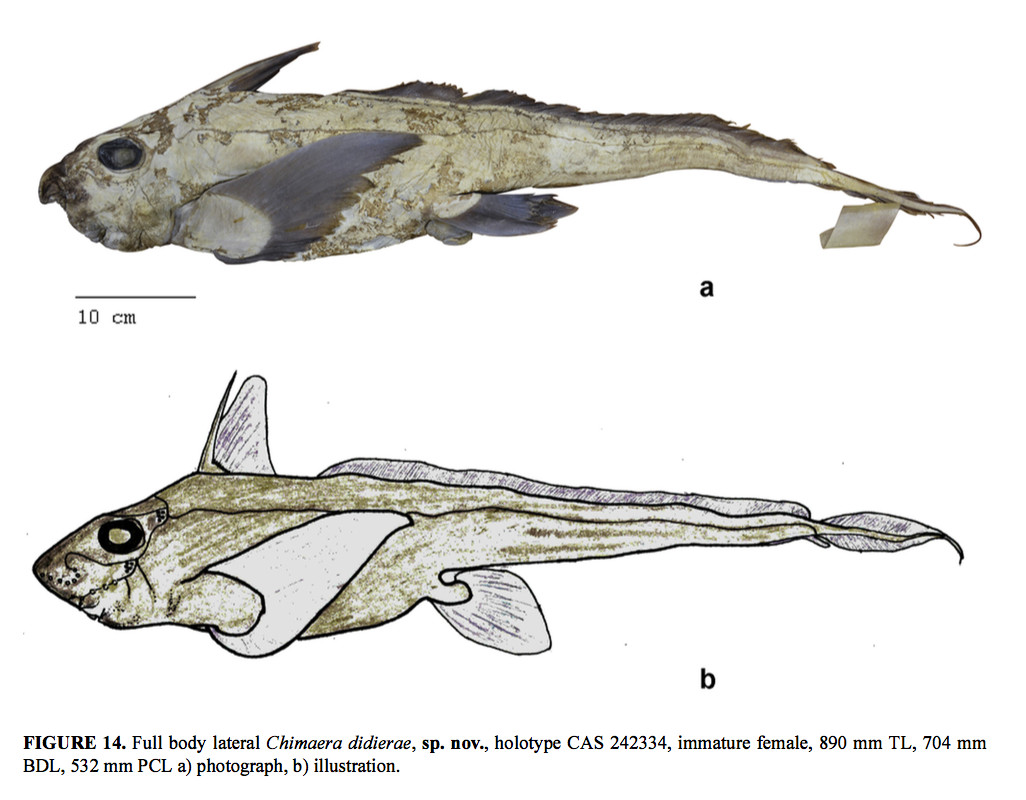 Chimaera didierae
CLERKIN, EBERT & KEMPER, 2017, holotype CAS 242334, immature female, 890 mm TL, 704 mm BDL, 532 mm PCL © CLERKIN, EBERT & KEMPER, 2017
Common names

The Falkor Chimaera
Short Description
Original diagnose after CLERKIN, EBERT & KEMPER, 2017
[25662]
: Chimaera didierae, sp. nov., is the seventh species of chimaera known from the Indian Ocean, and is distinguishable from other members of the genus by the following combination of characters: medium-bodied slender species, short trunk, long tail, with moderately sized head, large eyes, without well-defined suborbital ridge; short thin snout; uniform light toffee-tan color, not iridescent, without defined patterning, spots, reticulations, or mottling, dark, sooty brown on snout, white blotching around mouth; pectoral fins long and thin, anterior margin 33.7% BDL, pectoral fin width 16.7% BDL; dorsal spine height >21.6% BDL, equal or subequal to height of first dorsal fin; second dorsal fin very long and low, anterior height 2.7% BDL, not undulating; caudal fin small and slender, dorsal caudal height 1.8% BDL, ventral caudal height 1.1% BDL. Structure of the NADH2 gene. Chimaera didierae, sp. nov. can be distinguished from its morphologically similar congeners, Chimaera obscura Didier et al. 2008, and Chimaera opalescens Luchetti et al. 2001, by the combination of characters: relatively short dorsal spine, short first dorsal fin height, short second dorsal fin, small pectoral fin, moderately large eye length, abdomen tapering rapidly into tail, relatively long snout length, and coloration.
Distribution
southern part of the Madagascar Ridge, located 34°30'S, 43°10'E, Southwestern Indian Ocean.
[25662]
Size / Weight / Age
825 mm TL, 533 mm BDL holotype
[25662]
Habitat
marine; depth range:1000 m−1100 m depth
[25662]
Remarks
shark-references Species-ID=14935;