NCBI GenBank
Chimaera willwatchi
CLERKIN, EBERT & KEMPER, 2017
Classification:
Holocephali Chimaeriformes Chimaeridae
Reference of the original description
New species of Chimaera (Chondrichthyes: Holocephali: Chimaeriformes: Chimaeridae) from the Southwestern Indian Ocean.
Zootaxa, 4312 (1): 1–37
Description :



Citation:

Chimaera willwatchi

CLERKIN, EBERT & KEMPER, 2017: In: Database of modern sharks, rays and chimaeras, www.shark-references.com, World Wide Web electronic publication, Version 01/2021

Please send your images of
"Chimaera willwatchi"
to
info@shark-references.com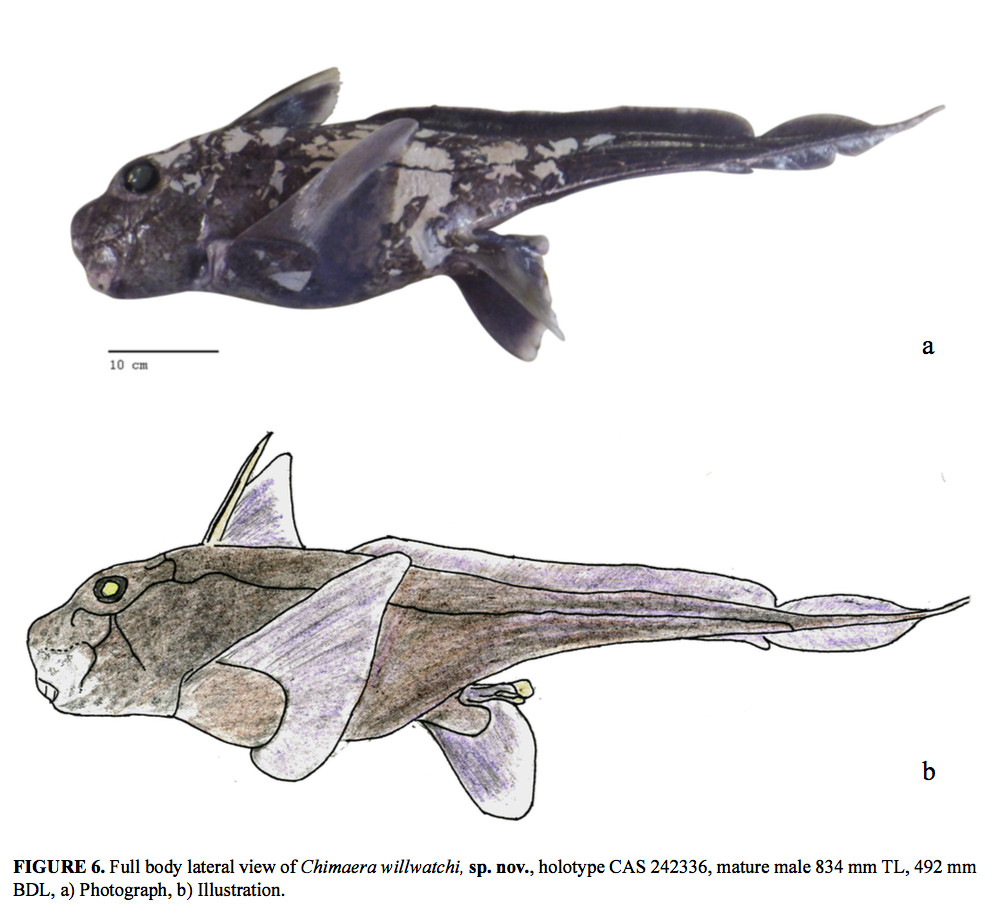 Chimaera willwatchi
CLERKIN, EBERT & KEMPER, 2017, Full body lateral view, holotype CAS 242336, mature male 834 mm TL, 492 mm BDL © CLERKIN, EBERT & KEMPER, 2017
Common names

Seafarer's Ghost Shark
Short Description
Original diagnose after CLERKIN, EBERT & KEMPER, 2017
[25662]
: Chimaera willwatchi, sp. nov. is a large species at maturity (971 mm TL, 645 mm BDL) distinguished from all other chimaeroids by the following combination of characters: head blocky, large followed by stocky trunk, body height fairly constant from trunk (pectoral fin origin) to abdomen (pelvic fin origin) before tapering rapidly into long tail; large eyes, and well-defined, blocky suborbital ridge; blunt, distinctly squared snout. Paired claspers externally trifurcate, forked distal one-third of length, prepelvic tenacula each with 4 large, tooth-like denticles tightly spaced along medial edge. Brownish skin with iridescent wash; brown and white marbled marking around snout, mouth, and ventral half of trunk; posterior margin of first dorsal fin very distinctly white, with white distal margins on anterior half of second dorsal fin, and posterior margins of pelvic fins; dorsal spine, exceeds the apex of the first dorsal fin and, when depressed, slightly overlaps the origin of the second dorsal fin, large second dorsal fin not obviously undulating; caudal fin very large and paddle-shaped. Structure of the NADH2 gene. Chimaera willwatchi, sp. nov. can be distinguished from its closest congeners, Chimaera lignaria Didier 2002, Chimaera macrospina Didier et al. 2008, and Chimaera orientalis Angulo et al. 2014, by a combination of characters: large dorsal spine exceeding apex of first dorsal fin, long, trifurcated claspers, prepelvic tenacula with 4 spines, robust body, large caudal fin, large pelvic fin anterior margin, and coloration.
Distribution
Southwest Indian Ocean Ridge, northern portion of the Madagascar Ridge, and Walters Shoal
[25662]
Size / Weight / Age
Maximum length for females is 645 mm BDL, 971+ mm TL, and for males 519 mm BDL, 834+ mm TL
[25662]
Habitat
marine; depth range: 89 m−1365 m depth
[25662]
Dentition
Upper anterior tooth plates (vomerine) moderate, incisor-shaped, with 5 tridors per side, slightly overlapping mandibular tooth plates; posterior upper tooth plates (palatine) moderately large, flat, and ovular in shape; lower tooth plate (mandibular), moderately large, incisor-like, double cusps, transitions posteriorly into concave ridge resulting in 4 and 5 grinding surfaces and 11 tridors per side
[25662]
Remarks
shark-references Species-ID=14934;