IUCN Red List

NCBI GenBank
Chlamydoselachus africana
EBERT & COMPAGNO, 2009
Classification:
Elasmobranchii Hexanchiformes Chlamydoselachidae
Reference of the original description
Chlamydoselachus africana, a new species of frilled shark from southern Africa (Chondrichthyes, Hexanchiformes, Chlamydoselachidae).
Zootaxa, 2173: 1–18
Image of the original description
Image in copyright.
Description :



Citation:

Chlamydoselachus africana

EBERT & COMPAGNO, 2009: In: Database of modern sharks, rays and chimaeras, www.shark-references.com, World Wide Web electronic publication, Version 03/2021

Please send your images of
"Chlamydoselachus africana"
to
info@shark-references.com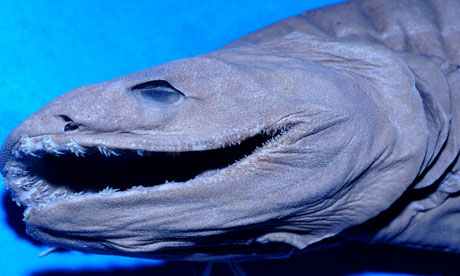 Chlamydoselachus africana EBERT & COMPAGNO, 2009 © David Ebert
Short Description
An external morphologically similar looking, smaller-sized Chlamydoselachus (to at least 1170 mm TL) with a proportionally long head length 17.3–17.9% TL, prepectoral length 15.1–17.7% TL, predorsal fin length 62.6–64.5% TL, head height 6.2–8.6% TL and width 6.6–8.9% TL, broad interorbital width (5.7–6.4% TL) and internarial width (3.9–4.8% TL), mouth broad (6.0–8.1% TL), gill openings long, analcaudal fin space (0.2–1.3% TL), pectoral fin length (8.8–9.6% TL), pelvic fin length (11.6–15.4% TL), meannumber of upper tooth rows (x = 28.8), pectoral mesopterygial radial counts (7), metapterygial radial counts (8), anal fin radials (30), total vertebral counts (147), MP vertebral count (18), DP count (76), DC count (52), MP/DP transition just posterior to the pelvic fins, spiral intestinal valve counts 26–28 (Ref.
81930
).
Distribution
Southeastern Atlantic: Angola to Namibia (Ref.
81930
).
Biology
Tropical; 12°S - 27°S, 13°E - 16°E
Size / Weight / Age
Max length : 99.0 cm TL male/unsexed; (Ref.
81930
); 117 cm TL (female)
Habitat
Benthopelagic; marine; depth range 300 - 1400 m (Ref.
81930
)
Remarks
shark-references Species-ID=8218;