NCBI GenBank
Etmopterus brachyurus
SMITH & RADCLIFFE, 1912
Shorttail lanternshark
Classification:
Elasmobranchii Squaliformes Etmopteridae
Reference of the original description
The squaloid sharks of the Philippine Archipelago, with descriptions of new genera and species.
Proceedings of the United States National Museum, 41: 677–685, pl. 50–54
Image of the original description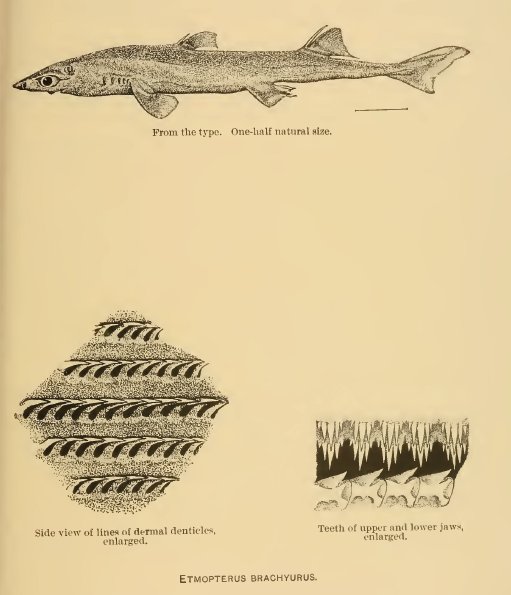 Etmopterus brachyurus SMITH & RADCLIFFE, 1912
Synonyms / new combinations and misspellings
Etmopterus cf. brachyurus
Description :



Citation:

Etmopterus brachyurus

SMITH & RADCLIFFE, 1912: In: Database of modern sharks, rays and chimaeras, www.shark-references.com, World Wide Web electronic publication, Version 10/2020

Please send your images of
"Etmopterus brachyurus"
to
info@shark-references.com

Etmopterus brachyurus SMITH & RADCLIFFE, 1912 © Dr. Nicolas Straube, Curator of Ichthyology & Associate Professor, Department of Natural History, University Museum of Bergen
Common names

Tollo lucero mocho,

Sagre porte-feu à queue courte,

Short-tail lantern shark,

Short-tail lanternshark,

Shorttail lantern shark,

Shorttail lanternshark,

Shorttail laternshark
Short Description
A slim lanternshark with conspicuous lines of rough denticles on the head and body
[536]
. Grey-brown above, underside black with narrow, elongated dark mark above, in front of and behind the pelvic fins
[536]
.
Distribution
Western Pacific: Japan and Philippines, possibly elsewhere in the western Pacific
[544]
. Recorded from off Shark Bay, Western Australia
[1388]
. Records from southern Africa possibly based on other species
[544]
. Often confused with Etmopterus molleri and Etmopterus lucifer
[544]
. Source:
www.gbif.org
Human uses
fisheries: of no interest
Biology
Bears 2 young
[536]
. Distinct pairing with embrace
[17086]
. Found on the continental slope (Ref.
75154
). Feeds on fish and zoobenthos
[536]
.
Size / Weight / Age
50.0 cm TL (male/unsexed;
[1388]
)
Habitat
bathydemersal; marine; depth range 451 - 900 m
[536]
Dentition
Teeth in upper jaw small, pentacuspid, the cusps lanceolate and evenly graduated; the unicuspid teeth in lower jaw larger, the point sharp and oblique; pentacuspid, the cusps lanceolate and evenly graduated; the unicuspid teeth in lower jaw larger, the point sharp and oblique
[2232]
;
Remarks
shark-references Species-ID=2159;