NCBI GenBank
Etmopterus gracilispinis
KREFFT, 1968
Broadbanded lanternshark
Classification:
Elasmobranchii Squaliformes Etmopteridae
Reference of the original description
Neue and erstmalig nachgewiesene Knorpelfische aus dem Archibenthal des Südwestantlantiks, einschließlich einer Diskussion einiger Etmopterus-Arten südlicher Meere.
Archiv für Fischereiwissenschaft, 19 (1): 42 p.
Image of the original description
Image in copyright.
Description :



Citation:

Etmopterus gracilispinis

KREFFT, 1968: In: Database of modern sharks, rays and chimaeras, www.shark-references.com, World Wide Web electronic publication, Version 02/2019

Please send your images of
"Etmopterus gracilispinis"
to
info@shark-references.com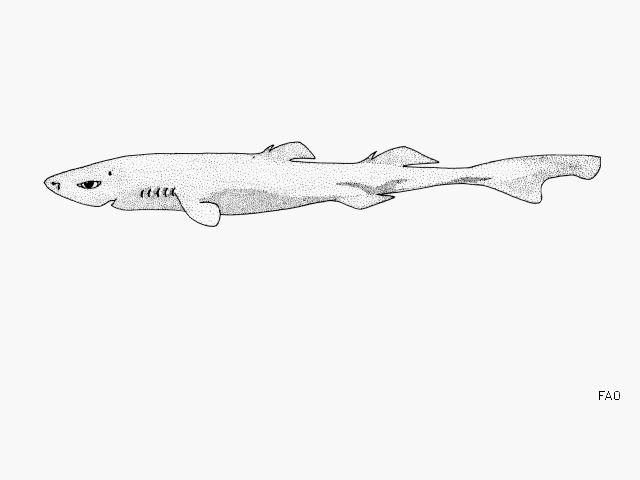 Etmopterus gracilispinis KREFFT, 1968, © FAO, www.fish-base.org
Common names

Tollo lucero bandoneado,

Sagre rubané,

Broadband dogfish,

Broadband lantern fish,

Broadband lantern shark,

Broadbanded lanternshark
Short Description
A stout lanternshark with a short tail and small conical denticles, not forming conspicuous lines along the body
[536]
. Brown above, becoming black ventrally with inconspicuous, elongated, broad black marks along the caudal fin and at its base
[536]
.
Distribution
Western Atlantic: Virginia and Florida (USA), Uruguay and Argentina; reported off Suriname
[2445]
and Brazil
[19579]
. Southeast Atlantic: off the eastern Cape and northern Natal in South Africa
[20053]
. Some reports of this species from the southeast Atlantic may be misidentifications of the recently described Etmopterus compagnoi (Ref.
36731
). Source:
www.gbif.org
Human uses
fisheries: of no interest
Biology
Distinct pairing with embrace
[17086]
. Pups born with 13 cm length. Found on outer continental shelves and upper slopes on or near the bottom at depths of 100 to 1,000 m; also pelagic at depths of 70 to 480 m over water 2,240 m deep off Argentina. Feeds on bony fish, octopus, squid and deep-water shrimp.
Size / Weight / Age
35.0 cm TL (male/unsexed); 33 cm TL (female)
Habitat
benthopelagic; marine; depth range 70 - 1000 m
[518]
Dentition
Diagnose: Zähne 27/28, wie üblich glattrandig; im Oberkiefer fünfspitzig, die mittlere Spitze viel länger als die seitlichen; im Unterkiefer einspitzig, die Spitzen stark auswärts gerichtet, die als Schneiden funktionierenden Innenkanten dem Verlauf des Kiefers nahezu parallel. Im Oberkiefer 2 bis 3, im Unterkiefer nur 1 Zahnreihe gleichzeitig in Funktion
[2694]
;
Remarks
shark-references Species-ID=2173;