NCBI GenBank
Fontitrygon margarita
(Günther, 1870)
Daisy stingray
Classification:
Elasmobranchii Myliobatiformes Dasyatidae
Reference of the original description
Catalogue of the fishes in the British Museum.
London, British Museum(Natural History). Vol. 8: 549 p.
Image of the original description
No image in first description.
Synonyms / new combinations and misspellings
Amphotistius margarita, Dasyatis margarita, Dasyatis (Trygon) margarita, Dasybatus margarita, Trygon margarita
Description :



Citation:

Fontitrygon margarita

(Günther, 1870): In: Database of modern sharks, rays and chimaeras, www.shark-references.com, World Wide Web electronic publication, Version 11/2022

Please send your images of
"Fontitrygon margarita"
to
info@shark-references.com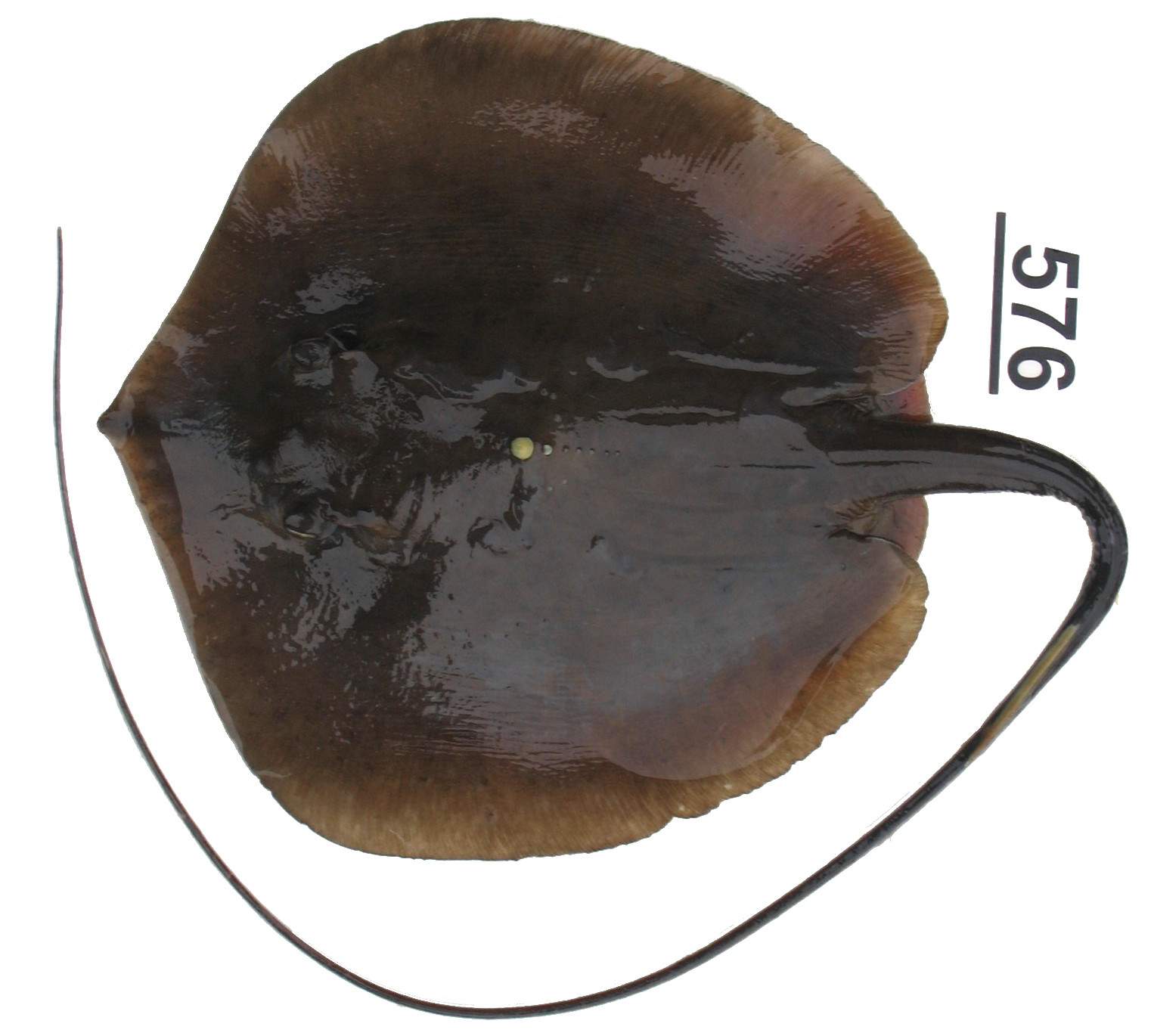 Fontitrygon margarita
(Günther, 1870), ERB 0576, female, 20,7 cm DW, 69,2 cm TL, Nigeria © Frederik H. Mollen (Elasmobranch Research Belgium)
Common names

Stechrochen,

Raja látigo margarita,

Ratón de altura,

Raya látigo margarita,

Rayalátigo margarita,

Pastenague marguerite,

Raie,

Daisy stingray,

Guinean stingray,

Skeete,

Stingray,

Whipray,

Uge-de-pérola,

Uje-de-pérola,

Uje-margarida
Short Description
Disc oval, moderately flat, its medial lobe broad-based and moderately exserted, its anterolateral margin somewhat concave; denticles on dorsal surface of disc smooth, restricted to middle portion; snout moderately long, broadly pointed; pearl spines always present and very large
[546]
. Total tooth rows 24-32/28-36; total pectoral radials 129-136 (Ref.
7367
). Disc and pelvic fins gray-brown above, without spots or prominent markings, uniformly pale or whitish below
[546]
.
Distribution
Eastern Atlantic: Mauritania to Angola. Source:
www.gbif.org
Human uses
fisheries: commercial
Biology
Exhibit ovoviparity (aplacental viviparity), with embryos feeding initially on yolk, then receiving additional nourishment from the mother by indirect absorption of uterine fluid enriched with mucus, fat or protein through specialised structures
[733]
. Distinct pairing with embrace
[17086]
.
Habitat
demersal; brackish; marine; depth range ? - 60 m (Ref.
4438
)
Remarks
shark-references Species-ID=14646;
Parasites (arranged by Jürgen Pollerspöck)
Cestoda
Otobothrium cysticum (Mayer, 1842) [16112]
Stillabothrium allisonae Dedrick & Reyda, 2018 [26716]
Stillabothrium charlotteae Iwanyckyj, Dedrick & Reyda, 2018 [26716]