NCBI GenBank
Glaucostegus granulatus
(CUVIER, 1829)
Granulated guitarfish
Classification:
Elasmobranchii Rhinopristiformes Glaucostegidae
Reference of the original description
Le règne animal, distribué d'après son organisation, pour servir de base à l'histoire naturelle des animaux et d'introduction à l'anatomie comparée. Edition 2.
Paris, Déterville, de l'Impr. de A. Belin,
Image of the original description
No image in first description.
Synonyms / new combinations and misspellings
Glaucostegus cf. granulatus, Glaucostegus microphthalmus, Rhinobatis granulatus, Rhinobatos granulatus, Rhinobatos microphthalmus, Rhinobatos (Glaucostegus) granulatus, Rhinobatos (Glaucostegus) microphthalmus, Rhinobatus acutus, Rhinobatus granulatus, Rhinobatus philippi, Rhinobatus (Rhinobatus) granulatus, Rhinobatus (Rhinobatus) philippi, Rhynchobatus granulatus
Types
Glaucostegus granulatus
Syntype:
MNHN
:
1254
;
MNHN
:
1253
;
Rhinobatos microphthalmus
Holotype:
TFRI
:
3089
;
Rhinobatus acutus
Holotype:
MCZ
: 807-S
Rhinobatus (Rhinobatus) philippi
Holotype:
ZMB
: 4553
Description :



Citation:

Glaucostegus granulatus

(CUVIER, 1829): In: Database of modern sharks, rays and chimaeras, www.shark-references.com, World Wide Web electronic publication, Version 07/2019

Please send your images of
"Glaucostegus granulatus"
to
info@shark-references.com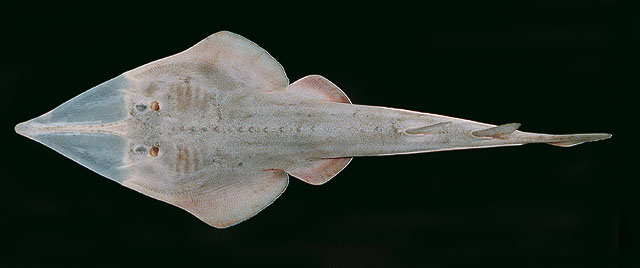 Glaucostegus granulatus (CUVIER, 1829), © Randall, J.E., www.fish-base.org
Common names

Geigenrochen,

Granulated guitarfish,

Granulated shovel-nose ray,

Granulated shovelnose ray,

Rough shovelnose ray,

Sharpnose guitarfish,

Slough fish
Distribution
Indo-West Pacific: Persian Gulf to Thailand and Viet Nam. Possibly occurring in China, Indonesia (Sumatra, Borneo), Philippines, New Guinea, and Bougainville Islands. Source:
www.gbif.org
Human uses
fisheries: commercial
Biology
Exhibit ovoviparity (aplacental viviparity), with embryos feeding initially on yolk, then receiving additional nourishment from the mother by indirect absorption of uterine fluid enriched with mucus, fat or protein through specialised structures
[733]
. Ranges from the intertidal to offshore continental shelves down to 119 m (Ref.
9909
). A carnivorous fish that feeds on large shellfishes (Ref.
58784
).
Size / Weight / Age
280 cm SL (male/unsexed;
[20218]
)
Habitat
demersal; marine; depth range ? - 119 m (Ref.
9909
)
Remarks
shark-references Species-ID=10670;
Parasites (arranged by Jürgen Pollerspöck)
Monogenea
Neoheterocotyle rhinobatis (PILLAI & PILLAI, 1976) CHISHOLM & WHITTINGTON, 1997 [17439]
Cestoda
Nematoda
Mawsonascaris zhoui LI, XU & ZHANG, 2012 [15762]