NCBI GenBank
Gymnura altavela
(Linnaeus, 1758)
Spiny butterfly ray
Classification:
Elasmobranchii Myliobatiformes Gymnuridae
Reference of the original description
Systema Naturae per regna tria naturae, regnum animale, secundum classes, ordines, genera, species, cum characteribus differentiis synonymis, locis.
Ed. X., 1: 824 p. Stockholm(L. SALVIUS).
Image of the original description
No image in first description.
Synonyms / new combinations and misspellings
Dasyatis altavela, Dasyatis canariensis, Dasyatis maclura, Gymnura cf. altavela, Gymnura hirundo, Pastinaca maclura, Pteroplatea altavela, Pteroplatea binotata, Pteroplatea canariensis, Pteroplatea hirundo, Pteroplatea maclura, Pteroplatea vaillantii, Pteroplatea valenciennii, Raia altavela, Raja altavela, Raja maclura, Trygon altavela, Trygon maclura
Types
Gymnura altavela
Pteroplatea binotata
Holotype:
MHNG
: 1213.89
Pteroplatea canariensis
Holotype:
MNHN
:
A-8707
;
Pteroplatea valenciennii
Holotype:
MNHN
:
2324
;
Description :



Citation:

Gymnura altavela

(Linnaeus, 1758): In: Database of modern sharks, rays and chimaeras, www.shark-references.com, World Wide Web electronic publication, Version 12/2021

Please send your images of
"Gymnura altavela"
to
info@shark-references.com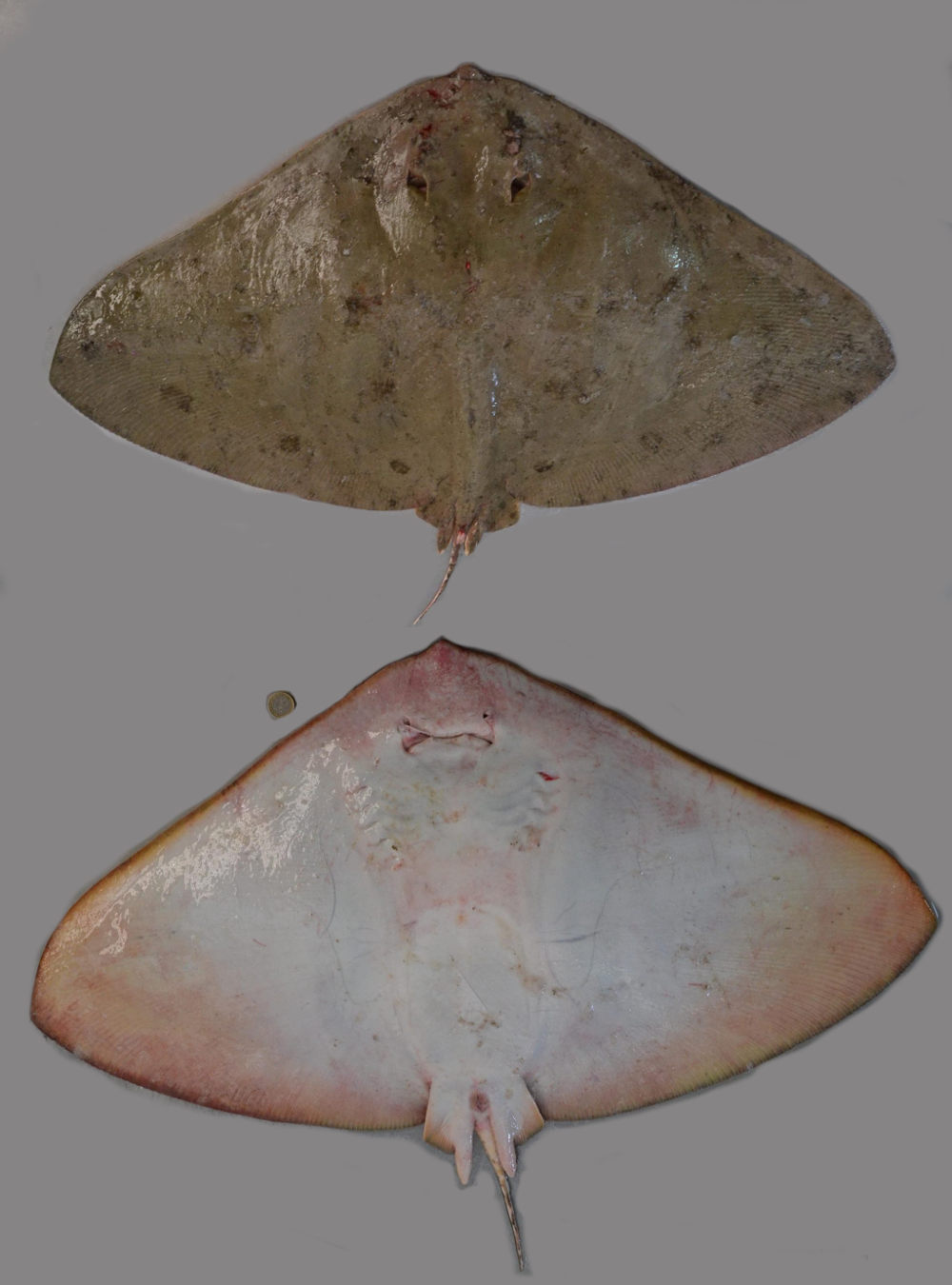 Gymnura altavela
(Linnaeus, 1758), male, off port of Valencia ©
L'Elasmogrup, University of Valencia
)
Common names

Peitschenrochen,

Schmetterlingsrochen,

Stechrochen,

Manta,

Mantellina,

Mariposa,

Milá,

Pastinaca,

Raya de papel,

Raya mariposa,

Raya mariposa espinuda,

Rayamariposa,

Vaca,

Vela,

Vela italiana,

Vela latina,

Choucka bastarda,

Masca,

Mourine bâtarde,

Pastenague ailée,

Pastigue de Columna,

Raie aigle,

Raie papillon,

Raie-papillon épineuse,

Butterfly ray,

Giant butterfly ray,

Spiny butterfly ray,

Altavela,

Bugghiu,

Gavila,

Manteddu,

Pisciu vela,

Tavela,

Tavila,

Vugghiu mantellinu,

Arraia-borboleta,

Arraia-manteiga,

Avejão,

Borboleta,

Breamanta,

Raia,

Raia-amarela,

Raia-borboleta,

Raia-gererera,

Raia-manteiga,

Uge-manta,

Uge-mata,

Vela-latina
Short Description
Tail short armed with spine. Disk very broad. Very low dorsal and ventral finfolds on tail
[17658]
. Disk dark brown to grayish, lower surface of disc and of pelvic fins white, brownish, rosy or rusty cast. Tail white or rosy white below
[199]
.
Distribution
Western Atlantic: southern New England, USA, Brazil
[17658]
to Argentina
[5839]
. Eastern Atlantic: Portugal to Ambriz, Angola (including the Mediterranean, Black Sea, and the Madeira and Canary islands).
First record: 2019: off Venezuela
[27305]
Source:
www.gbif.org
Human uses
fisheries: minor commercial; gamefish: yes; price category: high; price reliability: reliable: based on ex-vessel price for this species
Biology
Exhibit ovoviparity (aplacental viviparity), with embryos feeding initially on yolk, then receiving additional nourishment from the mother by indirect absorption of uterine fluid enriched with mucus, fat or protein through specialised structures
[733]
. Distinct pairing with embrace
[17086]
. Feeds on fish and shrimps
[20216]
.
Size / Weight / Age
400 cm WD (male/unsexed; (Ref.
3709
)); max. published weight: 60.0 kg (Ref.
4699
)
Habitat
demersal; brackish; marine; depth range 5 - 100 m
[17687]
Remarks
shark-references Species-ID=2564;
Parasites (arranged by Jürgen Pollerspöck)
Monogenea
Heteronchocotyle gymnurae Neifar, Euzet & Ben Hassine, 2001 [21202]
Cestoda
Copepoda
Eudactylina turgipes Bere, 1936 [16609]