NCBI GenBank
Harriotta raleighana
Goode & Bean, 1895
Narrownose chimaera
Classification:
Holocephali Chimaeriformes Rhinochimaeridae
Reference of the original description
On Harriotta, a new type of chimaeroid fish from the deeper waters of the northwestern Atlantic.
Proceedings of the United States National Museum, 17(1014), 471–473
Image of the original description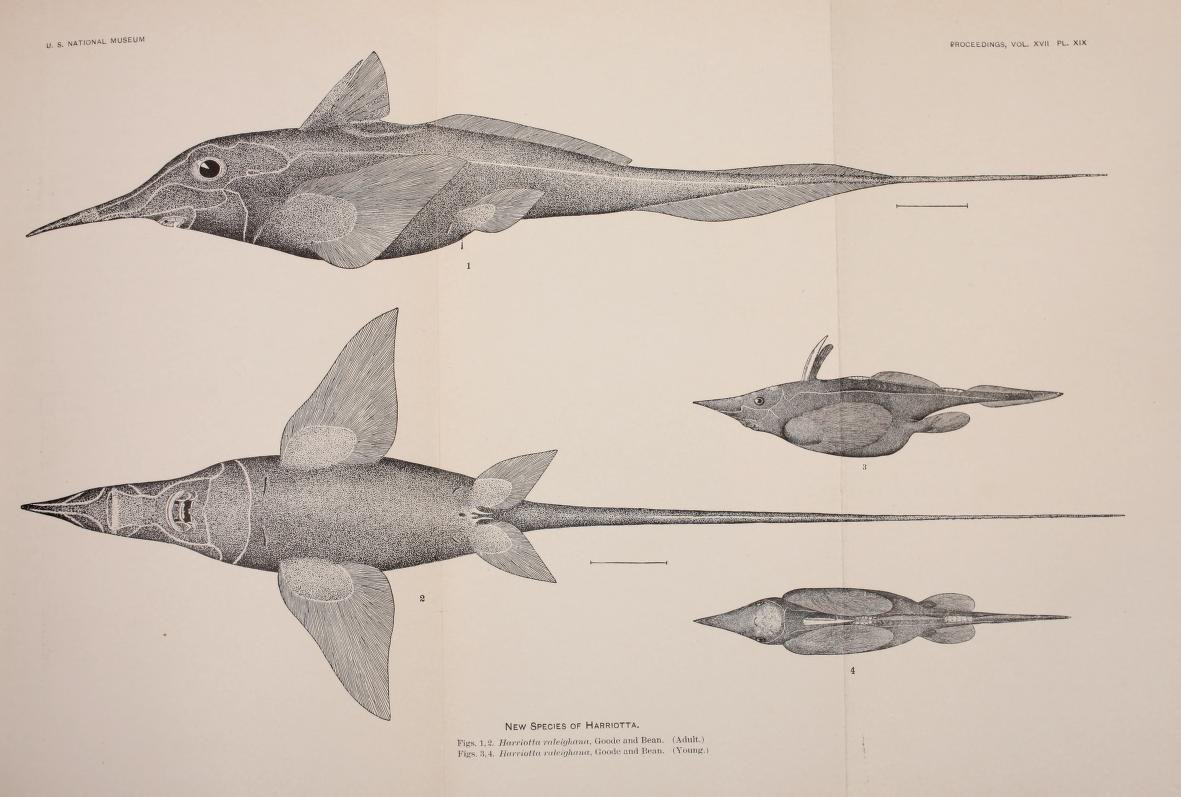 Harriotta raleighana Goode & Bean, 1895
Synonyms / new combinations and misspellings
Harriotta cf. raleighana, Harriotta curtissjamesi, Harriotta opisthoptera, Harriotta raleighiana
Description :



Citation:

Harriotta raleighana

Goode & Bean, 1895: In: Database of modern sharks, rays and chimaeras, www.shark-references.com, World Wide Web electronic publication, Version 12/2023

Please send your images of
"Harriotta raleighana"
to
info@shark-references.com

Harriotta raleighana
Goode & Bean, 1895, adult, female © Brit Finucci
Common names

Gewöhnliche Langnasenchimäre,

Langnasenchimäre,

Peje rata,

Quimera de Raleigh,

Quimera picuda,

Quimera picuda del Pacífico,

Tucán,

Chimère bécune du Pacifique,

Chimère de Raleigh,

Chimère spatule,

Chimère à nez rigide,

Bentnose rabbitfish,

Bigspine spookfish,

Chimaera,

Long-nosed chimaera,

Longnose chimaera,

Longnose spookefish,

Longnosed chimaera,

Narrownose chimaera,

Pacific longnose chimaera,

Rat fish,

Ratfish,

Spookfish
Short Description
A longnose chimaera with a rather long, narrow, depressed snout, a small eye situated above or behind the mouth, a rather long first dorsal fin and spine, knobby tooth plates, and caudal fin lanceolate with no tubercles on upper edge but with a long terminal filament (Ref.
5578
, 6871, 41248). Dark brown or blackish in color
[536]
. No separate anal fin. Claspers are rod like, rather slender, unbranched, with tip somewhat swollen. Jugular and oral canals arising separately from orbital, with a short interspace; angular (maxillary) canal joining suborbital about 2/7 of distance from front level of eye toward tip of snout (Ref.
41248
).
Distribution
Eastern Atlantic: Iceland, Faeroe Islands, Rockall Trough along Ireland to northern France; Canary Islands and off Cap Blanc, Mauritania; Namibia and South Africa
[536]
. Western Atlantic: Nova Scotia, Canada to Chesapeake Bay in USA; southern Brazil. North Pacific: off Japan and California, USA; also 100 km off southern Baja California. South Pacific: off New Zealand and Australia (Ref.
7300
). Source:
www.gbif.org
Human uses
fisheries: of no interest
Biology
Oviparous, young hatch at about 10-13 cm
[578]
. Found on the continental slope and ocean floor. Benthopelagic, occurs 600-2150 m depth (Ref.
58744
). Appears to feed mainly on shellfish and crustaceans.
Size / Weight / Age
120 cm OT (male/unsexed;
[578]
); 102.5 cm TL (female)
Habitat
bathydemersal; marine; depth range 200 - 2600 m
[1388]
Remarks
shark-references Species-ID=2644;
Parasites (arranged by Jürgen Pollerspöck)
Cestoda
Gyrocotyle haffii Bray, Waeschenbach, Littlewood, Halvorsen & Olson, 2020 [28528]