NCBI GenBank
Hemigaleus microstoma
Bleeker, 1852
Sicklefin weasel shark
Classification:
Elasmobranchii Carcharhiniformes Hemigaleidae
Reference of the original description
Bijdrage tot de kennis der Plagiostomen van den Indischen Archipel.
Verhandelingen van het Bataviaasch Genootschap van Kunsten en Wetenschappen, 24(art. 12): 1–92, Pls. 1–4
Synonyms / new combinations and misspellings
Hemigaleus machlani, Hemigaleus microstomus, Negogaleus microstoma, Neogaleus microstoma
Types
Hemigaleus microstoma
Syntype:
BMNH
: 1867.11.28.173
Hemigaleus machlani
Holotype:
BSMP
:
11429
;
Description :



Citation:

Hemigaleus microstoma

Bleeker, 1852: In: Database of modern sharks, rays and chimaeras, www.shark-references.com, World Wide Web electronic publication, Version 05/2023

Please send your images of
"Hemigaleus microstoma"
to
info@shark-references.com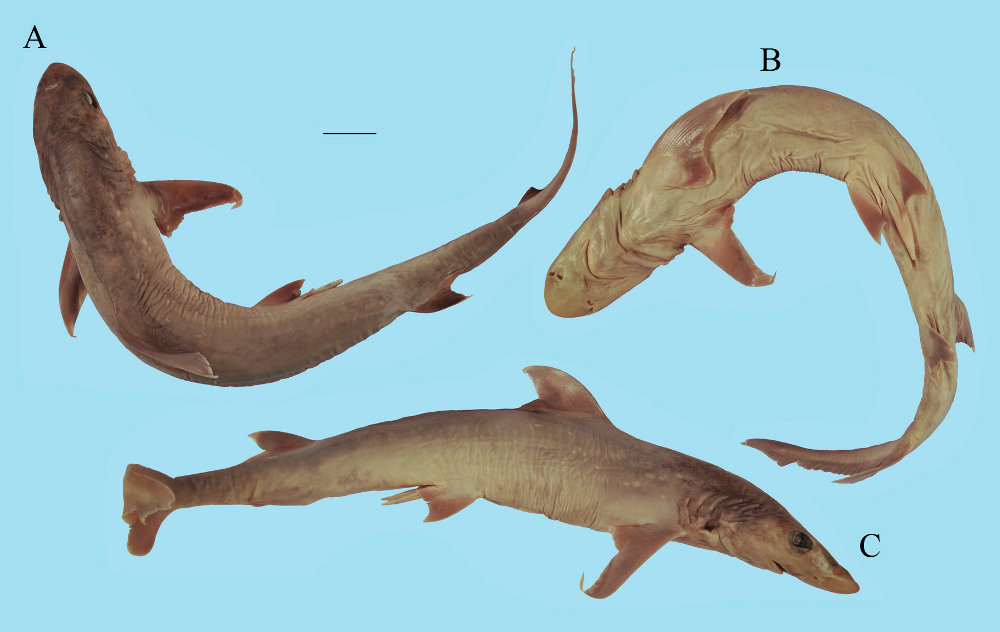 Hemigaleus microstoma
Bleeker, 1852; ZMH 25682; juvenile; Gulf of Thailand near Pak Phanang; 07.12.1993; mature male; 790 mm © Dr. Simon Weigmann, Elasmobranch Research Laboratory, Hamburg, Germany source: Weigmann, S. (2012): Contribution to the Taxonomy and Distribution of Six Shark Species (Chondrichthyes, Elasmobranchii) from the Gulf of Thailand. ISRN Zoology, vol. 2012, Article ID 860768, 24 pages, doi:10.5402/2012/860768
Common names

Comadreja segadora,

Milandre faucille,

Sicklefin weasel shark,

Weasel shark
Short Description
Australian specimens with dark-tipped fins; tooth counts 28-34/43-54; total vertebral counts 111 to 118
[20050]
. Indonesian, Singapore and Thailand specimens with light-tipped fins; tooth counts 25-32/37-43; total vertebral counts 137 to 150
[20050]
. Grey-brown above, lighter below, dorsal fins with white tips and posterior margins, sometimes with spots on sides of body
[20050]
.
Distribution
Indo-West Pacific: southern India and Sri Lanka; China to Indonesia. Recent study confirmed that those found in Australia (and probably Papua New Guinea) is a separate species, Hemigaleus australiensis
[3389]
. Source:
www.gbif.org
Human uses
fisheries: minor commercial; price category: not marketed/unknown; price reliability:
Biology
Viviparous, with a yolk-sac placenta; 4 to 14 fetuses in a litter
[20050]
; 2-4 pups after a gestation period of ~ 6 months; born at ~ 45-47 cm TL
[2539]
. Size of full-term fetuses (detached umbilical cords and placentae) ranges from 23.7 to 25.6 cm
[517]
. Distinct pairing with embrace
[17086]
.
Size / Weight / Age
114 cm TL (male/unsexed;
[2539]
)
Remarks
shark-references Species-ID=2653;
Parasites (arranged by Jürgen Pollerspöck)
Cestoda
Copepoda
Perissopus dentatus Steenstrup & Lütken, 1861 [16569]