NCBI GenBank
Hemitrygon laosensis
(Roberts & Karnasuta, 1987)
Mekong stingray
Classification:
Elasmobranchii Myliobatiformes Dasyatidae
Reference of the original description
Dasyatis laosensis, a new whiptailed stingray (family Dasyatidae), from the Mekong River of Laos and Thailand.
Environmental Biology of Fishes, 20(3), 161–167
Image of the original description
Image in copyright.
Synonyms / new combinations and misspellings
Amphotistius laosensis, Dasyatis laoensis, Dasyatis laosensis
Description :



Citation:

Hemitrygon laosensis

(Roberts & Karnasuta, 1987): In: Database of modern sharks, rays and chimaeras, www.shark-references.com, World Wide Web electronic publication, Version 11/2022

Please send your images of
"Hemitrygon laosensis"
to
info@shark-references.com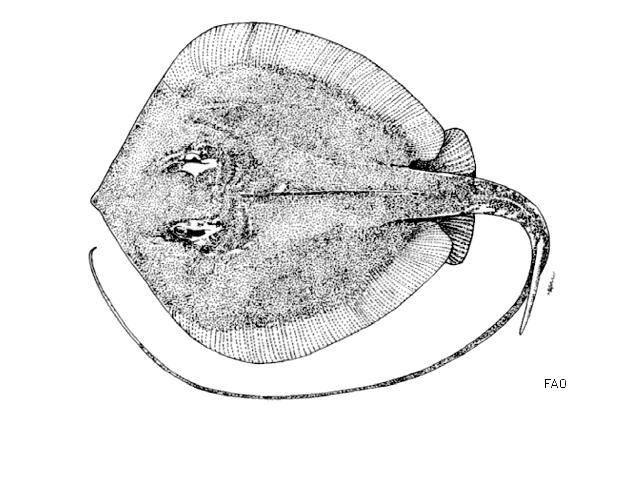 Hemitrygon laosensis
(Roberts & Karnasuta, 1987) © FAO, www.fish-base.org
Common names

Mekong freshwater stingray,

Mekong stingray
Short Description
Distinguished from the other stingray species in the Mekong basin by the presence of a ventral and a dorsal skin folds on the tail and the bright orange color of the ventral surface of the disc. The middle disc is whitish with scattered large orange spots. The dorsal surface of the disc is brown
[20214]
. Disc longer than wide; tail longer than body
[20067]
. Lacking caudal fin; with long whip-like tail (Ref.
43281
).
Distribution
Asia: Chao Phraya and Mekong basins. Possibly in Borneo. Source:
www.gbif.org
Human uses
fisheries: minor commercial
Biology
Exhibit ovoviparity (aplacental viviparity), with embryos feeding initially on yolk, then receiving additional nourishment from the mother by indirect absorption of uterine fluid enriched with mucus, fat or protein through specialised structures
[733]
. Distinct pairing with embrace
[17086]
.
Habitat
demersal; potamodromous
[17660]
; freshwater
Remarks
shark-references Species-ID=14619;