NCBI GenBank
Heterodontus portusjacksoni
(Meyer, 1793)
Port Jackson shark
Classification:
Elasmobranchii Heterodontiformes Heterodontidae
Reference of the original description
Systematisch-summarische Uebersicht der neuesten zoologischen Entdeckungen in Neuholland und Afrika.
Leipzig, Dykischen: 1–178 + 6 unnum. index.
Image of the original description
No image in first description.
Synonyms / new combinations and misspellings
Centracion philippi, Cestracion heterodontus, Cestracion longidens, Cestracion philippi, Cestracion phillipi, Cestracion phillippi, Heterodontus bonae-spei, Heterodontus longidens, Heterodontus philippi, Heterodontus philippii, Heterodontus phillipi, Heterodontus phillipii, Heterodontus portus jacksoni , Heterodontus (Cestracion) philippi, Heterodontus (Cestracion) phillipi, Squalus jacksoni, Squalus jacksonii, Squalus philippi, Squalus philippinus., Squalus portusjacksoni
Description :



Citation:

Heterodontus portusjacksoni

(Meyer, 1793): In: Database of modern sharks, rays and chimaeras, www.shark-references.com, World Wide Web electronic publication, Version 05/2023

Please send your images of
"Heterodontus portusjacksoni"
to
info@shark-references.com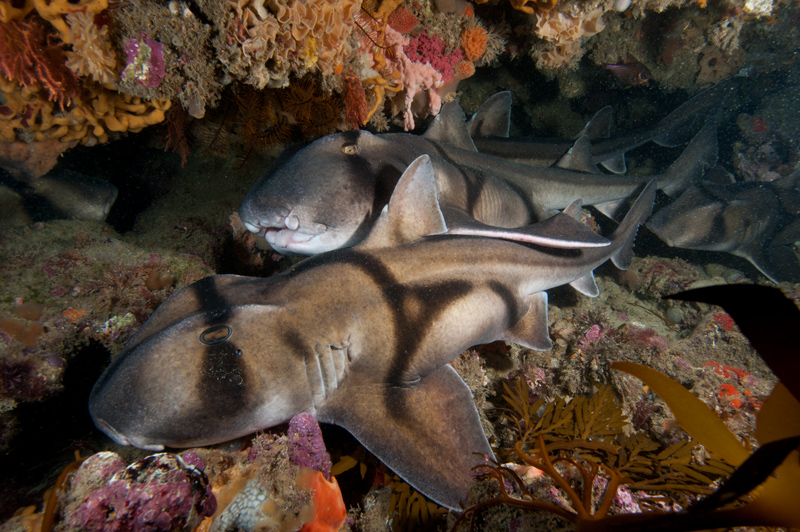 A group of Portjackson Sharks,
Heterodontus portusjacksoni
, at Nepean Bay, Port Phillip, Victoria by Mark Norman / Museum Victoria, wiki
Common names

Doggenhai,

Dormilón toro,

Requin dormeur taureau,

Bullhead,

Bullhead shark,

Dogshark,

Horn shark,

Oyster crusher,

Pigfish,

Port Jackson shark
Short Description
Harness-like narrow dark stripes on back (Ref.
9838
).
Distribution
Western Pacific: southern Australia (including Western Australia) and one record from New Zealand. Heterodontus bona-spei from South Africa probably refers to this species. Source:
www.gbif.org
Human uses
fisheries: minor commercial; aquarium: public aquariums; price category: not marketed/unknown; price reliability:
Biology
Oviparous. Distinct pairing with embrace
[17086]
. Undergoes yearly migrations to breeding sites. Females lay about 10 to 16 (commonly 10-12) eggs in rock crevices on shallow sheltered reefs at depths of 1-5 m (rarely 20-30 m) during August and September (rarely in July and October). In captivity, females lay 2 eggs a day every 8-17 days. Eggs are hatched after 9-12 months and young then move into nursery areas in bays and estuaries. After the breeding season, males move into deeper waters followed by the females in late September or October. Occurs on the continental shelf (Ref.
75154
).
Size / Weight / Age
165 cm TL (male/unsexed;
[518]
)
Remarks
shark-references Species-ID=2796;
Parasites (arranged by Jürgen Pollerspöck)
Cestoda
Phyllobothrium vagans Haswell, 1902 [16443]
Nematoda
Echinocephalus overstreeti Deardorff & Ko, 1983 [21500]
Copepoda
Isopoda
Hirudinea
Pontobdella leucothela Schimarda, 1861 [28595]