NCBI GenBank
Himantura marginata
(Blyth, 1860)
Blackedge whipray
Classification:
Elasmobranchii Myliobatiformes Dasyatidae
Reference of the original description
The cartilaginous fishes of lower Bengal.
Journal and Proceedings of the Asiatic Society of Bengal, 29(1), 35–45
Image of the original description
No image in first description.
Synonyms / new combinations and misspellings
Dasyatis marginatus, Dasyatis (Amphotistius) marginatus, Dasyatis (Himantura) marginatus, Dasybatus marginatus, Himantura marginatus, Trygon marginatus, Trygon (Himantura) marginatus
Description :



Citation:

Himantura marginata

(Blyth, 1860): In: Database of modern sharks, rays and chimaeras, www.shark-references.com, World Wide Web electronic publication, Version 05/2023

Please send your images of
"Himantura marginata"
to
info@shark-references.com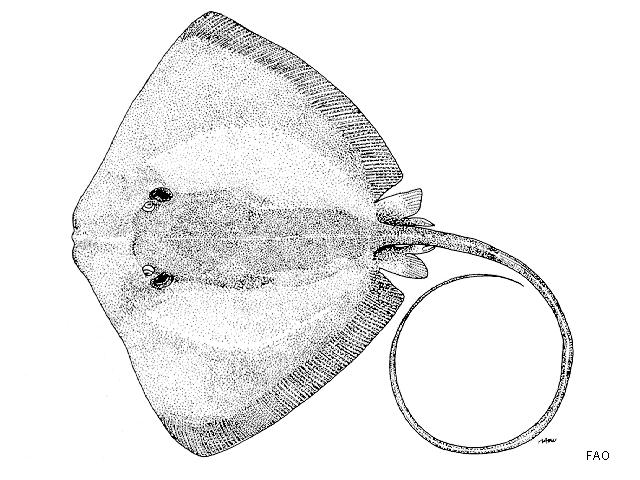 Himantura marginata
(Blyth, 1860), © FAO, www.fish-base.org
Common names

Black-edge whip ray,

Blackedge whipray,

Blackedged stingray
Distribution
Indian Ocean: India, Sri Lanka, and Myanmar. May venture into Indonesian waters; possibly off Mozambique (Ref.
9840
).
Human uses
fisheries: minor commercial; price category: low; price reliability: very questionable: based on ex-vessel price for species in this family
Biology
Exhibit ovoviparity (aplacental viviparity), with embryos feeding initially on yolk, then receiving additional nourishment from the mother by indirect absorption of uterine fluid enriched with mucus, fat or protein through specialised structures
[733]
. Distinct pairing with embrace
[17086]
.
Size / Weight / Age
179 cm WD (male/unsexed; (Ref.
9840
))
Habitat
benthopelagic; amphidromous
[17660]
; brackish; marine
Parasites (arranged by Jürgen Pollerspöck)
Cestoda
Acanthobothrium dighaensis Srivastava & Capoor, 1980 [16418]
Hexacanalis sasoonensis Srivastava & Capoor, 1980 [16422]