NCBI GenBank
Himantura undulata
(BLEEKER, 1852)
Leopard whipray
Classification:
Elasmobranchii Myliobatiformes Dasyatidae
Reference of the original description
Bijdrage tot de kennis der Plagiostomen van den Indischen Archipel.
Verhandelingen van het Bataviaasch Genootschap van Kunsten en Wettenschappen, 24 (art. 12): 1–92, Pls. 1–4
Synonyms / new combinations and misspellings
Dasyatis favus, Dasyatis (Himantura) favus, Dasybatus favus, Himantura fava, Trygon fava, Trygon favus, Trygon undulata
Types
Himantura undulata
Syntype:
BMNH
: 1867.11.28.156 Batavia
RMNH
: 7440 (1 of 2)
Himantura fava
Holotype:
ZSI
:
F2411/1
;
Description :



Citation:

Himantura undulata

(BLEEKER, 1852): In: Database of modern sharks, rays and chimaeras, www.shark-references.com, World Wide Web electronic publication, Version 04/2019

Please send your images of
"Himantura undulata"
to
info@shark-references.com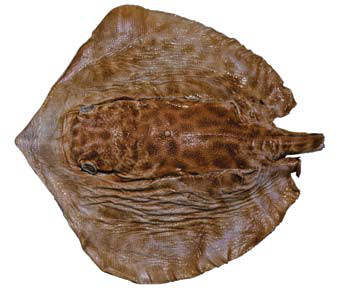 Himantura undulata (BLEEKER, 1852), syntype (BMNH 1867.11.28.156, female 264 mm DW, preserved); In: MANJAJI-MATSUMOTO, B.M. & LAST, P.R. (2008): Himantura leoparda sp. nov., a new whipray (Myliobatoidei: Dasyatidae) from the Indo-Pacific. CSIRO Marine and Atmospheric Research Paper, 22: 293-302
Common names

Leopard whip ray,

Leopard whipray
Distribution
Indo-West Pacific: Bay of Bengal to New Guinea, north to the Ryukyu Islands, south to northern Australia. Not occurring in the western Indian Ocean. Source:
www.gbif.org
Human uses
fisheries: minor commercial; price category: low; price reliability: very questionable: based on ex-vessel price for species in this family
Biology
Exhibit ovoviparity (aplacental viviparity), with embryos feeding initially on yolk, then receiving additional nourishment from the mother by indirect absorption of uterine fluid enriched with mucus, fat or protein through specialised structures
[733]
. Distinct pairing with embrace
[17086]
. Distinct pairing with embrace
[17086]
. Found on the continental shelf (Ref.
75154
).
Size / Weight / Age
410 cm TL (male/unsexed; (Ref.
9840
))
Remarks
shark-references Species-ID=2926;
Parasites (arranged by Jürgen Pollerspöck)
Cestoda
Isopoda
Gnathia maculosa OTA & HIROSE, 2009 [22155]
Gnathia teruyukiae OTA, 2011 [22155]