NCBI GenBank
Holohalaelurus regani
(Gilchrist, 1922)
Izak catshark
Classification:
Elasmobranchii Carcharhiniformes Pentanchidae
Reference of the original description
Deep-sea fishes procured by the S.S. Pickle. Part 1.
Report Fisheries and Marine Biological Survey, Union of South Africa, 2(3): 41–79, Pls. 7–12
Synonyms / new combinations and misspellings
Halaelurus regani, Scyliorhinus regani, Scyliorhinus (Halaelurus) regani, Scylliorhinus regani
Types
Holohalaelurus regani
Neotype:
SAM
: 32448
Description :



Citation:

Holohalaelurus regani

(Gilchrist, 1922): In: Database of modern sharks, rays and chimaeras, www.shark-references.com, World Wide Web electronic publication, Version 06/2023

Please send your images of
"Holohalaelurus regani"
to
info@shark-references.com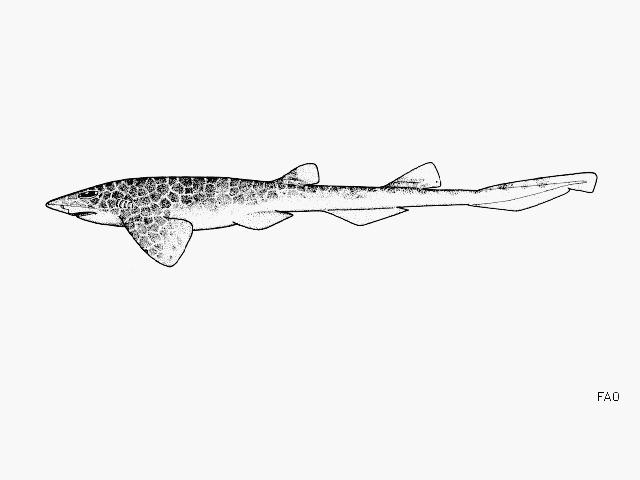 Holohalaelurus regani
(Gilchrist, 1922), © FAO, www.fish-base.org
Common names

Skaamoog,

Pejegato reticulado,

Holbiche isard,

Izak,

Izak cat shark,

Izak catshark,

Mottled dog-fish,

Pata-roxa reticulada
Short Description
A broad-headed catshark with crowded dark brown spots on a yellowish background, producing a net-like pattern of light lines; underside white with small black pores; no labial furrows
[536]
. Specimens less than 23 cm TL blackish with white side spots
[536]
.
Distribution
Indian Ocean from Durban, kwaZulu-Natal, South Africa, southwards and westwards to Cape Agulhas; westward into the Atlantic Ocean; northwards to southeast of Lüderitz, Namibia. Source:
www.gbif.org
Biology
Oviparous, with one egg laid per oviduct at a time
[536]
. Embryos feed solely on yolk
[733]
. Found on the outer continental shelf and upper slope, on or near the bottom
[517]
. May occur in shallower water in the temperate region than off tropical and subtropical areas. Feeds mainly on pelagic bony fishes, also fish offal, hagfish eggs, crustaceans, and cephalopods
[536]
.
Size / Weight / Age
69.0 cm TL (male/unsexed;
[536]
)
Habitat
bathydemersal; marine; depth range ? - 1075 m (Ref.
75585
), usually 150 - 300 m (Ref.
75585
)
Remarks
shark-references Species-ID=2945;
Parasites (arranged by Jürgen Pollerspöck)
Monogenea
Leptomicrobothrium holohalaelure Vaughan, Christison & Hansen, 2021 [29671]
Scyliorhinocotyle narvaezae Vaughan, Christison & Hansen, 2021 [29671]
Cestoda