NCBI GenBank
Hydrolagus mirabilis
(Collett, 1904)
Large-eyed rabbitfish
Classification:
Holocephali Chimaeriformes Chimaeridae
Reference of the original description
Diagnoses of four hitherto undescribed fishes from the depths south of the Faroe Islands.
Forhandlinger i Videnskabs–selskabet i Christiania, 1904, 9, 1–7
Synonyms / new combinations and misspellings
Chimaera mirabilis, Chimaera (Bathyalopex) mirabilis, Hydrolagus cf. mirabilis
Description :



Citation:

Hydrolagus mirabilis

(Collett, 1904): In: Database of modern sharks, rays and chimaeras, www.shark-references.com, World Wide Web electronic publication, Version 05/2023

Please send your images of
"Hydrolagus mirabilis"
to
info@shark-references.com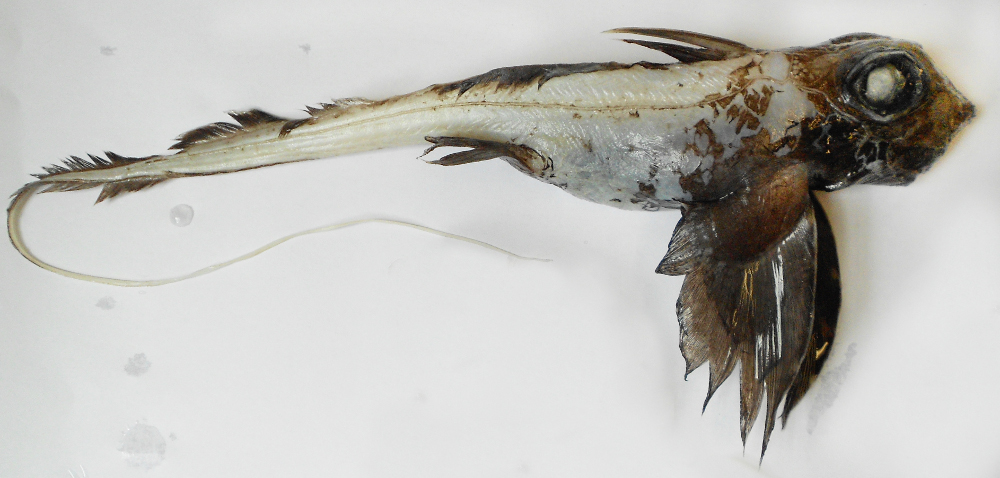 Hydrolagus mirabilis
(Collett, 1904), adult, deep (1500-200m), Rockall Trough, NW Scotland, © Charlie Underwood, Natural History Museum, London
Common names

Quimera ojón,

Borrico,

Large-eyed rabbitfish
Short Description
Field marks and Diagnostic Features after EBERT & STEHMANN, 2013
[17836]
: Field Marks: A very small Hydrolagus with the oral and preopecular lateral lines sharing a common branch, second dorsal fin concave, and a very long whip-like filamentous tail. Colour is a uniform light to dark brown or greyish, with darker fin edges. Diagnostic Features: Body very short, stout, rapidly tapering behind pelvic fins to very long, slender, narrow whiplike filamentous tail; caudal filament length about 75% body length. Snout short, conical, and bluntly pointed. Eyes ovalshaped, relatively large, about 35% of head length. Gill openings noticeably smaller than in other similar chimaeroid species. Preopercular and oral lateral line canals share a common branch. Skin deciduous, smooth. Pectoral fins broadly rounded, reaching beyond pelvic–fin origins when laid back. Pelvic fins stoutly rounded along base. Adult males with small frontal tenaculum, curved dorsal surface, a rounded bulbous tip, and adorned with small denticles that do not overlap dorsal surface of tenaculum. Pelvic tenacula small, divided about one-half their length, with fleshy bulbous tips covered in an extremely fine shagreen of denticles; not reaching beyond the distal margin of the pelvic fins. First dorsal fin high, with a short fin-base; fin preceded by a slender fin spine that reaches to or slightly beyond the first dorsal–fin tip; posterior spine edges not strongly serrated; spine extends well beyond the origin of second dorsal fin when depressed. Interdorsal fin space very small, first and second dorsal fins joined by a fleshy ridge of skin. Second dorsal fin long, continuous to upper caudal–fin lobe; height less than one-third first dorsal–fin height; second dorsal fin with distinct concave dorsal margin, nearly separating fin into anterior and posterior portions, about mid-distance on fin. Colour: uniform pale to dark brown with darker grey-brown or blackish fin edges; second dorsal fin with light coloured band at base with a dark distal edge.
Distribution
Eastern Atlantic: southern coast of Iceland, Faeroe Islands to northern Spain; off Western Sahara, Senegal, and Namibia. Probably more widely distributed in deep water. Western Atlantic: off the Guianas
[2445]
. First record: 2013: Syrian waters, eastern Mediterranean (female, 730 mm TL, Lattakia Coast)
[17960]
; Source:
www.gbif.org
Biology
Oviparous
[17086]
. Moderately common on continental slopes. Feeds on small fishes and invertebrates.
Size / Weight / Age
TL max to 80 cm (about 35 cm body length). Size at birth uncertain, but smallest free-swimming neonate measured 18.2 cm total length (6.7 cm body length).
[17836]
Habitat
bathydemersal; marine; depth range 450 to 1933 m, but generally occurring below 800 m
[17836]
Remarks
shark-references Species-ID=3087;
Parasites (arranged by Jürgen Pollerspöck)
Cestoda
Gyrocotyle discoveryi Bray, Waeschenbach, Littlewood, Halvorsen & Olson, 2020 [28528]