IUCN Red List

NCBI GenBank
Hypanus marianae
(GOMES, ROSA & GADIG, 2000)
Classification:
Elasmobranchii Myliobatiformes Dasyatidae
Reference of the original description
Dasyatis macrophthalma sp. n.: a new species of stingray (Chondrichthyes: Dasyatidae) from the southwestern Atlantic.
Copeia, 2000 (2): 510–515
Image of the original description
Image in copyright.
Synonyms / new combinations and misspellings
Dasyatis macrophthalma, Dasyatis marianae
Description :



Citation:

Hypanus marianae

(GOMES, ROSA & GADIG, 2000): In: Database of modern sharks, rays and chimaeras, www.shark-references.com, World Wide Web electronic publication, Version 04/2019

Please send your images of
"Hypanus marianae"
to
info@shark-references.com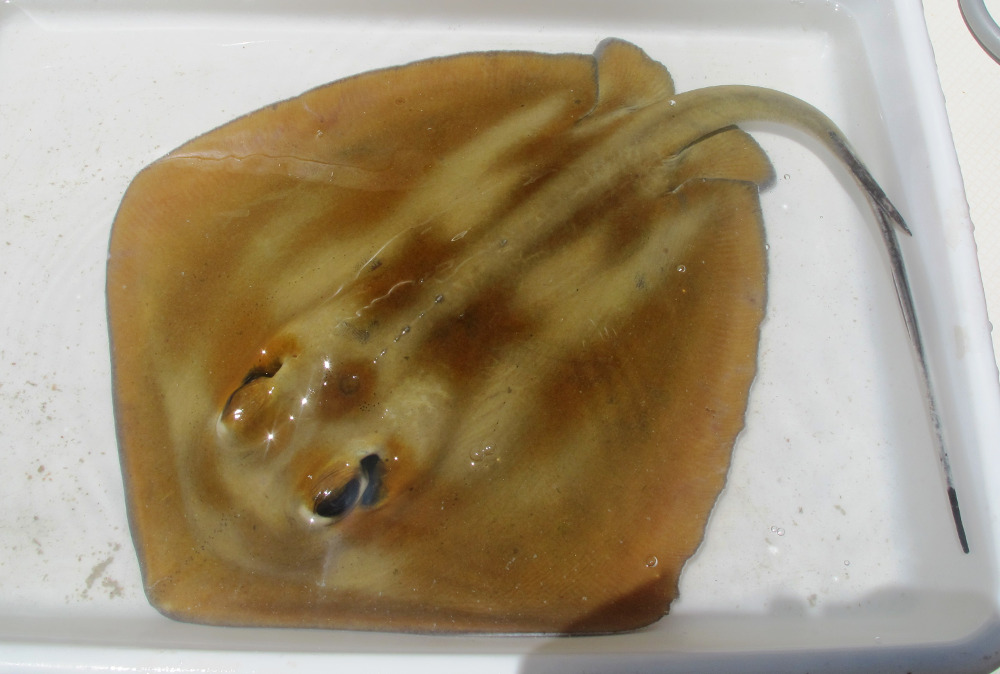 Hypanus marianae (GOMES, ROSA & GADIG, 2000) © Tiego Costa, Ocean Laboratory, Federal University of Rio Grande do Norte, Brazil
Common names

Brazilian large-eyed stingray,

Raia mariquita
Short Description
A medium-sized species of Dasyatis with horizontal diameter of eye nearly equal to interorbital width and spiracle length. Tail relatively short, less than two times disk width, distally filiform, with dorsal and ventral finfolds, ending approximately on same vertical line; height of dorsal finfold 1.5-2 in height of ventral finfold. Dorsal surface of disc yellowish brown, with dark blotch between spiracles and two pairs of dark scapular and precaudal blotches. Margins of disc and pelvic fins blue dorsally. Ventral surface of disc white, with two symmetrical pairs of dark markings in adults.
Distribution
Southwest Atlantic: along the northeastern Brazilian coast, from the state of Maranhão to southern Bahia.
Biology
Exhibit ovoviparity (aplacental viviparity), with embryos feeding initially on yolk, then receiving additional nourishment from the mother by indirect absorption of uterine fluid enriched with mucus, fat or protein through specialised structures
[733]
. Distinct pairing with embrace
[17086]
. A gravid female aborted one fully formed embryo (Ref.
36974
).
Size / Weight / Age
40.0 cm WD (male/unsexed; (Ref.
36974
))
Habitat
demersal; marine; depth range 2 - 15 m (Ref.
36974
)
Remarks
shark-references Species-ID=14628;