NCBI GenBank
Hypanus sabinus
(Lesueur, 1824)
Atlantic stingray
Classification:
Elasmobranchii Myliobatiformes Dasyatidae
Reference of the original description
Description of several species of the Linnaean genus Raia of North America.
Journal of the Academy of Natural Sciences of Philadelphia, 4(1), 100–121
Image of the original description
No image in first description.
Synonyms / new combinations and misspellings
Amphotistius sabinus, Dasibatis sabina, Dasyatis sabina, Dasyatis sabinus, Dasybatus sabinus, Hypanus sabina, Trygon sabina, Trygon (Trygon) sabina
Description :



Citation:

Hypanus sabinus

(Lesueur, 1824): In: Database of modern sharks, rays and chimaeras, www.shark-references.com, World Wide Web electronic publication, Version 01/2023

Please send your images of
"Hypanus sabinus"
to
info@shark-references.com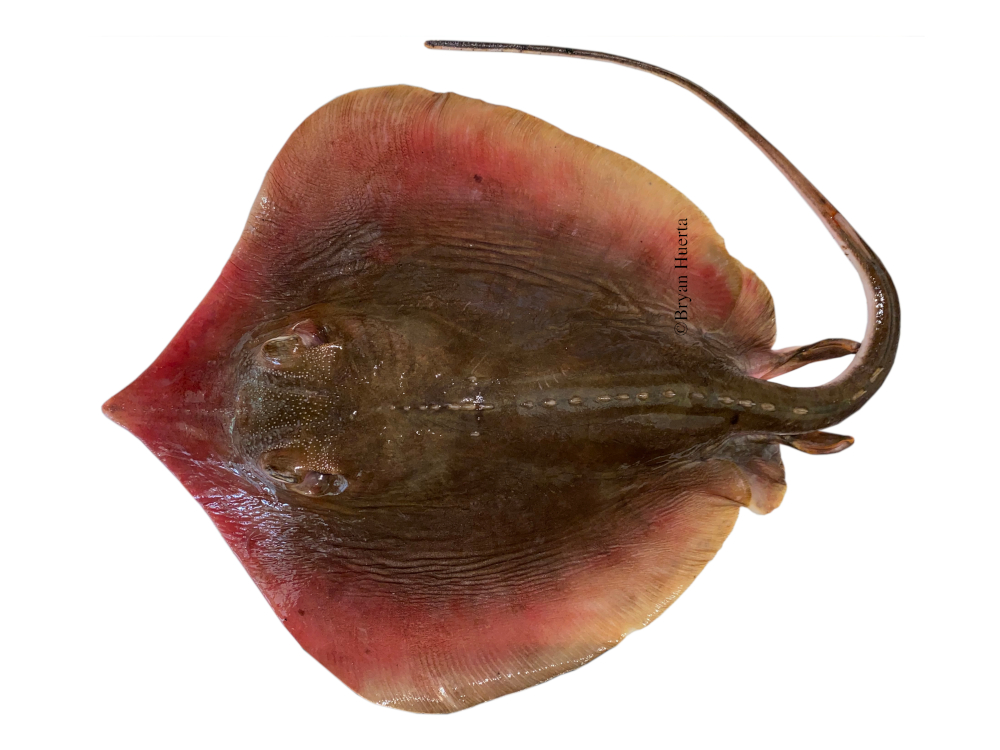 Hypanus sabinus
(Lesueur, 1824), DW: 23.3 cm, male, Dauphin Island, Alabama, USA © Bryan Huerta
Common names

Raya enana,

Raya hocicona,

Raya látigo de espina,

Raie,

Atlantic Stingray
Short Description
Prominent triangular snout. Broadly rounded outer corners of disc. Upper surface brown or yellowish brown, paler toward margins of disc. Lower surface white
[199]
. Few scapular spines. Middorsal row of spines present, but few on tail beyond pelvic fins
[17658]
.
Distribution
Western Atlantic: Chesapeake Bay to southern Florida in the USA and the Gulf of Mexico. Records from South America doubtful
[17658]
. Source:
www.gbif.org
Human uses
fisheries: of no interest
Biology
Exhibit ovoviparity (aplacental viviparity), with embryos feeding initially on yolk, then receiving additional nourishment from the mother by indirect absorption of uterine fluid enriched with mucus, fat or protein through specialised structures
[733]
. Distinct pairing with embrace
[17086]
. Inhabits coastal waters, including estuaries and lagoons. Ascends rivers. Feeds on tube anemones, polychaete worms, small crustaceans, clams, and serpent stars.
Habitat
demersal; freshwater; brackish; marine; depth range ? - 25 m (Ref.
55207
), usually 2 - 6 m (Ref.
55207
)
Remarks
shark-references Species-ID=14630;
Parasites (arranged by Jürgen Pollerspöck)
Monogenea
Cestoda
Trematoda
Nagmia floridensis Markell, 1953 [11688]
Hirudinea