NCBI GenBank
Hypogaleus hyugaensis
(MIYOSI, 1939)
Blacktip tope
Classification:
Elasmobranchii Carcharhiniformes Triakidae
Reference of the original description
Description of three new species of Elasmobranchiate fishes collected at Hyuga Nada, Japan.
Bulletin of the Biogeographical Society of Japan, 9: 91–97
Synonyms / new combinations and misspellings
Eugaleus hyugaensis, Galeorhinus hyugaensis, Galeorhinus zanzibarensis, Galeorhinus (Hypogaleus) zanzibarensis, Hypogaleus zanzibarensis
Types
Hypogaleus hyugaensis
Holotype:
MGHSJ
: ?
Galeorhinus (Hypogaleus) zanzibarensis
Holotype:
SAIAB
:
20
;
Description :



Citation:

Hypogaleus hyugaensis

(MIYOSI, 1939): In: Database of modern sharks, rays and chimaeras, www.shark-references.com, World Wide Web electronic publication, Version 10/2020

Please send your images of
"Hypogaleus hyugaensis"
to
info@shark-references.com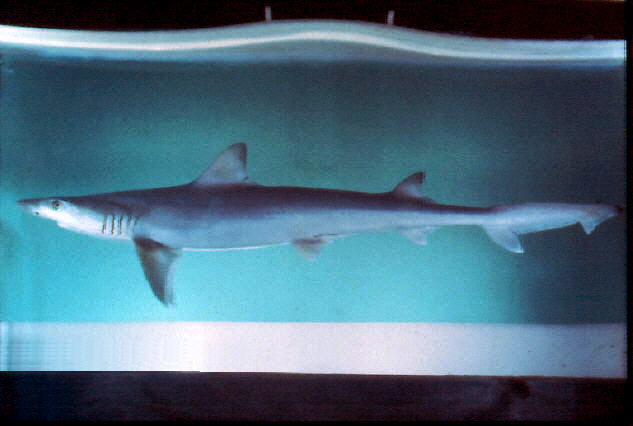 Hypogaleus hyugaensis (MIYOSI, 1939), © Randall, J.E, www.fish-base.org
Common names

Cazón elegante,

Requin-hâ élégant,

Blacktip houndshark,

Blacktip tope,

Blacktip tope shark,

Blacktip topeshark,

Blacktipe tope,

Lesser soupfin shark,

Pencil shark,

Western school shark
Short Description
Dull grey dorsally, paler below; front part of snout slightly dusky
[20040]
.
Distribution
Indo-West Pacific: East Africa and the Persian Gulf to Taiwan and Japan. Reported from Australia
[1388]
. Source:
www.gbif.org
Human uses
fisheries: minor commercial; price category: high; price reliability: very questionable: based on ex-vessel price for species in this family
Biology
Viviparous (with a yolk-sac placenta), with 10 or 11 young in a litter
[517]
. Size of full-term fetuses about 33 to 35 cm
[517]
. Gestation period is estimated at 15 months
[517]
. Distinct pairing with embrace
[17086]
. Occurs on the continental shelf and slope (Ref.
75154
).
Size / Weight / Age
127 cm TL (male/unsexed;
[517]
); 122 cm TL (female)
Habitat
demersal; marine; depth range 40 - 230 m
[517]
Remarks
shark-references Species-ID=3105;