Jaekelotodus trigonalis
(Jaekel, 1895)
Classification:
Elasmobranchii Lamniformes Odontaspididae
Reference of the original description
Unter-tertiäre Selachier aus Südrussland.
Mémoirs du Comité geologique de St. Petersburg, 9(4): 19–35, 2 pl.
Image of the original description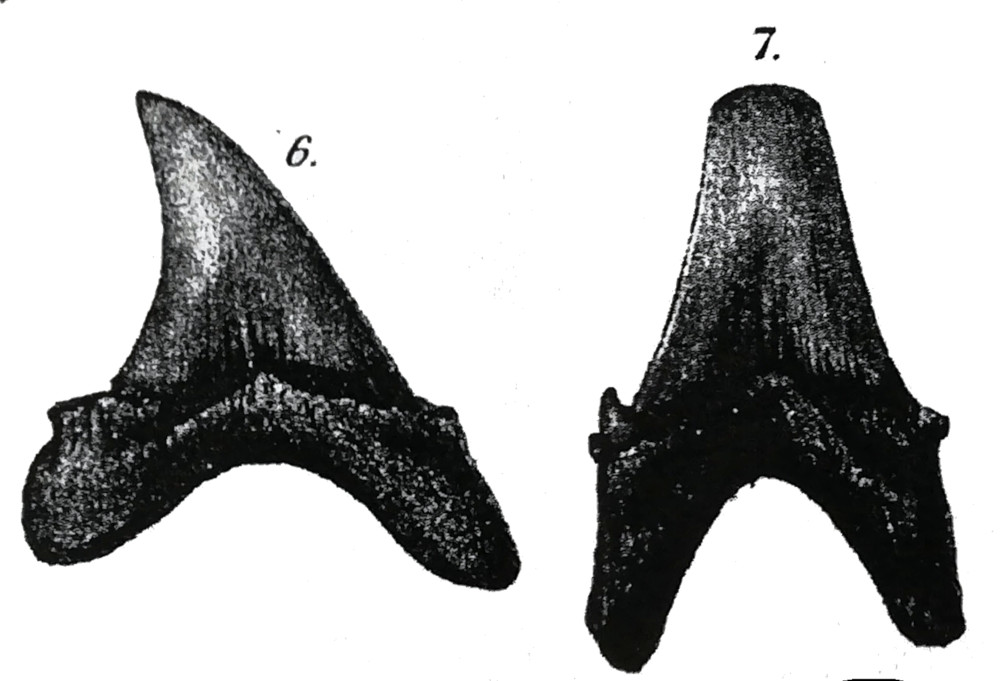 Jaekelotodus trigonalis (JAEKEL, 1895), Table 1 Figure 6 and 7 of the original description
Synonyms / new combinations and misspellings
Hypotodus triangonalis, Hypotodus trigonalis, Odontaspis cf. trigonalis, Odontaspis trigonalis, Odontaspis (Odontaspis) trigonalis, Odontaspis (Synodontaspis) cf. trigonalis, Odontaspis (Synodontaspis) trigonalis, Otodus trigonalis
Types
Jaekelotodus trigonalis
Description:



Citation:

Jaekelotodus trigonalis (Jaekel, 1895): In: Database of fossil elasmobranch teeth www.shark-references.com, World Wide Web electronic publication, Version 11/2021

Please send your images of
"Jaekelotodus trigonalis"
to
info@shark-references.com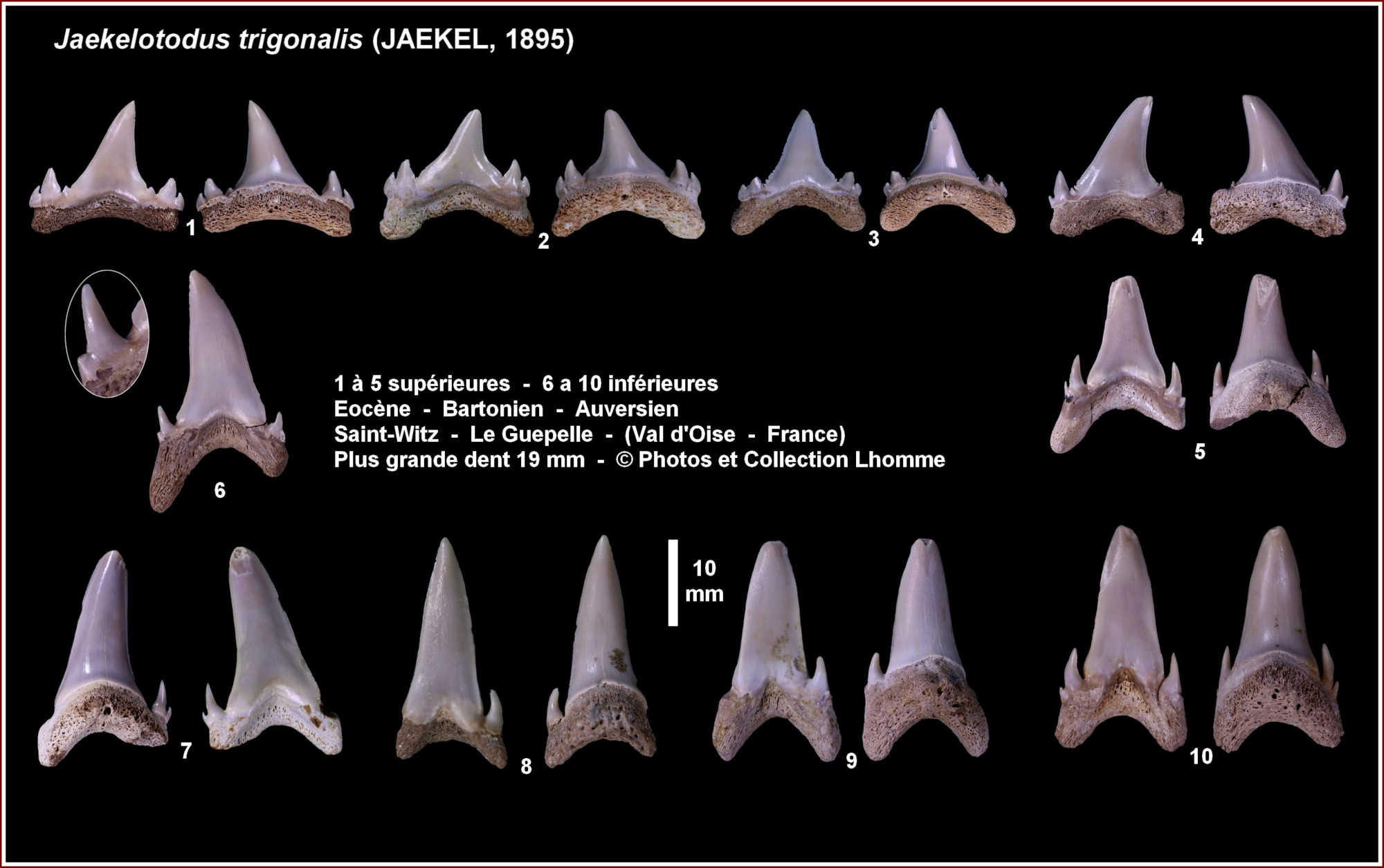 Jaekelotodus trigonalis
(JAEKEL, 1895), Eocene, Bartonian, Saint-Witz, La Guepelle, Val d'Oise, France © Jean-Francois LHOMME,
www.vertebres-fossiles.com
Distribution Geographic
Russia (GLIKMAN 1964), Paris basin, France (CAPPETTA 1987) (after Cappetta 2012
[16818]
)
Distribution Strategraphy
Lower Oligocene; Jekaterinoslaw, southern Russia; Upper Eocene (after Cappetta 2012
[16818]
)
Description
Diagnose after Jaekel, 1895
[1210]
: Hypotodus n. g.: Zähne kräftig verdickt, mit einer breiten Haupt- und jederseits mehreren kleinen Nebenspitzen. Die Vorderzähne sehr stark nach innen verdickt, die Wurzelflügel dick und nach aussen zusammengebogen, die Hauptspitze kegelförmig, mit steil abfallenden Flügeln, die mehrere spitze Nebenzähnchen tragen; die Seitenzähne mit breit-hufeisenförmiger Wurzel und breit-dreieckiger Krone, die wesentlich aus der breiten Hauptspitze besteht und auf den abfallenden Flügeln derselben mehrere spitze Nebenzähnchen trägt. Die Innenseite der Hauptspitze anscheinend stets glatt. Als Typus dieser Gattung betrachte ich diejenige Gebissform, deren Vorderzähne aus dem Mitteleocän vom Sheppy durch Agassiz als Lamna verticalis beschrieben worden sind. Das Gebiss dieser Gattung, von welcher ich an anderer Stelle mehrere Arten vollständiger beschreiben und abbilden werde, ist ein durchaus charakteristisches, welches sich von denen von Odontaspis einerseits und Otodus mit dem Typus O. obliquus andererseits scharf unterscheidet. Namentlich die Entwicklung kräftiger kurz kegelförmiger Vorderzähne giebt der Gebissform ein selbstständiges Gepräge.
Hypotodns trigonalis n. sp. Taf. I, Fig 6 und 7: Zähne kräftig verdickt mit schwach entwickelten Nebenzähnchen. Hauptspitze kurz, breit und dick mit ein bis zwei scharf zugespitzten, einwärts gewendeten Nebenspitzen. Innenseite der Krone glatt, Aussenseite an der Basis mit einigen kurzen Falten versehen. Von dem dieser Art nahestehenden Hypotodus verticalis Ag. sp. unterscheidet sich unsere Art durch schwäche1•e Entwicklung der Nebenspitzen, im Anschluss an welche sich bei H. verticalis auch der Rand der Hauptspitze besonders an den Seitenzähnen des Gebisses gekräuselt zeigt. Auch die Dimensionen unserer Art sind geringer als bei der eocänen Form, was aber für die gleichen Zähne aus dem Unteroligocän von Westeregeln in Braunschweig nicht gilt, während entsprechende Zähne von Lattorf sich im Ganzen mehr der genannten Art des englischen Eocän nähern . • Als einen vorderen Seitenzahn der gleichen Art kann man wohl den leider nur unvollständig erhaltenen Zahn Taf. II, Fig. 8 betrachten, welcher ebenfalls von Jekaterinoslaw, aber anscheinend von einem anderen Punkte, als die oben beschriebenen Zähne, stammt.
Remarks
valid after Cappetta & Nolf (2005) p. 247
[366]
;
References

Climate cooling and clade competition likely drove the decline of lamniform sharks.
Proceedings of the National Academy of Sciences of the United States of America, 116(41), 20584–20590
DOI:
10.1073/pnas.1902693116

Chondrichthyans from a lag deposit between the Shark River Formation (Middle Eocene) and Kirkwood Formation (Early Miocene), Monmouth county, New Jersey.
Paludicola, 10(3): 149-183
Eocene (Lutetian) Shark-Rich Coastal Paleoenvironments of the Southern North Sea Basin in Europe: Biodiversity of the Marine Fürstenau Formation Including Early White and Megatooth Sharks.
International Journal of Oceanography, 2012: ID 565326, 22 pages
DOI:
10.1155/2012/565326

The Elasmobranch Fauna of the Lede Sand Formation at Oosterzele (Lutetian, Middle Eocene of Belgium).
Palaeofocus, 1: 1–57, 2 fig., 2 tab., 22 pl.

(Elasmobranchs of the western margin of the West Siberian Paleogene basin.) «in russian».
Ekaterinburg: IGG UB RAS, 2006, 224 p., ICC 5–94332–048–2
Révision de quelques Odontaspididae (Neoselachii: Lamniformes) du Paléocène et de l'Eocène du Bassin de la Mer du Nord.
Bulletin de l'Institut Royal des Sciences Naturelles de Belgique, Science de la Terre, 75: 237–266, fig. 1–8, pl. 1–7.

Fossil Shark Teeth of the World.
Lamna Books, 170 p

(About New Findings of Palaogenic Sharks in the Trans-Urals.) «in russian»
Materialy po Stratigrafii i Paleontologii Urala, 6: 96-99

Elasmobranhii i biostratigraphia paleogena Zauralia i Srednei Asii. (Elasmobranchii and Palaeogene biostratigraphy of Transural and Central Asia).
Materialy po stratigrafii i Paleontologii Urala, 3: 324 pp, Ekaterinburg: UrO RAN

A Middle Eocene selachian fauna from the White Mountain Formation of the Kizylkum Desert, Uzbekistan, C.I.S.
Palaeontographica, Abt. A, 242(4–6), 99–126

Sharks of family Jaekelotodontidae of European and middle Asian paleobiogeographic provinces.
Bulletin Moscow Society of Naturalists, 69(6): 47–62

Soortenlijst van fossiele vissen uit het Eoceen van België.
Afzettingen WTKG, 15(4), 6–12

A checklist of Neoselachii (Pisces, Chondrichthyes) from the Palaeogene of the Paris Basin, France.
Tertiary Research, 13(1) : 27–36

Fossils from the Bracklesham Group exposed in the M27 Motorway excavations, Southampton, Hampshire.
Tertiary Research, 12: 131-137

A checklist of Palaeocene and Eocene sharks and rays (Chondrichthyes) from the Pamunkey Group, Maryland and Virginia, USA.
Tertiary Research, 12(2): 81–88.

An Illustrated Guide to the British Middle Eocene Vertebrates.
Privately published, London, 59 pp.

Fossiles de Belgique. Dents de Requins et de Raies du Tertiaire de la Belgique.
Institut royal des Sciences naturelles de Belgique, 184 pp.

Stand der Untersuchungen an der Chondrichthyes-Fauna des nordwestdeutschen Tertiärs.
Beiträge zur regionalen Geologie der Erde, 18: 503–509

Fossilfunde aus den Deckschichten des Helmstedter Braunkohlereviers.
Aufschluss, 37(10): 343–349, 4 figs. [in German]

Haaie- en Roggentanden uit het Tertiair van Belgie.
Institut royal des Sciences naturelles de Belgique, 1–171

Die marinen Deckschichten (Mitteleozän-Unteroligozän) der Helmstedter Braunkohlen (Niedersachsen, BRD).
Documenta naturae, 22: 1–120, 23 fig., 17 tabl., 12 pl.

Fossil sharks, rays and chimaeroids of the English Tertiary period.
Gosport Museum, 1–47, 10 fig., 3 tabl., 16 pl.

Eine Lagerstätte kreidezeitlicher und paläogener Chondrichthyes-Reste bei Fürstenau (Niedersachsen).
Osnabrücker Naturwissenschaftliche Mitteilungen, 6: 35–44

Troisième note sur les poissons des sables de lede (Eocène belge): Les fossiles autres que les Otholithes.
Bulletin de la Société Belge de Géologié, 87(3): 125–152, 26 fig.

Het Eoceen in de lokaalmoraine van Losser.
Staringia, 4: 3-39

The palaeontology of the London Clay (Lower Eocene) of the Herne Bay coastal section, Kent, England.
Proceedings of the Geological Association, 88(3): 163–178
DOI:
10.1016/S0016-7878(77)80025-4
On the age of the Paleogene of Kaliningrad region. [in russian]
Proceedings of the USSR Academy of Science, Geological Series, 1: 132–134

Faune ichthyologique du London Clay.
Trustees of the British Museum: 496 pp., 82 fig., 68 pl.

Haaientanden uit de fosforietenlaag aan de basis van het Oligoceen in Overijssel en Gelderland.
Publicaties van het Natuurhistorisch Genootschap in Limburg, Reeks XIII: 61-78

Evolution of Elasmobranchii in transgressive and regressive epoches.
Trudy V e VI sessij Vsesojuznogo paleontologicheskogo obschestva. Leningrad: 226–233
Les poissons fossiles du Bas-Congo et des régions voisines.
Annales du Musée du Congo Belge, Sér. A(Minéralogie Géologie, Paléontologie), 3, 2(1): 1–200, fig. 1–60, pl. 1–16.

Das Tertiär der Niederlande mit besonderer Berücksichtigung der Selachier-Fauna.
Leidsche Geologische Mededelingen,(9): 177–361, pl. 1–15, 4 cartes.

Les poissons du Crétacé et du Nummulitique de l'Aude.
Bulletin de la Société géologique de France, 6, 375–402
Contribution à lètude des poisons fossils du Nord de la France et des regions voisines.
Mémoires de la Société géologique du Nord, 5: 430 pp
Les poissons éocènes de la Belgique.
Mémoires du Musée Royal d'Histoire Naturelle de Belgique, 3(11): 49–228, pl. 4–12.

List of fish teeth from the Bagshot Sands (London Basin).
Proceedings of the Geologists' Association, 18(2), 83–84
DOI:
10.1016/S0016-7878(03)80044-5

Notes on the teeth of sharks and skates from English Eocene formations.
Proceedings of the Geologists' Association, 16(1), 1–14, pl. 1.
DOI:
10.1016/S0016-7878(99)80036-4

Unter-tertiäre Selachier aus Südrussland.
Mémoirs du Comité geologique de St. Petersburg, 9(4): 19–35, 2 pl.