NCBI GenBank
Lamna nasus
(Bonnaterre, 1788)
Porbeagle
Classification:
Elasmobranchii Lamniformes Lamnidae
Reference of the original description
Ichthyologie. Tableau encyclopédique et méthodique des trois règnes de la nature.
Paris, 215 p., pl. A–B + 1–100.
Image of the original description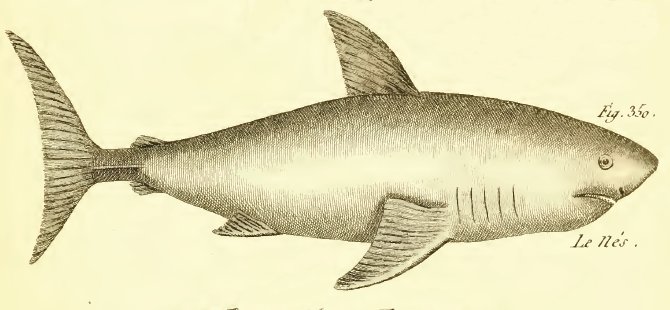 Lamna nasus (Bonnaterre, 1788)
Synonyms / new combinations and misspellings
Carcharias cornubicus, Isurus cornubicus, Isurus nasus, Isurus (Lamna) nasus, Isurus (Lamna) philippii, Lamna cf. nasus, Lamna cornubica, Lamna cornubicus, Lamna monensis, Lamna pennanti, Lamna philippi, Lamna philippii, Lamna whitely, Lamna whitleyi, Lamna (Oxyrhina) cornubica, Selanonius walkeri, Squalus cambricus, Squalus cornubicus, Squalus cornubiensis, Squalus lelanonius, Squalus monensis, Squalus nasus, Squalus pennanti, Squalus selanonus
Description :



Citation:

Lamna nasus

(Bonnaterre, 1788): In: Database of modern sharks, rays and chimaeras, www.shark-references.com, World Wide Web electronic publication, Version 06/2023

Please send your images of
"Lamna nasus"
to
info@shark-references.com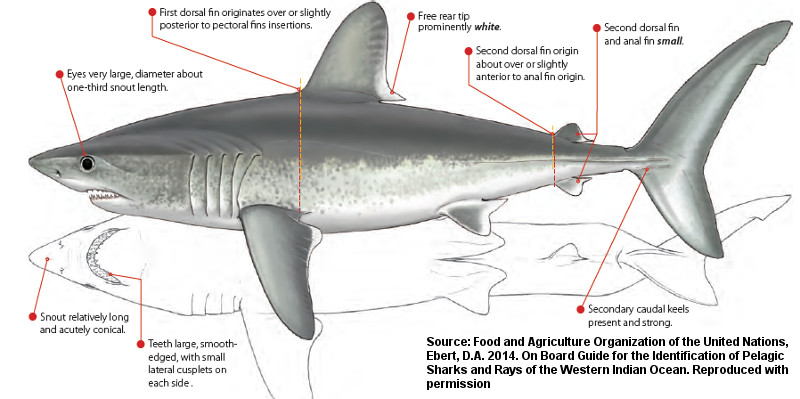 Lamna nasus
(Bonnaterre, 1788); © FAO, Food and Agriculture Organization of the United Nations, Ebert, D.A. 2014. On Board Guide for the Identification of Pelagic Sharks and Rays of the Western Indian Ocean. Reproduced with permission, illustration by
Marc Dando
, Wildlife Illustrator
Common names

Heringshai,

Kalbfisch,

Cailón,

Cailón marrajo,

Marrajo,

Marrajo sardinero,

Moka,

Maraîche,

Requin-taupe commun,

Beaumaris shark,

Blue dog,

Mackerel shark,

Porbeagle,

Porbeagle shark,

Porbeale shark,

Cagnizza,

Smeriglio,

Anequim,

Arrequim,

Cação,

Marracho,

Peixe-cão,

Sardo,

Tubarâo-sardo, Pixxiplamtu (malta)
Short Description
A stout, spindle-shaped shark with large black eyes, a sharp, conical snout, and small, smooth-edged, narrow teeth with side cusps
[536]
. Dark grey above, white below, without blotches (Ref.
6581
); rear tip of 1st dorsal abruptly white
[536]
.
Distribution
Circumglobal: In subtropical to temperate waters. Western Atlantic: Newfoundland, Canada to New Jersey USA; possibly southern Brazil to Argentina. Eastern Atlantic: Iceland and western Barents Sea to South Africa, including the Mediterranean. Southwest Pacific: Australia and New Zealand. Southeast Pacific: Chile. Southern Ocean: off South Georgia and the Kerguelen Islands. Indian Ocean
[1388]
. Source:
www.gbif.org
Human uses
fisheries: commercial; gamefish: yes
Biology
Distinct pairing with embrace
[17086]
. Exhibit ovoviparity (aplacental viviparity), with embryos feeding on other ova produced by the mother (oophagy) after the yolk sac is absorbed
[733]
. 1-5 in a litter
[1388]
. Size at birth 70-80 cm
[1388]
. Occurs on the continental shelf (Ref.
75154
).
Size / Weight / Age
350 cm TL (male/unsexed; (Ref.
4645
)); max. published weight: 230.0 kg (Ref.
40637
); max. reported age: 30 years
[518]
Remarks
shark-references Species-ID=3431; CITES: (
see: Protected Species for more details
) Convention on International Trade in Endangered Speciesof Wild Fauna and Flora annex: II; Council Regulation 2017/160 annex: B
Parasites (arranged by Jürgen Pollerspöck)
Cestoda
Nematoda
Ascaris pachydenna Stossich, 1902 [17029]
Copepoda
Isopoda
Natatolana borealis (Lilljeborg, 1851) [9358]