NCBI GenBank
Leucoraja circularis
(Couch, 1838)
Sandy ray
Classification:
Elasmobranchii Rajiformes Rajidae
Reference of the original description
A Cornish fauna, being a compendium of the natural history of the county. Part I. Vertebrate, crustacean, and a portion of the Radiate animals.
Cornish Fauna
Synonyms / new combinations and misspellings
Raia circularis, Raja circularis, Raja falsavela, Raja falsavela intermedia, Raja falsavela maggiore, Raja (Leucoraja) circularis
Description :



Citation:

Leucoraja circularis

(Couch, 1838): In: Database of modern sharks, rays and chimaeras, www.shark-references.com, World Wide Web electronic publication, Version 06/2023

Please send your images of
"Leucoraja circularis"
to
info@shark-references.com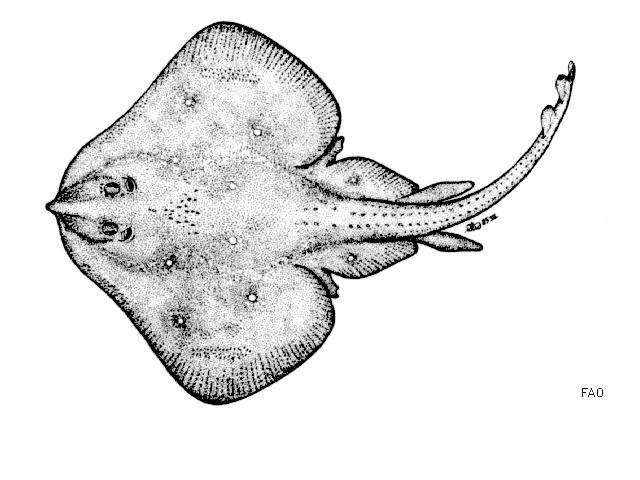 Leucoraja circularis
(Couch, 1838), © FAO, www.fish-base.org
Common names

Sandroche,

Sandrochen,

Raya circular,

Raya falsa vela,

Raie circulaire,

Raie ronde,

Raie ronde circulaire,

Cuckoo ray,

Sandy ray,

Sandy skate,

Razza rotonda,

Raia-de-São-Pedro
Short Description
Snout short, its tip somewhat pronounced; upper surface entirely spinulose, about 8 thorns generally in a complete row around inner margin of eye and a triangle of thorns on nape or shoulder region; underside with prickles only on snout, between gill-slits, along abdomen, and at anterior margins of disc; tail only slightly longer than body; upper surface reddish-brown to dark brown with 4-6 creamy spots on each wing, underside white
[7182]
.
Distribution
Eastern Atlantic: Iceland
[20065]
, southern Norway, Skagerrak and Morocco, including western Mediterranean. Records as far south to Mauritania and Senegal could not be verified due to lacking descriptions and specimens; most are probably misidentifications of Leucoraja leucosticta. Source:
www.gbif.org
Human uses
fisheries: minor commercial; price category: medium; price reliability: reliable: based on ex-vessel price for this species
Biology
Oviparous, paired eggs are laid. Embryos feed solely on yolk
[733]
. With no definite egg laying period
[7182]
. Distinct pairing with embrace. Young may tend to follow large objects, such as their mother
[17086]
.
Size / Weight / Age
120 cm TL (male/unsexed;
[7180]
); 117 cm TL (female)
Habitat
demersal; marine; depth range 70 - 676 m
[17735]
Remarks
shark-references Species-ID=3487;
Parasites (arranged by Jürgen Pollerspöck)
Monogenea
Calicotyle kroyeri Diesing, 1850 [17150]
Cestoda