NCBI GenBank
Leucoraja garmani
(Whitley, 1939)
Freckled skate
Classification:
Elasmobranchii Rajiformes Rajidae
Reference of the original description
Taxonomic notes on sharks and rays.
Australian Zoologist, 9(3), 227–262
Synonyms / new combinations and misspellings
Leucoraja caribbaea, Leucoraja cf. garmani, Leucoraja garmani virginica, Leucoraja virginica, Malacoraja garmani, Raia ackleyi ornata, Raia ornata, Raja ackleyi ornata, Raja garmani, Raja garmani caribbaea, Raja garmani garmani, Raja garmani virginica, Raja (Leucoraja) garmani
Description :



Citation:

Leucoraja garmani

(Whitley, 1939): In: Database of modern sharks, rays and chimaeras, www.shark-references.com, World Wide Web electronic publication, Version 06/2023

Please send your images of
"Leucoraja garmani"
to
info@shark-references.com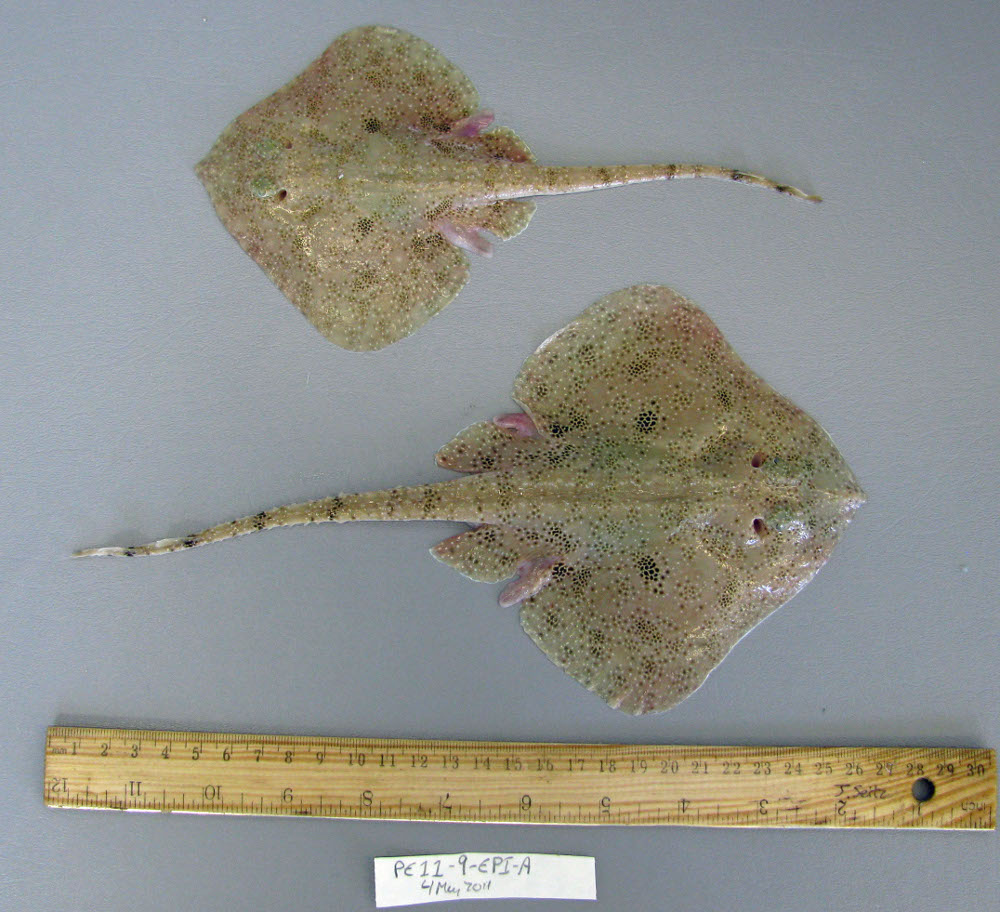 Leucoraja garmani
(Whitley, 1939), off Port Everglades Harbor, Florida, © Jason C. Seitz, ANAMAR Environmental Consulting, Inc.
Common names

Raya germán,

Raie rosette,

Freckled skate,

Rosette skate,

Rosetted skate
Short Description
Rows of spines along back and sides of tail. Tail rather long. Conspicuous dark rosettes on upper surface of disk in young and adults. Axil of pelvic fin to 1st dorsal fin greater than from axil of pelvic fin to eye
[17658]
. Upper surface pale buff or brown freckled with small spots, darker or paler. Lower surface white or pale yellow
[199]
.
Distribution
Western Atlantic: southern New England to southern Florida in the USA.
First record: 2019: off Venezuela
[27305]
Source:
www.gbif.org
Human uses
fisheries: minor commercial; bait: occasionally; price category: medium; price reliability: very questionable: based on ex-vessel price for species in this family
Biology
Oviparous, paired eggs are laid. Embryos feed solely on yolk
[733]
. Distinct pairing with embrace. Young may tend to follow large objects, such as their mother
[17086]
. Occurs mostly on outer edge of continental shelf and upper part of continental slope. Feeds mostly on decapod crustaceans and to a lesser extent on amphipods, polychaetes, squids and fishes.
Size / Weight / Age
26.0 cm WD (male/unsexed; (Ref.
3824
))
Remarks
shark-references Species-ID=3491;
Parasites (arranged by Jürgen Pollerspöck)
Monogenea
Calicotyle kroyeri Diesing, 1850 [17436]