NCBI GenBank
Mobula alfredi
(Krefft, 1868)
Giant manta
Classification:
Elasmobranchii Myliobatiformes Mobulidae
Reference of the original description
(Prince Alfred's ray)
Illustrated Sydney News, 5: 1–16
Synonyms / new combinations and misspellings
Ceratoptera alfredi, Daemomanta alfredi, Deratoptera alfredi, Manta alfredi, Manta fowleri, Manta pakoka
Description :



Citation:

Mobula alfredi

(Krefft, 1868): In: Database of modern sharks, rays and chimaeras, www.shark-references.com, World Wide Web electronic publication, Version 06/2023

Please send your images of
"Mobula alfredi"
to
info@shark-references.com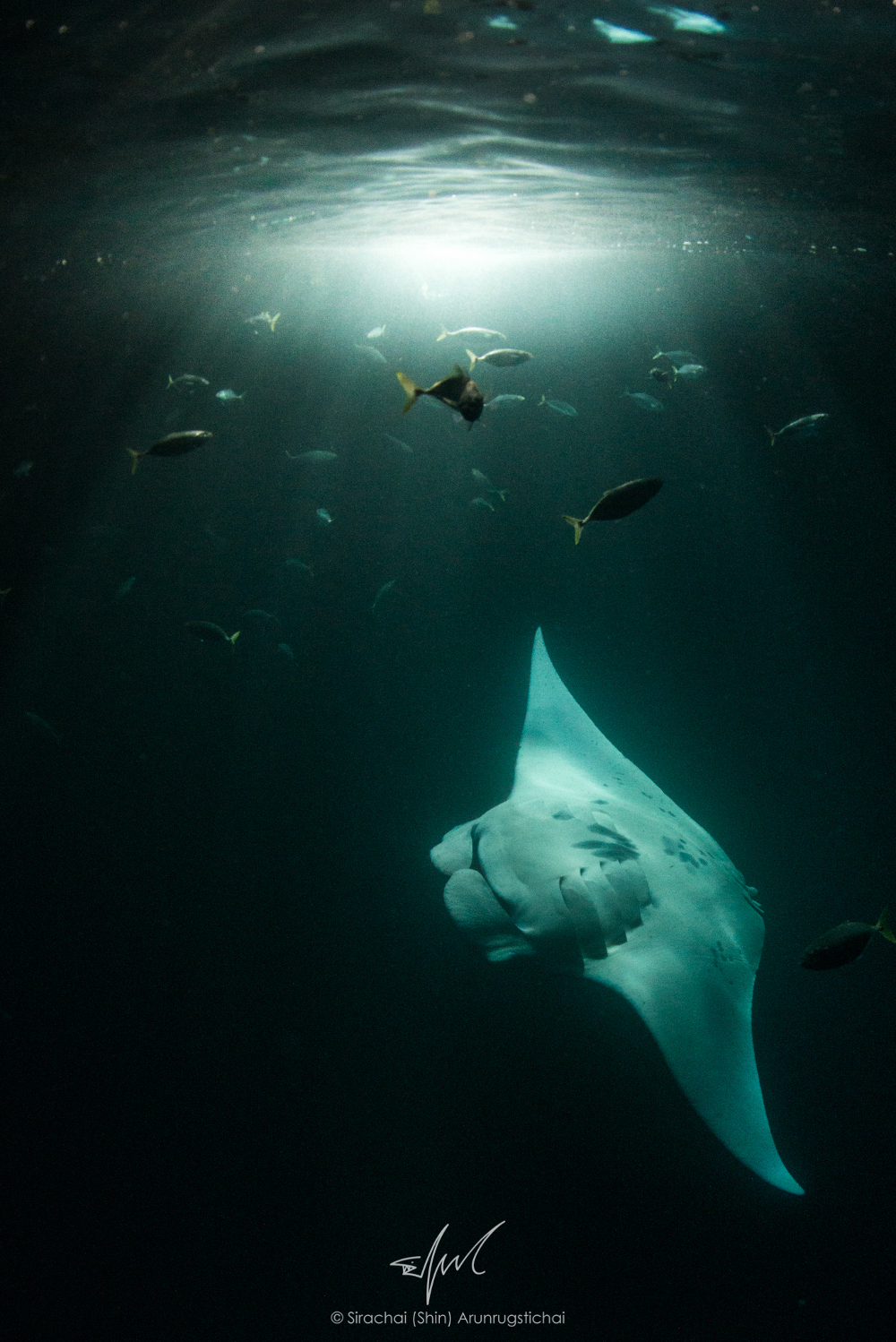 Mobula alfredi
(Krefft, 1868), © Sirachai (Shin) Arunrugstichai, Center for Biodiversity in Peninsular Thailand, Yai Songkla, Thailand
Common names
Alfred manta
Short Description
This species is characterized by the following: disc approximately 2.2-2.4 times as broad as it is long, the maximum disc width size approximately 550 cm; slender whip-like tail approximately 123% of disc length if intact; no distinct caudal spine or cartilaginous mass at base of tail; some specimens have small hump at the base of the tail on the dorsal surface, while others have a slight depression and groove on the dorsum of the tail immediately posterior to the posterior margin of the dorsal fin; small, knob-like dermal denticles evenly distributed on both the dorsal and ventral surfaces, with ventral surface having slightly larger denticles; dental ligament with small cusped teeth on the lower jaw measuring roughly 22% of total disc length, approximately 6-8 rows, 142-182 files across entire width of the tooth band; total tooth counts of 900-1500 for entire tooth band; top jaw lacks rows of enlarged denticles (Ref.
82755
).
Distribution
Indo-West Pacific: Red Sea, South Africa, Thailand to Western Australia.; north to Japan (Yaeyama Is.), to Solitary Is., Australia as far east as French Polynesia and the Hawaiian Is. Reported in the Atlantic (Canary and Cape Verde islands) but this species may be restricted more or less to the Indian and Western Pacific only (McEachran, pers.comm. 03/10). Source:
www.gbif.org
Size / Weight / Age
Max length : 500 cm WD male/unsexed; (Ref.
82755
)
Habitat
Benthopelagic; marine
Remarks
shark-references Species-ID=14821; CITES: (
see: Protected Species for more details
) Convention on International Trade in Endangered Speciesof Wild Fauna and Flora annex: II; Council Regulation 2017/160 annex: B
Parasites (arranged by Jürgen Pollerspöck)
Copepoda