NCBI GenBank
Mustelus manazo
BLEEKER, 1854
Starspotted smooth-hound
Classification:
Elasmobranchii Carcharhiniformes Triakidae
Reference of the original description
Faunae ichthyologicae japonicae. Species Novae.
Natuurkundig Tijdschrift voor Nederlandsch Indië, 6: 395–426
Image of the original description
No image in first description.
Synonyms / new combinations and misspellings
Cynias manazo, Galeorhinus manazo, Mustelus cf. manazo, Mustelus monazo, Myrmillo manazo
Types
Mustelus manazo
Syntype:
RMNH
: 7396
Description :



Citation:

Mustelus manazo

BLEEKER, 1854: In: Database of modern sharks, rays and chimaeras, www.shark-references.com, World Wide Web electronic publication, Version 06/2021

Please send your images of
"Mustelus manazo"
to
info@shark-references.com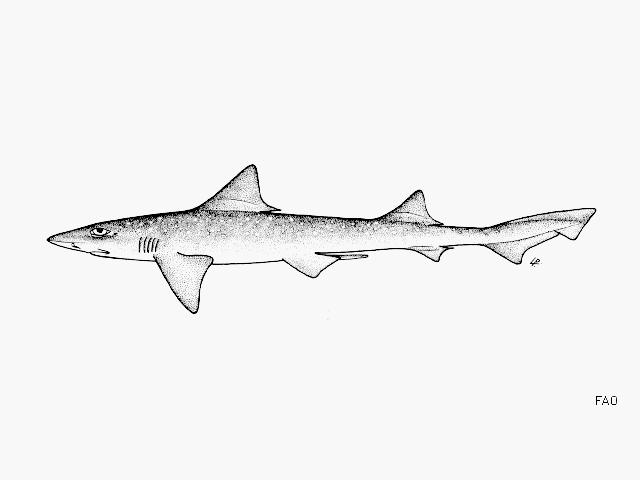 Mustelus manazo BLEEKER, 1854, © FAO, www.fish-base.org
Common names

Musola celestial,

Émissole étoilée,

Gummy dogfish,

Gummy shark,

Japanese smooth hound,

Spotted shark,

Star-spotted gummy shark,

Star-spotted shark,

Star-spotted smooth hound,

Starspotted smooth-hound,

Caneja
Short Description
Diagnosis after Compagno, 1984
[517]
: Body fairly slender. Head short, prepectoral length 17 to 21% of total length; snout moderately long and bluntly angular in lateral view, preoral snout 5.7 to 7.5% of total length, preorbital snout 6 to 7.8% of total length; internarial space fairly narrow, 2 to 2.9% of total length; eyes large, eye length 1.7 to 2.5 times in preorbital snout and 2.4 to 4.1% of total length; interorbital space narrow, 3.7 to 4.5% of total length; mouth fairly short, about equal to eye length and 2.5 to 3.7% of total length; upper labial furrows considerably longer than lowers and 1.9 to 2.5% of total length; teeth molariform and asymmetric, with cusp reduced to a low point; buccopharyngeal denticles covering almost entire palate and floor of mouth Interdorsal space 19 to 23% of total length; trailing edges of dorsal fins denticulate, without bare ceratotrichia; first dorsal broadly triangular, with posteroventrally sloping posterior margin, its midbase closer to pelvic bases than to pectorals; pectoral fins moderate-sized, length of anterior margins 11 to 15% of total length, width of posterior margins 7.5 to 14% of total length; pelvic fins moderate-sized, anterior margin length 5.4 to 8.2% of total length; anal height 2.2 to 3.4% of total length; anal caudal space greater than second dorsal height, and 6.5 to 9% of total length; ventral caudal lobe not falcate in adults. Crowns of lateral trunk denticles lanceolate, with longitudinal ridges extending their entire length. Skeleton not hypercalcified in adults; palatoquadrates not subdivided; monospondylous precaudal centra 33 to 41, diplospondylous precaudal centra 35 to 54, precaudal centra 71 to 91. Colour uniform grey or grey-brown, above, light below, usually with numerous white spots but no dark spots or dark bars. Development ovoviviparous. Size moderate, adults 55 to 117 cm.
Distribution
Western Indian Ocean: Kenya. Western Pacific: southern Siberia, Japan, Korea, China, Taiwan and Viet Nam; Chesterfield Islands
[20058]
. Source:
www.gbif.org
Human uses
fisheries: commercial; gamefish: yes
Biology
Ovoviviparous, embryos feed solely on yolk
[733]
, with 1 to 22 (
[2539]
reports 5-14) young in a litter. Gestation period takes about 10 months
[517]
or 11-12 months
[5571]
. Young born in spring. Distinct pairing with embrace
[17086]
. A carnivore
[17641]
. Found in the intertidal zone, on mud and sand bottom, down to a depth of at least 360 m
[544]
. Feeds mainly on bottom invertebrates, also bony fishes
[517]
.
Size / Weight / Age
220 cm TL (male/unsexed; (Ref.
4883
)); max. published weight: 5,720 g (Ref.
40637
); max. reported age: 10 years (Ref.
6081
)
Habitat
bathydemersal; marine; depth range ? - 360 m
[544]
Remarks
shark-references Species-ID=3804;
Parasites (arranged by Jürgen Pollerspöck)
Myxosporea
Monogenea
Cestoda
Nematoda
Copepoda