Myliobatis foxhillsensis
HOGANSON, ERICKSON & HOLLAND, 2019
Classification:
Elasmobranchii Myliobatiformes Myliobatidae
Reference of the original description
Chondrichthyan and Osteichthyan Paleofaunas from the Cretaceous (Late Maastrichtian) Fox Hills Formation of North Dakota, USA: Paleoecology, Paleogeography, and Extinction.
Bulletins of American Paleontology, 398: 1-94
Description:



Citation:

Myliobatis foxhillsensis HOGANSON, ERICKSON & HOLLAND, 2019: In: Database of fossil elasmobranch teeth www.shark-references.com, World Wide Web electronic publication, Version 05/2021

Please send your images of
"Myliobatis foxhillsensis"
to
info@shark-references.com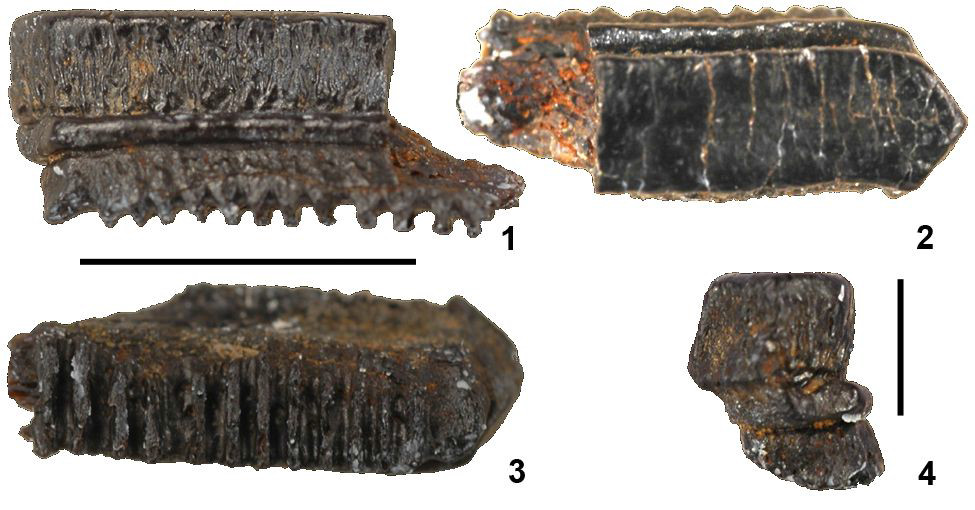 Myliobatis foxhillsensis
sp. nov.,holotype, broken tooth (ND 95-13.78); 11.1, lingual view, occlusal view, root view showing polyaulacorhyzal condition, lateral end view showing apron overhang and shape of root displacement. Scale bar 11.1–11.3 = 5 mm; 11.4 = 2.5 mm © Hoganson et al. (2019)
Description
Original diagnose after Hoganson et al. (2019) p. 41
[27441]
: A ray having median teeth with offset root, strong hemi-cylindrical, lingual apron interlocking with labial facet of next tooth in plate; finely polyaulacorhizous root (1.7 nutritive grooves per mm) with grooves less than half the depth of root, wrinkled (folded) margins surrounding crown, and crown with vermiculate enameloid on margins of upper surface. Adjacent teeth as yet unknown.
Remarks
valid after Hoganson et al. (2019) p. 41
[27441]
;