IUCN Red List

NCBI GenBank
Myliobatis hamlyni
Ogilby, 1911
Purple eagle ray
Classification:
Elasmobranchii Myliobatiformes Myliobatidae
Reference of the original description
Descriptions of new or insufficiently described fishes from Queensland waters.
Annals of the Queensland Museum, 10, 36–58
Synonyms / new combinations and misspellings
Aetobatus hamlyni, Holorhinus hamlyni
Description :



Citation:

Myliobatis hamlyni

Ogilby, 1911: In: Database of modern sharks, rays and chimaeras, www.shark-references.com, World Wide Web electronic publication, Version 11/2023

Please send your images of
"Myliobatis hamlyni"
to
info@shark-references.com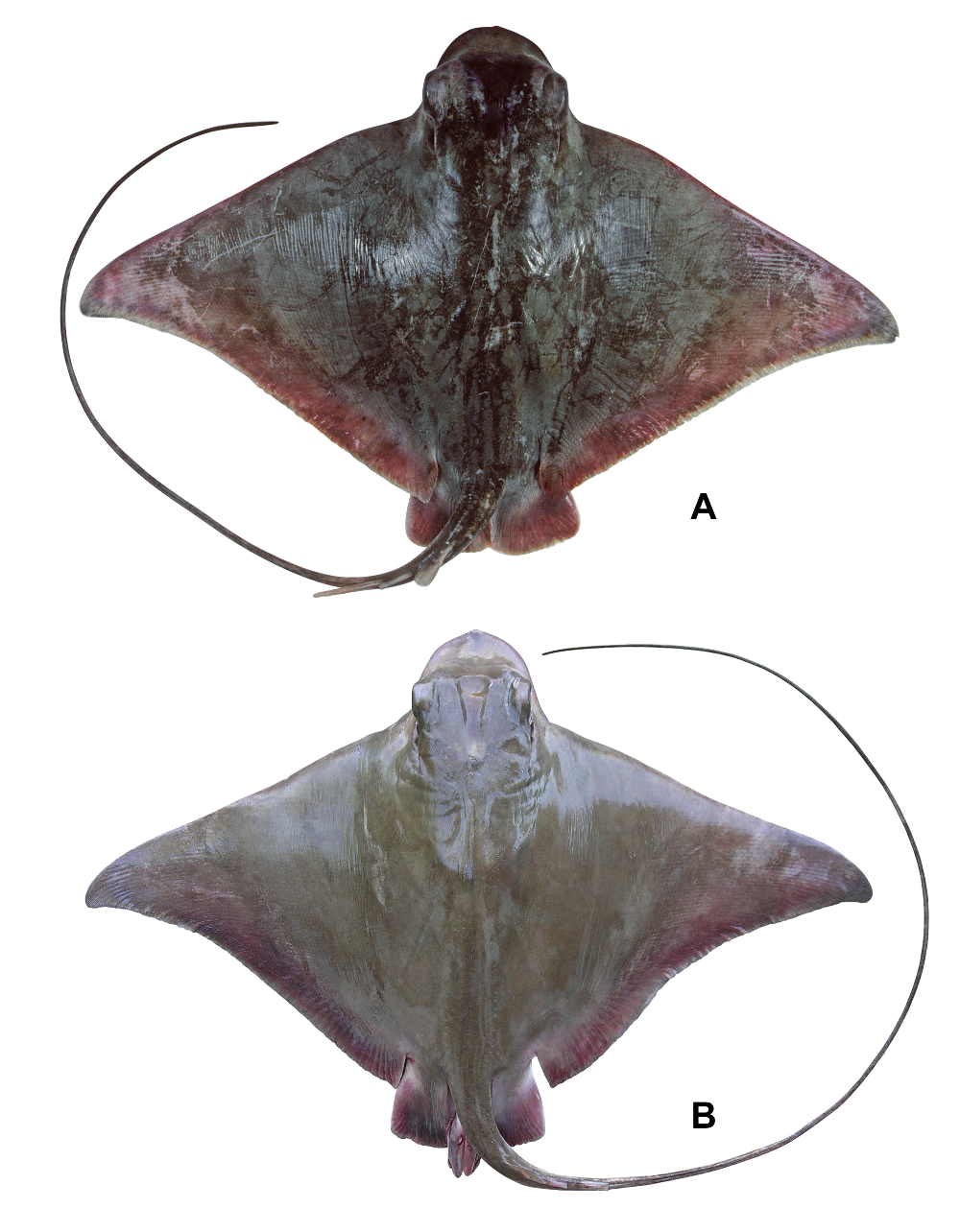 Dorsal view of
Myliobatis hamlyni
: A) CSIRO H 3860-01, female 596 mm DW from eastern Australia (fresh); B) MZB 15442, adult male 651 mm DW from Lombok, Indonesia (fresh). In: White, W.T. & Kawauchi, J. & CORRIGAN, S. & ROCHEL, E. & Naylor, G.J.P. (2015): Redescription of the eagle rays
Myliobatis hamlyni
Ogilby, 1911 and M. tobijei Bleeker, 1854 (Myliobatiformes: Myliobatidae) from the East Indo-West Pacific. Zootaxa, 3948 (3): 521–548
Common names

Hamlyn's bull-ray,

Purple bull-ray,

Purple eagle ray
Short Description
Diagnose after WHITE, KAWAUCHI, CORRIGAN, ROCHEL & NAYLOR,
[22508]
: A medium-sized Myliobatis (attaining at least 1142 mm DW) with the following combination of characters: dorsal surfaces uniformly purplish brown to greenish brown, without dark spots or blotches; tail with a distinct, low ventral skin fold; stinging spine(s) relatively long (longest spine 13.1–15.9% DW); interorbital space moderately concave in adult males; anterior margins of pectoral fin straight to slightly convex; cranial fontanelle (visible in dorsal view without dissection) relatively wide with slightly convex lateral margins; claspers of adult males 5.5–5.7% DW; predorsal length 63.6–68.6% DW; pectoral-fin radials 85–92 (excluding rostral propterygial radials anterior of eyes); total vertebral centra (including synarcual) 114–119; males mature at about 650 mm DW.
Distribution
Patchy distribution in the East Indo–West Pacific (off eastern Australia (Swain Reefs and the type locality Cape Moreton in Queensland; and off Swansea and Coffs Harbour in New South Wales) and off Western Australia (off Forestier Island and Shark Bay; In Indonesia, recorded in the landings at the Tanjung Luar fishing port in eastern Lombok and the Kedonganan fish market in southern Bali; In the Philippines, reported from the Pasil fish market in Cebu City and Palapala fishing port in Cadiz City; In Taiwan, recorded from the Da-xi fish market in Yilan; In Japan, one specimen was taken from off Okinawa)
[22508]
Biology
Exhibit ovoviparity (aplacental viviparity), with embryos feeding initially on yolk, then receiving additional nourishment from the mother by indirect absorption of uterine fluid enriched with mucus, fat or protein through specialised structures
[733]
. Found on the continental shelf (Ref.
75154
).
Size / Weight / Age
270–838 mm DW (up to 1663 mm TL)
[22508]
Habitat
benthopelagic; marine; depth range 120–350 m
[22508]
Dentition
teeth in 7 rows in each jaw, with a broad median row flanked by three smaller rows on each side
[22508]
Remarks
shark-references Species-ID=3919;
Parasites (arranged by Jürgen Pollerspöck)
Cestoda
Paroncomegas myliobati Palm, 2004 [16112]