NCBI GenBank
Myliobatis longirostris
APPLEGATE & FITCH, 1964
Snouted eagle ray
Classification:
Elasmobranchii Myliobatiformes Myliobatidae
Reference of the original description
A new species of eagle ray, Myliobatis longirostris, from Baja California, Mexico.
California Fish and Game, 50 (3): 189–194
Description :



Citation:

Myliobatis longirostris

APPLEGATE & FITCH, 1964: In: Database of modern sharks, rays and chimaeras, www.shark-references.com, World Wide Web electronic publication, Version 06/2021

Please send your images of
"Myliobatis longirostris"
to
info@shark-references.com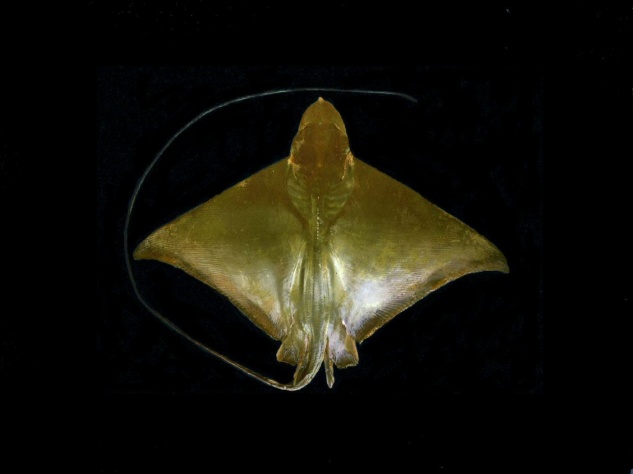 Myliobatis longirostris APPLEGATE & FITCH, 1964, © Centro Interdisciplinario de Ciencias Marinas (CICIMAR-IPN) http://coleccion.cicimar.ipn.mx
Common names

Aguila picuda,

Raya picuda,

Aigle de mer espadon,

Longnose eagle ray,

Snouted eagle ray
Distribution
Eastern Pacific: known only from the Gulf of California. Source:
www.gbif.org
Human uses
fisheries: subsistence fisheries
Biology
Exhibit ovoviparity (aplacental viviparity), with embryos feeding initially on yolk, then receiving additional nourishment from the mother by indirect absorption of uterine fluid enriched with mucus, fat or protein through specialised structures
[733]
. A little known coastal species, caught mainly over sandy bottoms.
Size / Weight / Age
95.0 cm WD (male/unsexed; (Ref.
9257
))
Habitat
Marine; benthopelagic
Remarks
shark-references Species-ID=3937;
Parasites (arranged by Jürgen Pollerspöck)
Cestoda
Halysioncum fautleyae (TYLER & CAIRA, 1999) [19536]
Trematoda
Anaporrhutum euzeti CURRAN, BLEND & OVERSTREET, 2003 [23771]