Nebrius thielensis
(Winkler, 1874)
Classification:
Elasmobranchii Orectolobiformes Ginglymostomatidae
Reference of the original description
Mémoire sur des dents de poissons du terrain bruxellien.
Archives du Musée Teyler, 3(4): 295–304, pl. 7.
Image of the original description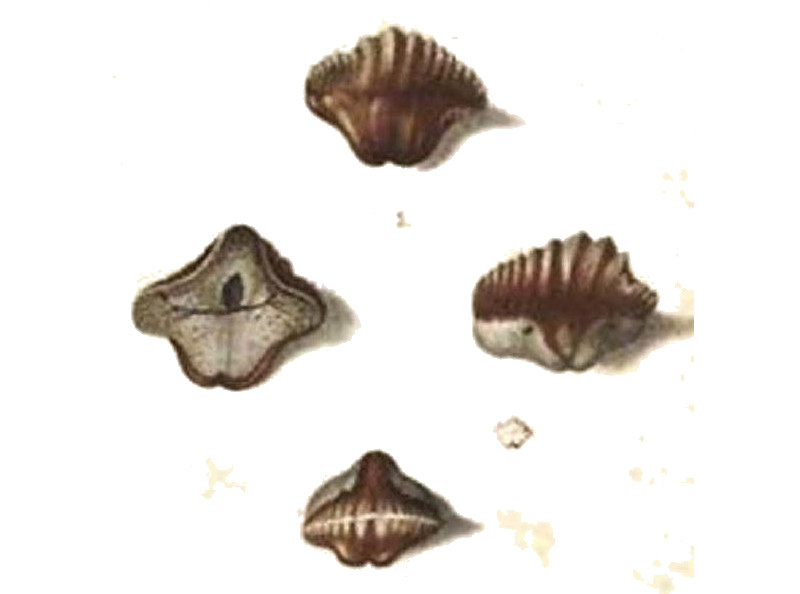 Nebrius thielensis (WINKLER, 1874) described as Plicodus thielensis WINKLER, 1874, image of the original description
Synonyms / new combinations and misspellings
Acrodobatis obliquus, Ginglymostoma aff. thielense, Ginglymostoma aff. thielensi, Ginglymostoma cf. thielensi, Ginglymostoma thielense, Ginglymostoma thielensi, Ginglymostoma thielensis, Ginglymostoma (Nebrius) thielensi, Nebrius aff. thielensi, Nebrius cf. thielensi, Nebrius cf. thielensis, Nebrius thielensi, Plicodus thielensis
Description:



Citation:

Nebrius thielensis (Winkler, 1874): In: Database of fossil elasmobranch teeth www.shark-references.com, World Wide Web electronic publication, Version 10/2021

Please send your images of
"Nebrius thielensis"
to
info@shark-references.com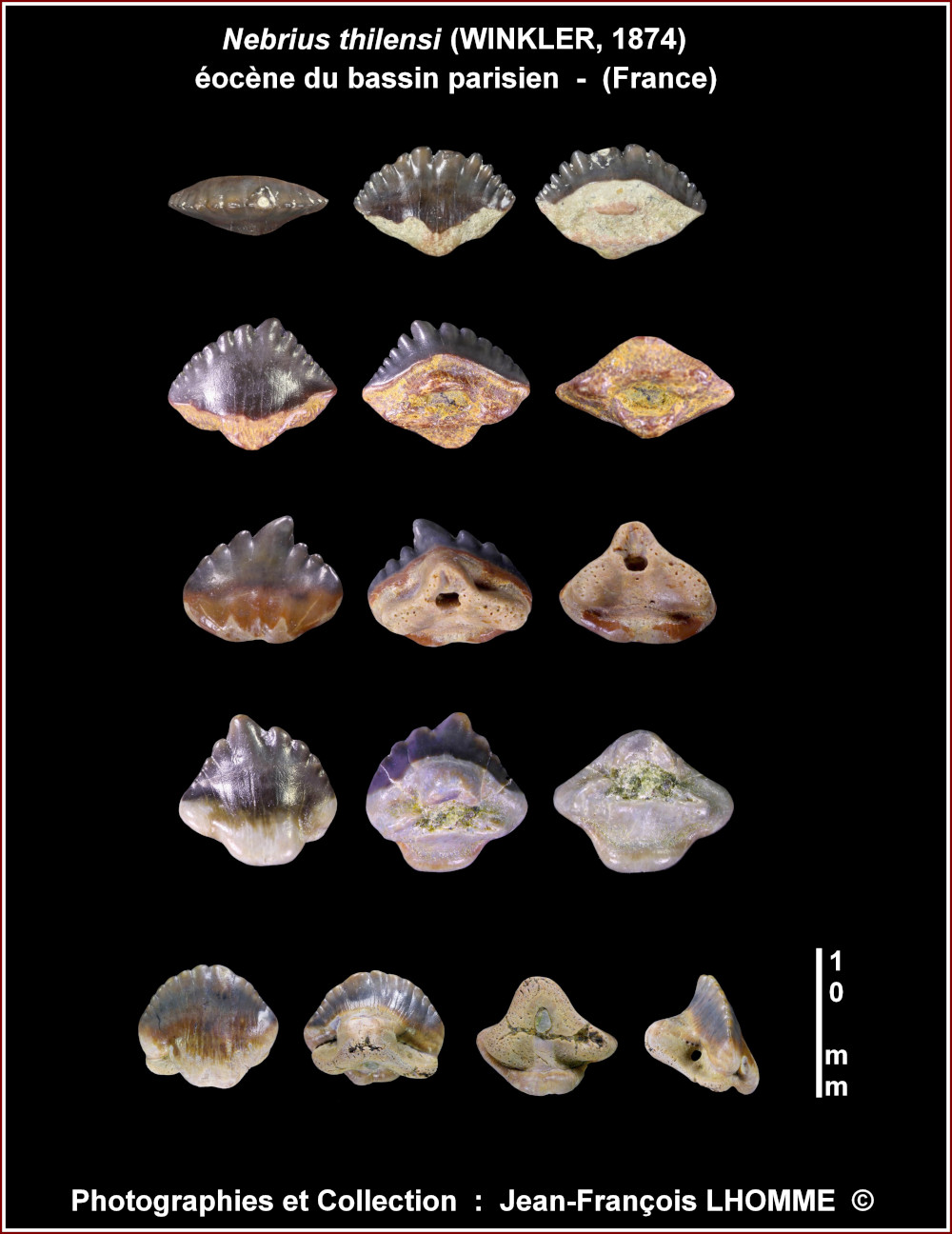 Nebrius thielensis
(WINKLER, 1874) Eocene, Ypresian, France © Jean-Francois LHOMME,
www.vertebres-fossiles.com
Distribution Geographic
Europe (e.g. France, Belgium, UK; e.g. Kemp et al. 1991
[1271]
, Winkler 1874
[2573]
, see main image); Virginia (Kent 1999
[1278]
; Ward et al. 1990
[2500]
), North Carolina (Case and Borodin 2000
[400]
), Georgia (Case 1981, as Ginglymostoma obliquum
[391]
; Parmley et al. 2003
[1859]
), and Mississippi (Case 1994
[395]
)
Distribution Strategraphy
Eocene Cappetta 2012
[16818]
Description
Original description after Winkler, 1874
[2573]
: Plicodus Thielensis Winkler.
Passons maintenant a la description des dents. La couronne, composée d'une couche d'email de couleur brune, est a peu pres quadrangulaire, a angles obtus. La partie mediune de la couronne se montre relevée par une arête qui traverse la dent entiere. Le bord de cette arête est ondule ou plisse, ou, pour mieux dire, présente une Serie de pointes obtuses, qui fait que cette Crete ressemble plus ou moins a la crête d'un coq. L' email descend plus bas au cote externe qu'au cote interne de la dent: il dépasse même la racine. Aux deux cotes de l'arete l'email forrne des tubercules ou des mamelons assez considerables. (Voyez fig. 5, qui represente une dent vue d'en haut, une autre vue du cote interne' une vue du cote externe et une montrant la surface inferieure de la racine.) La racine est large, rhombo1dale comme la couronne, poreuse ; elle présente au milieu de son cote inferieur un grand trou nutritif. A chaq ue cote du tubercule interne de la dent on voit de même un trou pour le passage de vaisseaux. (Voyez le dessin qui represente le cote interne de la dent.) Ce n'est pas une tache facile de donner par la description une bonne idee de la forrne si compliquee de ces dents. C'est pourquoi j'ai ajoute une serie de figures qui representent les dents vues de differents cotes. Esperons que les deux exem.plaires actuels ne resteront pas toujours les uniques representants de l'espece, et que les paleontologistes des environs de Bruxelles fixeront leur attention sur les dents de Plicodus Thielensis, quand ils feront des fouilles clans le sol de leur belle patrie.
Remarks
valid after Migom et al. (2021) p. 44
[29914]
;