Odontorhytis bahariensis
Salame & Asan, 2019
Classification:
Elasmobranchii incert. sedis incert. fam.
Reference of the original description
A new Odontorhytis species (Chondrichthyes) from the Middle Eocene of Elgedida Mine, Bahariya Oasis, Egypt.
Egyptian Journal of Geology, 63: 407-415
Description:



Citation:

Odontorhytis bahariensis Salame & Asan, 2019: In: Database of fossil elasmobranch teeth www.shark-references.com, World Wide Web electronic publication, Version 12/2021

Please send your images of
"Odontorhytis bahariensis"
to
info@shark-references.com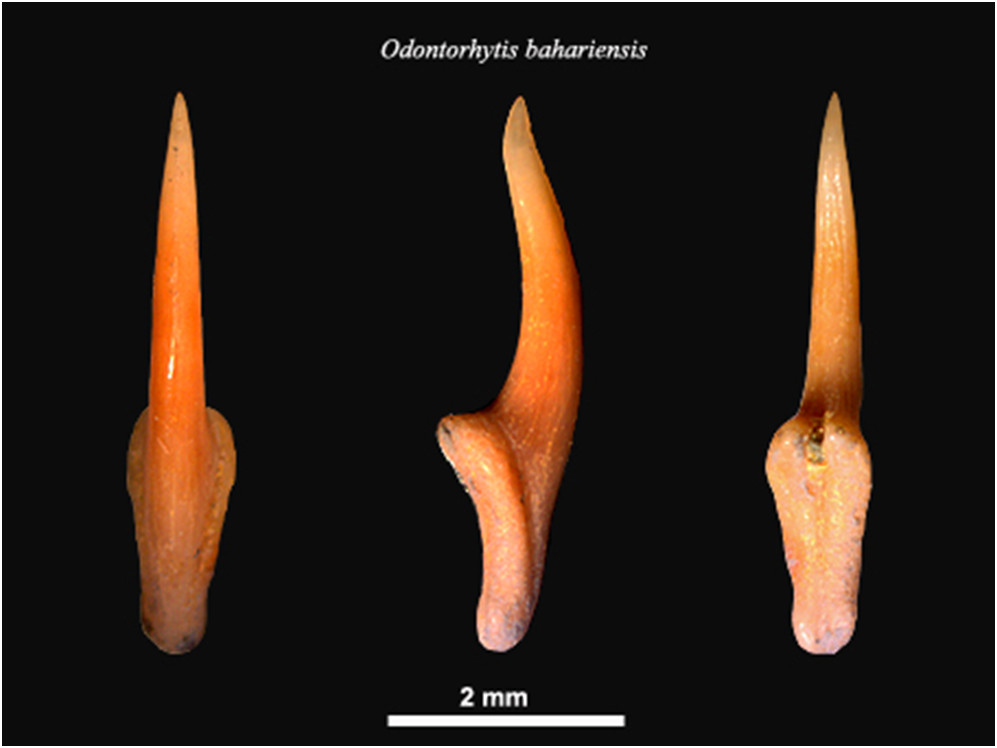 Odontorhytis bahariensis
sp. nov., holotype, ElGedida iron mine, Baharyia oasis, Eocene © Salame & Asan (2019)
Description
Original diagnose after Salame & Asan (2019) p. 409
[27697]
:This species has a homodont dentition. The teeth are relatively small (slightly less than 7 mm in total height), lingually directed, symmetrical and somewhat compressed mesio-distally with high, slender, narrow, pointed cusp which is markedly convex transversely in lingual view and concave in labial view. In some teeth the apex is recurved labially. The lingual face is devoid of a cutting edge except on its apical part which has a distinct barb. The labial face bears a salient, blade-like, cutting edge which extends crown is bluntly rounded. The enamel of the lingual face is marked by faint, long vertical striations which may extend to the apex and are bounded on the mesial and distal sides by a more salient, sharp ridge reminiscent of a cutting edge; beyond these ridges, the labial face bears shorter and more crowded striations that are restricted to the basal part of the cusp. The root is high (root height/total tooth height = 0.37-0.55), strongly oblique, lingually directed, narrow mesio-distally, significantly narrower in its basal portion, with subcordiform to subpyriform outline. The profile of its basal face is distinctly concave, symmetrically divided into two parts by a narrow but deep furrow extending all the way from the crownroot junction to the base of the tooth; this furrow is not visible from the labial side. The labial face of the root is very much reduced in comparison to the lingual face
Remarks
valid after Salame & Asan (2019) p. 409
[27697]
;