Otodus (Carcharocles) auriculatus
(Blainville, 1818)
Classification:
Elasmobranchii Lamniformes Otodontidae
Reference of the original description
Sur les ichthyolites ou les poissons fossiles.
Nouveau Dictionnaire d'Histoire Naturelle, 27: 310–391
Synonyms / new combinations and misspellings
Carcharias auriculatus, Carcharias disauris, Carcharias herodon, Carcharias heterodon, Carcharias leptodon, Carcharias megalotis, Carcharias toliapicus, Carcharocles auriculatus, Carcharocles cf. auriculatus, Carcharocles disauris, Carcharodon auriculatus, Carcharodon auriculatus disauris, Carcharodon auriculatus toliapicus, Carcharodon cf. auriculatus, Carcharodon contortidens, Carcharodon crasidens, Carcharodon disauris, Carcharodon disaurus, Carcharodon heterodon, Carcharodon interamniae, Carcharodon lanciformis, Carcharodon leptodon, Carcharodon megalotis, Carcharodon mortoni, Carcharodon strömeri, Carcharodon sulcatus, Carcharodon toliapicus, Galeocerdo sismonda, Galeocerdo sismondae, Otodus auriculatus, Otodus auriculatus auriculatus, Otodus auriculatus disauris, Otodus contortidens, Otodus crassidens, Otodus disauris, Otodus heterodon, Otodus interamniae, Otodus lanciformis, Otodus leptodon, Otodus mortoni, Otodus orientalis, Otodus toliapicus, Procarcharodon auriculatus, Procarcharodon disauris, Procarcharodon dissauris, Procarcharodon lanciformis, Squalus auriculatus
Types
Otodus (Carcharocles) auriculatus
Description:



Citation:

Otodus (Carcharocles) auriculatus (Blainville, 1818): In: Database of fossil elasmobranch teeth www.shark-references.com, World Wide Web electronic publication, Version 12/2021

Please send your images of
"Otodus (Carcharocles) auriculatus"
to
info@shark-references.com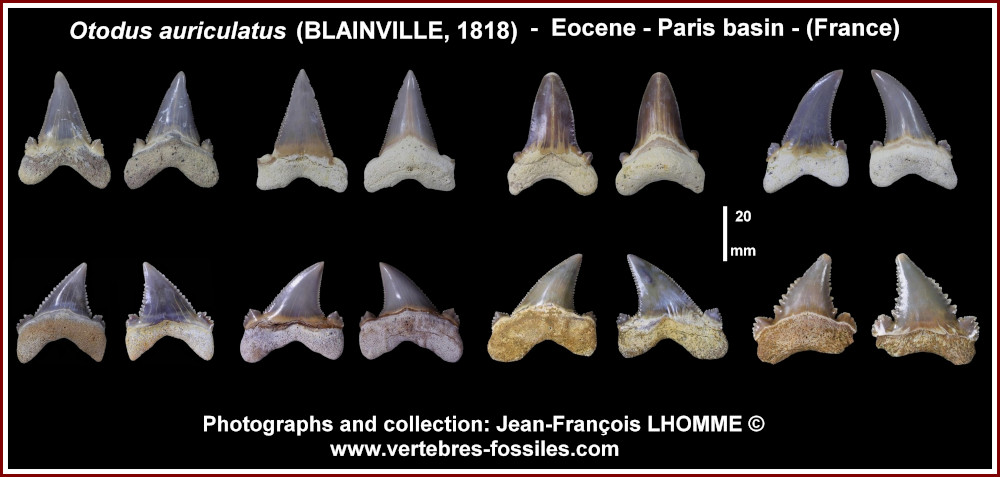 Otodus (Carcharocles) auriculatus
(BLAINVILLE, 1818), Eocene of the Paris Basin © Jean-Francois LHOMME,
www.vertebres-fossiles.com
Remarks
valid after Cappetta & Case (2016) p. 55
[24889]
;