Otodus (Megaselachus) chubutensis
(Ameghino, 1901)
Classification:
Elasmobranchii Lamniformes Otodontidae
Reference of the original description
L'âge des formations sédimentaires de Patagonie.
Anales de la Sociedad Científica Argentina, 51: 20–39, 65–91
Image of the original description
No image in first description.
Synonyms / new combinations and misspellings
Carcharias subauriculatus, Carcharocles aff. chubutensis, Carcharocles aff. subauriculatus, Carcharocles cf. chubutensis, Carcharocles chubutensis, Carcharocles megalodon chubutensis, Carcharodon chubutensis, Carcharodon megalodon chubutensis, Carcharodon megalodon subauriculatus, Carcharodon subauricularis, Carcharodon subauriculatus, Corax rothi, Megaselachus chubutensis, Megaselachus rothi, Megaselachus subauriculatus, Otodus chubutensis, Otodus (Megaselachus) cf. chubutensis, Procarcharodon chubutensis, Procarcharodon megalodon chubutensis
Types
Otodus (Megaselachus) chubutensis
Description:



Citation:

Otodus (Megaselachus) chubutensis (Ameghino, 1901): In: Database of fossil elasmobranch teeth www.shark-references.com, World Wide Web electronic publication, Version 12/2021

Please send your images of
"Otodus (Megaselachus) chubutensis"
to
info@shark-references.com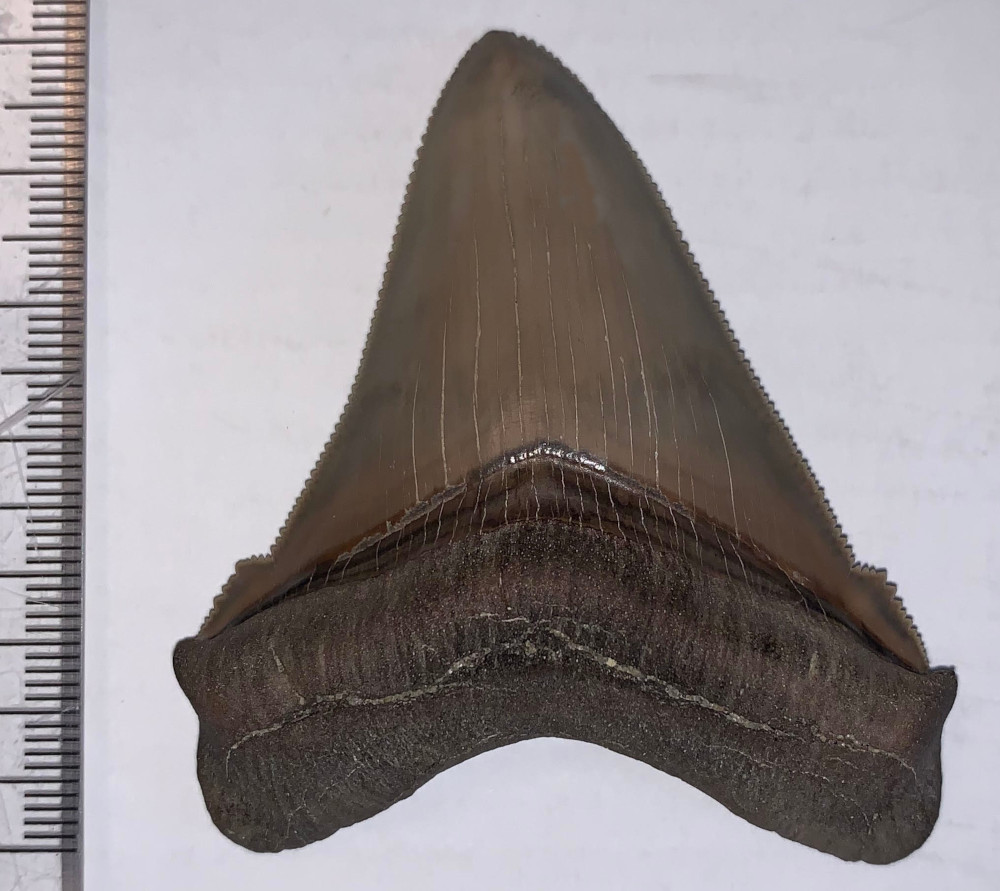 Otodus (Megaselachus) chubutensis
(AMEGHINO, 1901), Beach near Navy Facility, Calvert Cliffs, Maryland, USA, September 4th, 2020, Miocene, ~15-18, found directly underneath Calvert Formation. Choptank and St. Marys Formation nearby, 6cm long, 5.7cm wide, 7.1 diagonal © James Ellsworth
Description
Original diagnose after Ameghino (1901) p. 83
[50]
: Carcharodon chubutensis n. sp. Aussi grande que C. megalodon ; les dents en différent par le bord postérieur plus creusé, et par la présence sur la base d'une paire de saillies larges et basses et á bords dentelés comme le grand cône principal; ces saillies sont accompagnées d'une paire de tous petits tubercules basales. Ces caractères sont plus fortement marqués sur les dents postérieures que sur les antérieures.