Pachygaleus lefevrei
(Daimeries, 1891)
Classification:
Elasmobranchii Carcharhiniformes Triakidae
Reference of the original description
Notes ichthyologiques - VI.
Annales de la Société royale malacologique de Belgique, Bulletin des des Séances, 26: 73–77
Synonyms / new combinations and misspellings
Eugaleus falconeri, Eugaleus lefevrei, Galaeus lefevrei, Galeocerdo lefevrei, Galeorhinus aff. lefevrei, Galeorhinus lefevrei, Galeorhinus lefreivei, Galeus lefevrei
Types
Pachygaleus lefevrei
Description:



Citation:

Pachygaleus lefevrei (Daimeries, 1891): In: Database of fossil elasmobranch teeth www.shark-references.com, World Wide Web electronic publication, Version 12/2021

Please send your images of
"Pachygaleus lefevrei"
to
info@shark-references.com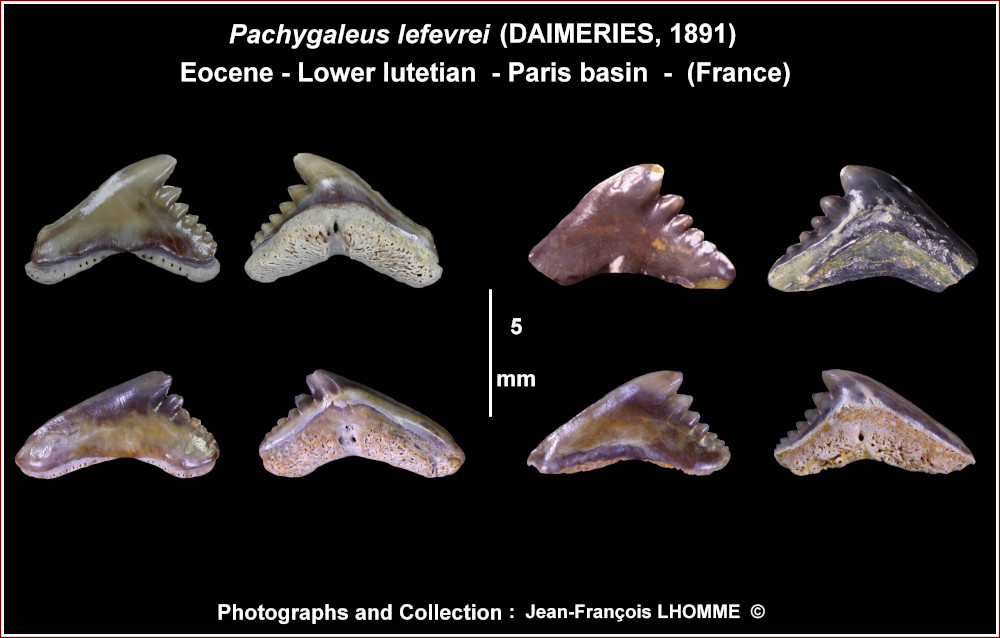 Pachygaleus lefevrei
(DAIMERIES, 1891) Eocene, Lutetian, Paris Basin, France © Jean-Francois LHOMME,
www.vertebres-fossiles.com
Distribution Strategraphy
Thanetian to Lutetiane Cappetta & Case 2016
[24889]
Description
Diagnose after Daimeries, 1891
[604]
: N° 22. — Galoeus Lefevrei, Daimeries.
Extension géologique. — Système ypresien. Zone à Nummulites planulata (Saint-Gilles);
Système bruxellien. Gravier de base (Hougaerde, Calevoet);
Système bruxellien (Schaerbeek);
Système laekenien. Zone à Numumliles loevigata (Saint-Gilles, Uccle).
Rapports et différences. — Jusqu'ici, cette espèce a été confondue dans les collections avec le Galeocerdo lad /tiens, Ag , dont elle diffère cependant sensiblement. Les dents sont creuses ; le cône émail lé est fortement incliné sur la racine vers l'intérieur de la gueule du poisson. Du côté externe, l'émail à la base forme un renflement qui détermine une gouttière entre la couronne et la racine. Le bord tranchant externe est sans dentelure ; le bord tranchant interne est fortement dentelé : les dentelures augmentent progressivement de grandeur de la base vers le sommet, le sommet lui-même ne paraissant être que la dernière; il est cependant du double, pour que la progression soit régulière. Cette espèce se rapproche le plus du Galaeus affinis, Probst (molasse de Balhingen), dont elle diffère par l'inclinaison du cône sur la racine et la grandeur du sommet ici très petite. Les dents sont massives et s'éloignent, de ce chef, de toutes les espèces connues. Le plus grand développement de l'espèce se trouve vers la base du bruxellien : c'est là aussi qu'elle est le plus abondante. Des figures seront nécessaires pour faire saisir les différences qui caractérisent les positions diverses des dents sur les deux mâchoires. Le genre Ostracion, famille des Sclérodermes, sous-ordre des Plectognathes, ordre des Ganoïdes, si bien représenté par des espèces nombreuses de l'époque actuelle, ne nous est connu à l'état fossile que par l'Ostracion micrurus, Ag., du Monte Bolca.
References
Taxonomy and biostratigraphy of the elasmobranchs and bony fishes (Chondrichthyes and Osteichthyes) of the lower-to-middle Eocene (Ypresian to Bartonian) Claiborne Group in Alabama, USA, including an analysis of otoliths.
European Journal of Taxonomy, 585: 1–274
DOI:
10.5852/ejt.2019.585

The Turanian Basin in the Eocene: the new data on the fossil sharks and rays from the Kyzylkum Desert (Uzbekistan).
Proceedings of the Zoological Institute, Russian Academy of Sciences, 320(1): 50–65

A Selachian Fauna from the Middle Eocene (Lutetian, Lisbon Formation) of Andalusia, Covington County, Alabama, USA.
Palaeontographica, Abt. A, 307(1–6), 43–103

A new elasmobranch assemblage from the early Eocene (Ypresian) Fishburne Formation of Berkeley County, South Carolina, USA.
Canadian Journal of Earth Sciences, 52(12): 1121–1136
DOI:
10.1139/cjes-2015-0061

An overview of the Mexican fossil fish record.
In G. Arratia, H.–P. Schultze & M.V.H. Wilson (Eds.), Mesozoic Fishes 5 – Global Diversity and Evolution (pp. 9–34). Verlag Dr. Friedrich Pfeil

An inquiry into the stratigraphic occurrence of a Claibornian (Eocene) vertebrate fauna from Covington County, Alabama.
Bulletin of the Alabama Museum of Natural History, 31(2): 60–73
Quantitative analysis of Elasmobranch assemblages from two successive Ypresian (early Eocene) facies at Marke, western Belgium.
Geologica Belgica, 15(3), 146–153
Eocene (Lutetian) Shark-Rich Coastal Paleoenvironments of the Southern North Sea Basin in Europe: Biodiversity of the Marine Fürstenau Formation Including Early White and Megatooth Sharks.
International Journal of Oceanography, 2012: ID 565326, 22 pages
DOI:
10.1155/2012/565326
Inventaire systématique des Invertebrata, Vertebrata, Plantae et Fungi des Sables de Bruxelles.
Geominpal Belgica Découvertes géologiques, minéralogiques et paléontologiques en Belgique, 1(2): 35–65

The Elasmobranch Fauna of the Lede Sand Formation at Oosterzele (Lutetian, Middle Eocene of Belgium).
Palaeofocus, 1: 1–57, 2 fig., 2 tab., 22 pl.

Surface-water freshening and high-latitude river discharge in the Eocene North Sea.
Journal of the Geological Society, 166: 969–980
DOI:
10.1144/0016-76492008-068

London Clay Fossils of Kent and Essex.
Rochester, Kent, Medway Fossil and Mineral Society, 228 p, ISBN: 978–0–9538243–1–1

Biostratigraphy and palaeobiota changes during Palaeocene-Eocene transition in the Pershinsky pit (Middle Trans-Urals).
Lithosphere, 2008(1): 18–50
New fossil triakid sharks from the Eocene of Prémontré, France, and comments on fossil record of the family.
Acta Palaeontologica Polonica, 53(3), 433–448
DOI:
10.4202/app.2008.0306

(Elasmobranchs of the western margin of the West Siberian Paleogene basin.) «in russian».
Ekaterinburg: IGG UB RAS, 2006, 224 p., ICC 5–94332–048–2

Les ichthyofaunes du gisement à ambre de Le Quesnoy (Paléocène et Éocène du bassin de Paris, France).
Cossmanniana, 11(1–4): 1–13

Nouvelles faunes de sélaciens (Elasmobranchii, Neoselachii) de l'Éocène des Landes (Sud-Ouest, France). Implication dans les connaissances des communautés d'eaux profondes.
Palaeo Ichthyologica, 10, 1–128

Asociaciones faunisticas de condrictios en el Cenozoico de la Peninsula de Baja California, Mexico.
Profil, 18: 1–4

London Clay Fossils of the Isle of Sheppey.
Medway Lapidary and Mineral Society, ISBN 0-9538243-0-6, 100pp.

Les élasmobranches fossiles du Paléogène des Landes (Sud-Ouest, France). Implications dans la connaissance des communautés d'élasmobranches d'eaux profondes. Evolution des Squaliformes et paléoécologie.
211 p., 23 fig., annexes, 40 pl. Dipl. Doct., Univ. Montpellier II.

Les élasmobranches de la transition Paléocène-Eocène de Dormaal (Belgique) : implications biostratigraphiques et paléobiogéographiques.
Bulletin de la Société géologique de France, 170(3), 327–334

An exceptional Sparnacian locality with plants, arthropods and vertebrates (Earliest Eocene, MP7): Le Quesnoy (Oise, France).
Comptes Rendus de l'Académie des Sciences, Series IIA – Earth and Planetary Science, 329(1): 65–72
DOI:
10.1016/S1251-8050(99)80229-8

Ichthyofaunen aus dem atlantischen Tertiär der USA.
Leipziger Geowissenschaften, 9–10: 1–360, 69 fig., 6 tabl., 17 pl.

Part 2. Sharks from the Fisher/Sullivan Site.
In: R.E. Weems(ed.), Fossil Vertebrates and Plants from the Fisher/Sullivan Site(Stafford County): A Record of Early Eocene Life in Virginia. Virginia Division of Mineral Resources 152: 11–37

Synthèse des données actuelles sur les vertébrés de la transition Paléocène-Éocène de Dormaal (Belgique).
Bulletin de la Société Belge de Géologie, 104(1–2), 119–131

Contribution à l'étude des élasmobranches du Thanétien (Paléocène) du Bassin de Paris. 1. Découverte d'une faune d'Elasmobranches dans la partie supérieure des Sables de Bracheux (Thanétien, Paléocène du Bassin de Paris) des régions de Compiègne (Oise) et de Montdidier (Somme).
Belgian Geological Survey, Professional Paper: Elasmobranches et Stratigraphie, 278: 185–259,7 fig., pl. 1–13

Soortenlijst van fossiele vissen uit het Eoceen van België.
Afzettingen WTKG, 15(4), 6–12

Fossil fish remains from the Late Paleocene Tuscahoma and Early Eocene Bashi Formations of Meridian, Lauderdale County, Mississippi. Part I. Selachians.
Palaeontographica, Abt. A, 230(4–6), 97–138

A checklist of Neoselachii (Pisces, Chondrichthyes) from the Palaeogene of the Paris Basin, France.
Tertiary Research, 13(1) : 27–36

Fossils from the Bracklesham Group exposed in the M27 Motorway excavations, Southampton, Hampshire.
Tertiary Research, 12: 131-137

An Illustrated Guide to the British Middle Eocene Vertebrates.
Privately published, London, 59 pp.

Fossiles de Belgique. Dents de Requins et de Raies du Tertiaire de la Belgique.
Institut royal des Sciences naturelles de Belgique, 184 pp.

Stand der Untersuchungen an der Chondrichthyes-Fauna des nordwestdeutschen Tertiärs.
Beiträge zur regionalen Geologie der Erde, 18: 503–509

Haaie- en Roggentanden uit het Tertiair van Belgie.
Institut royal des Sciences naturelles de Belgique, 1–171

Fossil sharks, rays and chimaeroids of the English Tertiary period.
Gosport Museum, 1–47, 10 fig., 3 tabl., 16 pl.

Eine Lagerstätte kreidezeitlicher und paläogener Chondrichthyes-Reste bei Fürstenau (Niedersachsen).
Osnabrücker Naturwissenschaftliche Mitteilungen, 6: 35–44

Troisième note sur les poissons des sables de lede (Eocène belge): Les fossiles autres que les Otholithes.
Bulletin de la Société Belge de Géologié, 87(3): 125–152, 26 fig.

Les Sélaciens des terrains néocrétacés et paléocènes de Belgique et des contrées limitrophes. Eléments d'une biostratigraphie intercontinentale.
Mémoires pour servir à l'explication des Cartes géologiques et minières de la Belgique, 15: 401 p., 25 fig., 21 pl.

Haaietanden en andere fossielen uit de transgressielaag aan de basis van het Ledien bij Aalst.
GEA, 6(1): 31-37

Le Landénien de Dormaal (Brabant) et sa faune ichthyo­logique.
Mémoires de l'Institut Royal des Sciences Naturelles de Belgique, 156: 1–66, 10 fig., 8 pl.

Faune ichthyologique du London Clay.
Trustees of the British Museum: 496 pp., 82 fig., 68 pl.

Notes on African Tertiary sharks.
Bulletin of the Geological Survey of Nigeria, 5(3): 319–325, pl. 1–2

Contribuiciao para o conhecimento da fauna ictiológica do Miocénico Marinho de Portugal Continental.
Revista da Faculdade de Ciéncias de Lisboa, serie C, 4: 39–119

Contributions à l'étude des poissons fossiles de la Belgique. IX. La faune des formations dites "paniséliennes".
Bulletin de l'Institut Royal des Sciences Naturelles de Belgique, 26(42): 1–52, 2 pl.

La faune ichthyologique de l'Yprésien de la Belgique.
Mémoires du Musée Royal d'Histoire Naturelle de Belgique, 104: 1–267, 19 fig., 6 pl.

Eocene fishes from Nigeria.
Bulletin of the Geological Survey of Nigeria, 10: 1–82, 20 fig., pl. 1–18.
Contribution à lètude des poisons fossils du Nord de la France et des regions voisines.
Mémoires de la Société géologique du Nord, 5: 430 pp
Les poissons éocènes de la Belgique.
Mémoires du Musée Royal d'Histoire Naturelle de Belgique, 3(11): 49–228, pl. 4–12.