Palaeoxyris regularis
Brongniart, 1828
Classification:
Elasmobranchii
Reference of the original description
Essai d'une Flore du grès bigarré.
Annales des Sciences Naturelles, 15, 435–460
Image of the original description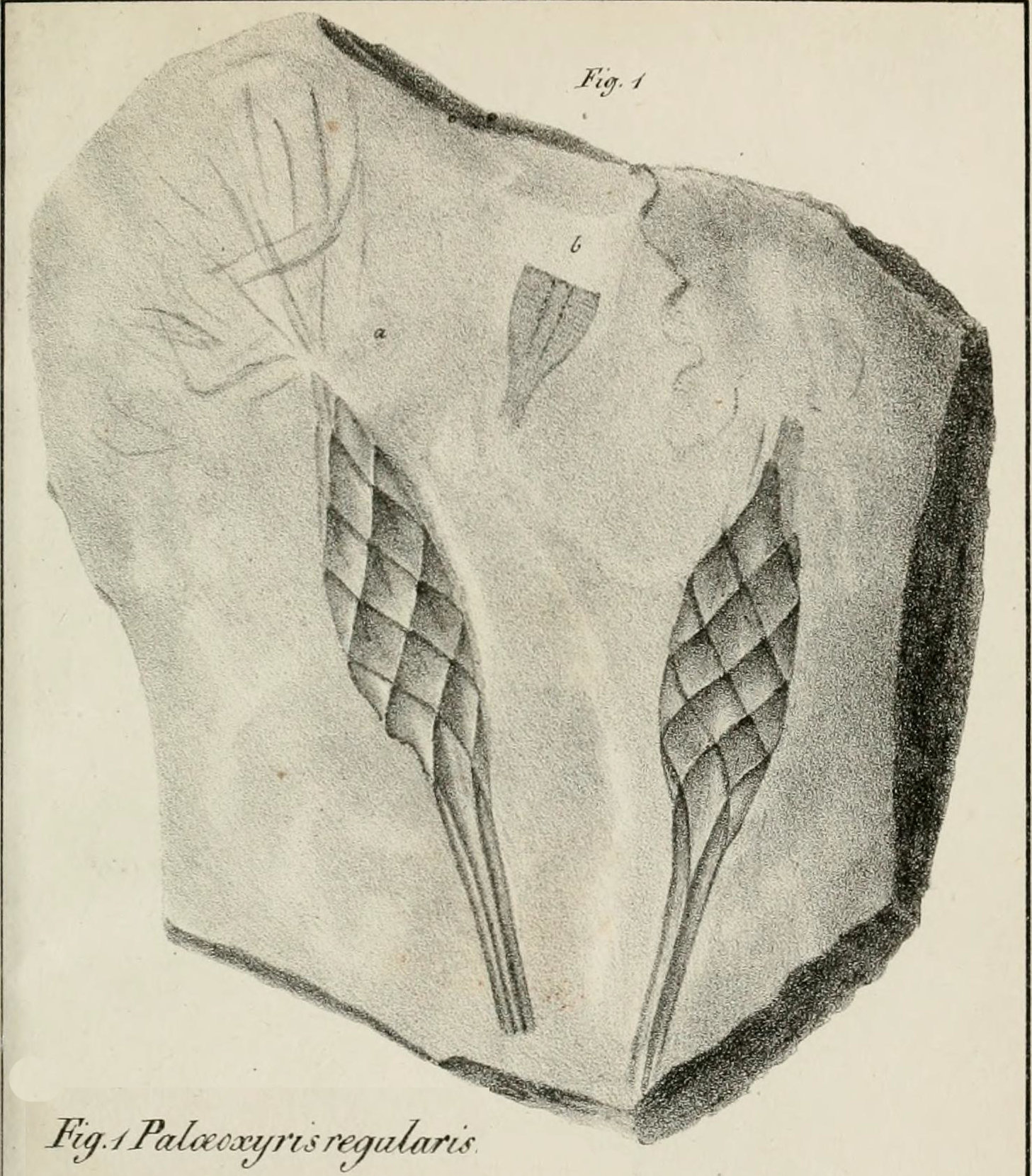 Palaeoxyris regularis Brongniart, 1828
Types
Palaeoxyris regularis
Description:



Citation:

Palaeoxyris regularis Brongniart, 1828: In: Database of fossil elasmobranch teeth www.shark-references.com, World Wide Web electronic publication, Version 01/2023

Distribution Geographic
Soultz-les-bains, 20 km West of Strassburg, France (type locality)
[12040]
;
Distribution Strategraphy
Grès à Voltzia, Upper Buntsandstein, Middle Triassic, Anisian (type horizont)
[12040]
;
Measurement
Two type species: body 35 to 40 mm in length, 13 mm in width (CROOKALL 1930). The angle of the ridges is 60° (CROOKALL 1930, MÜLLER 1978). Four to five segments are visible (MÜLLER 1978, FISCHER et al. 2010: four bands).
Remarks
Type species of the genus Palaeoxyris BRONGNIART, 1828;
References

Die Fossilien der Pfalz: Altbekanntes und neue Funde.
Fossilien, 2012(1), 19–26
Description of the shark egg capsule Palaeoxyris friessi n. sp. from the Ladinian (Middle Triassic) of SW Germany and discussion of all known egg capsules from the Triassic of the Germanic Basin.
Palaeodiversity, 3, 123–139

Die Fossilgemeinschaften des Buntsandsteins und des basalen Muschelkalks in der Pfalz - Abbilder einer stufenweisen Floren-/Faunen-Erholung nach der Perm-Trias-Krise?
Mitteilungen der Pollichia, 94, 11–37

The early Middle Triassic 'Grès à Voltzia' Formation of eastern France: a model of environmental refugium.
Comptes Rendus Palevol, 4(6–7), 637–652
DOI:
10.1016/j.crpv.2005.04.007

Charakteristische Fossilien des mitteleuropäischen Buntsandsteins.
Naturwissenschaften, 71, 69–78

Über Palaeoxyris und andere Eikapseln fossiler Knorpelfische (Chondrichthyes).
Freiberger Forschungshefte, C342, 7–28

Further morphological studies in Palaeoxyris, etc.
Summary of progress of the Geological Survey of Great Britain and the Museum of Practical Geology for 1929, part III: 8–36

Prodrome d'une histoire des végétaux fossiles.
Paris, 1828