Parasquatina zitteli
Pollerspoeck & Beaury, 2014
Classification:
Elasmobranchii Orectolobiformes incert. fam.
Reference of the original description
Parasquatina zitteli nov. sp. (Elasmobranchii: Orectolobiformes) aus dem Maastricht von Oberbayern (Gerhartsreiter Schichten, Siegsdorf) und Bemerkungen zur Verbreitung der Ordnung Orectolobiformes. [Parasquatina zitteli nov. sp. (Elasmobranchii: Orectolobiformes) from the Maastrichian of Upper Bavaria (Gerhartsreiter Ditch, Siegsdorf), with remarks on the distribution of the order Orectolobiformes.]
Zitteliana, A54, 147–164
Description:



Citation:

Parasquatina zitteli Pollerspoeck & Beaury, 2014: In: Database of fossil elasmobranch teeth www.shark-references.com, World Wide Web electronic publication, Version 01/2023

Please send your images of
"Parasquatina zitteli"
to
info@shark-references.com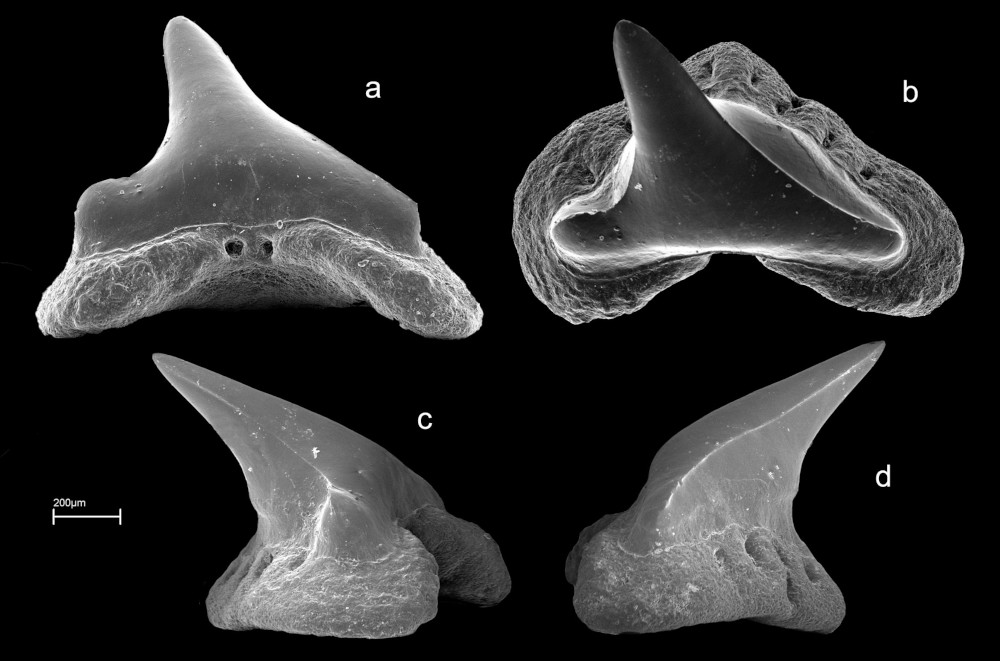 Parasquatina zitteli
sp. nov., Gerhartsreiter Graben FP 1a, holotype SNSB-BSPG 2014 IX 5 © Pollerspöck (2014)
Description
Original diagnose after Pollerspöck & Beaury (2014) p. 153
[21585]
: Kleine Zähne (Breite bzw. Höhe stets unter 2 mm), meist annähernd so breit wie hoch, dreieckige, bikonvexer Krone, antero-laterale Zähne mit dreieckigem Wurzelumriss, vordere antero-laterale Zähne mit fast ovalem/rundem Wurzelumriss. Krone stets und deutlich nach lingual zurückgebogen, Labialseite der Krone bei vorderen antero-lateralen Zähnen stark konvex, bei seitlichen antero-lateralen Zähnen deutlich schwächer konvex gewölbt, kein Apron entwickelt. Krone glatt, keine entwickelten Nebenspitzen, jedoch bei anterioren Zähnen deutlich ausgebildeter distaler Höcker. Deutlich entwickelte mesiale und distale Schneide, die in der Regel stets bis zur Kronenbasis reicht. Die Krone erreicht die seitlichen Enden der Wurzeläste nicht, Kronenbasis oval und deutlich von der Wurzel abgesetzt. Anteriore Zähne höher als breit mit senkrechter oder nur wenig nach distal geneigter Spitze. Hemiaulacorhize, flache Wurzel, bei seitlichen antero-lateralen gut ausgeprägte Wurzelloben, lingual großes, zentrales Foramen, mit weiteren kleineren Foramina an der der lingualen Kronen/Wurzel-Grenze, labial mehrere deutliche, zur Mitte hin orientierte, Foramina.
Remarks
valid after Pollerspöck & Beaury (2014) p. 153
[21585]
;
References
Shifts in composition of northern Tethyan elasmobranch assemblages during the last millennia of the Cretaceous.
Cretaceous Research, 142, Article 105414
DOI:
10.1016/j.cretres.2022.105414

Ammenhaie - Opfer des Kreide-Tertiär-Massensterbens?
Fossilien, 32(2), 35–39
Parasquatina zitteli nov. sp. (Elasmobranchii: Orectolobiformes) aus dem Maastricht von Oberbayern (Gerhartsreiter Schichten, Siegsdorf) und Bemerkungen zur Verbreitung der Ordnung Orectolobiformes. [Parasquatina zitteli nov. sp. (Elasmobranchii: Orectolobiformes) from the Maastrichian of Upper Bavaria (Gerhartsreiter Ditch, Siegsdorf), with remarks on the distribution of the order Orectolobiformes.]
Zitteliana, A54, 147–164